How to Have a Successful Garage Sale: 10 Yard Sale Tips
Want to learn how to have a successful garage sale? Well then, you've come to the right place!

I've been having garage sales for years and years and went to thousands of garage sale with my Mom on the weekends when I was a kid.

So I guess you could say I'm a bit of a self-proclaimed expert on all things garage sales.
Garage sales are the perfect way to declutter, simplify, and make a little extra cash! In this post, I will share my best yard sale tips to make your next garage sale a huge success!

And you know what they say!-One man's junk is another man's treasure. 

Let's get started.

This article may include affiliate links. Read full disclosure here.
10 Yard Sale Tips: How to Have a Succesful Garage Sale
1. Choose a Good Date for Your Yard Sale

One of the most important yard sale tips is choosing the right date for your yard sale.
Choose a date and time that will work for both you and potential shoppers.

You'll want to pick a date that's not too close to other holidays or events in your community A weekend is usually the best time for a garage sale, as people tend to have more free time than to browse through garage sales.

Friday and Saturday mornings are usually the best times to hold a garage sale.

Sunday is always an opinion, especially if you cannot open for business on Friday.

Spring and summer are also good times for garage sales as the weather is more likely cooperative.


2. Gather Garage Sale Items
Go through your house and garage, and pull out anything you no longer need or use. Having the most extensive inventory possible is key to a successful garage sale.
Popular Garage Sale Items:
Furniture
Gently used clothing: Baby clothes and Maternity clothes are the most popular
Shoes and handbags. Don't forget backpacks.
Accessories: Belts, scarves, etc.
Costume Jewelry of all kinds.
Garden furniture and tools
Tools and Sports equipment
Kitchen Appliances. Large and Small.
Dishes and china
Flatware and Utensils
Glassware + Coffee mugs
Casseroles dishes and bakeware
Toys + games
Books!
3. Advertise Your Garage Sale
Advertising is key to a successful garage sale.

Post your garage sale online on websites like Craigslist and garage Sale Finder.

Include large, higher-priced items like furniture and appliances and highlight items such as baby clothes or art and crafts items in your ad.

Don't forget the date, times, and of course, the address of your yard sale.
Posting online ads, hanging flyers, and posting on your social media pages a few days before your sale is always helpful.
If you have sought-after items such as kids' toys or clothes, specialty tools, craft supplies, or collectibles, make sure to note that in the ad.
Always include your full address, days of the sale, and times.
Promote your forms of payment in ads (and on the day of the sale), especially if you'll accept credit cards and online payments like Venmo.
How to advertise a garage sale:
Facebook and Facebook Marketplace
Instagram
Local paper
4. Make Colorful, Eye-catching Garage Sale Signs
Colorful Eye-Catching Garage Sale Signs are key to having a successful garage sale. You want people to be able to see your sign from the road and be able to read it.
How to make effective garage sale signs:
Use bright colors – fluorescent poster boards are ideal.
Make the text large and legible.
Include important details like dates, times, and locations.
Finally, use arrows to point the way.
Make it weather-resistant by laminating it or putting it in a clear plastic sleeve.
Hang Garage Sale signs on street corners. Place signs at a driver's eye level if possible.
5. Gather Garage Sale Supplies
It's super important to have the right supplies and tools when having a garage sale. Being prepared for your big day will prove to be worth the time it takes to gather everything you will need.
Essential Garage Sale Supplies:
Clothes rack(s)
Tagging gun (a lifesaver!)
Calculator
Markers
Table and Chairs
Clear, zip bags
Hand sanitizer
Plastic grocery bags
String and tape
Tape measure
Tarps and umbrellas (Shade!)
6. Price Garage Sale Items
Taking the time to price items is worth the extra effort in the long run.
Price your items using stickers or tags.

To price clothing items, you can invest in this clothing tagger or use small pieces of paper with the price written on them and then staple the price tag to the clothing tag.

Garage sale shoppers typically look for bargains, so price your items accordingly.
How to price garage sale items:
A good rule of thumb for pricing your yard sale items is to price items at only 10%–20% of their retail value.

This amount may seem low, but it'll move your inventory quickly.

If you want to leave a little bit of wiggle room for negotiating, price items at about one-third of their original value.

For example, if an item originally cost $100, you would price it at $30.
Price clothing using a price tagging gun to adhere tags to clothing. Having a tagging tag is a lifesaver and will save you a ton of time!

Price the rest of your garage sale items with garage sale stickers.

Remember: On the last day of your sale-you can always put up 50% off signs.
8. Setting Up Your Yard Sale
You don't have to be a professional organizer to do a good job staging your garage sale.
Taking a bit of extra time to set up and stage your yard sale will help make it a great success. Arranging garage sale items in an organized and visually appealing way is key!


Set up your garage sale at least one hour early on the evening before the sale, if possible.
Tips for Staging a Garage Sale:
Stage Large, higher-priced items in front
Put all items like furniture, large appliances, and artwork as close to the entrance as possible to quickly catch the shopper's attention.
Organize like items together
Keep like items together in one area.

Organize areas and tables, keeping like items together. This way, shoppers can easily identify what area they ar interested in most.

Keep organizing and re-orgaizing your sale items throughout the day.
Organize the clothing
Hang as much clothing as possible.

Display remaining clothing folded on tables. Organized clothing by type and make signs for each. ie, Maternity, baby, children's, men's, etc.
9. Be Prepared to Make Change + Venmo + Credit Cards!
Make sure you have petty cash on hand for your garage sale. Having a cash drawer or box is also a great idea. I like to wear a fan y pack to keep the money in. Works great!

I try to get about $50 in cash. I split it up between $10, $5, $1, and a roll of quarters is always a good idea.

Consider accepting credit cards and Venmo! Accepting credit cards and Venmo payments makes you more likely to sell higher-priced it ms more quickly!
8. Open Your Garage Sale Early!
When it comes to garage sales, the early bird get the worm!

Many garage sale shoppers are early birds.

Opening your doors early ensures that your garage sale will attract "Professional" garage sale shoppers and those who l ke to get an early start.
9. Be Prepared to Haggle.
If I'm being honest, this is my least favorite part about having a garage sale!

Garage sale shoppers love to haggle, so be ready to negotiate on prices. Unfortunately, haggling or negotiating prices with shoppers can get pretty tricky.
Tips for Negotiating prices with shoppers:
The first rule of thumb when negotiating prices with shoppers don't take it personally.

If the shopper asks how low will you go on a specific item, discount it by 10%.

Say a shopper offers you $5 for a $10 item, counter with $7, and see where it goes.

When it's early in the day, never take the first offer unless it's fair.

Towards the end of the day-cut big deals!
9. Sell Beverages and Snacks at Garage Sale!
In my mind, selling beverages and snacks at a yard sale is a no-brainer.

Can you say "additional revenue stream"?-Selling beverages and snacks at a garage sale is a sure-fire way to make some additional cash and having a snack bar is a nice touch.

Additionally, garage sale shoppers appreciate having beverages available, and it will aid in them staying at your sale longer!

Consider having a seperate table just for snacks, coffee, etc., and a large cooler for cold drinks.

Don't forget to make a big sign saying something like "ICE COLD DRINKS + YUMMY SNACKS" or something to that effect.

I suggest putting prices for garage sale menu items on the sign. This will make your life a lot easier.
Beverages and Snacks to Sell at a Garage Sale:
Coffee: Don't forget disposable cups, creamer, and sugar.

Bottled water and soft drinks (both regular and diet)

Juice boxes or Capri Suns.

Donuts! Donuts sell like hotcakes! 🙂

Lunch-sized Chips, trail mix, and cookies.

Candy. This is also a big seller!
10. Make it a Community Garage Sale!
When it comes to garage sales, bigger is better.

A community garage sale is a great way to increase traffic since more b yers will mean more money for sellers.

If you want to bring more traffic to your garage sale, consider inviting your friends and neighbors to join in the fun!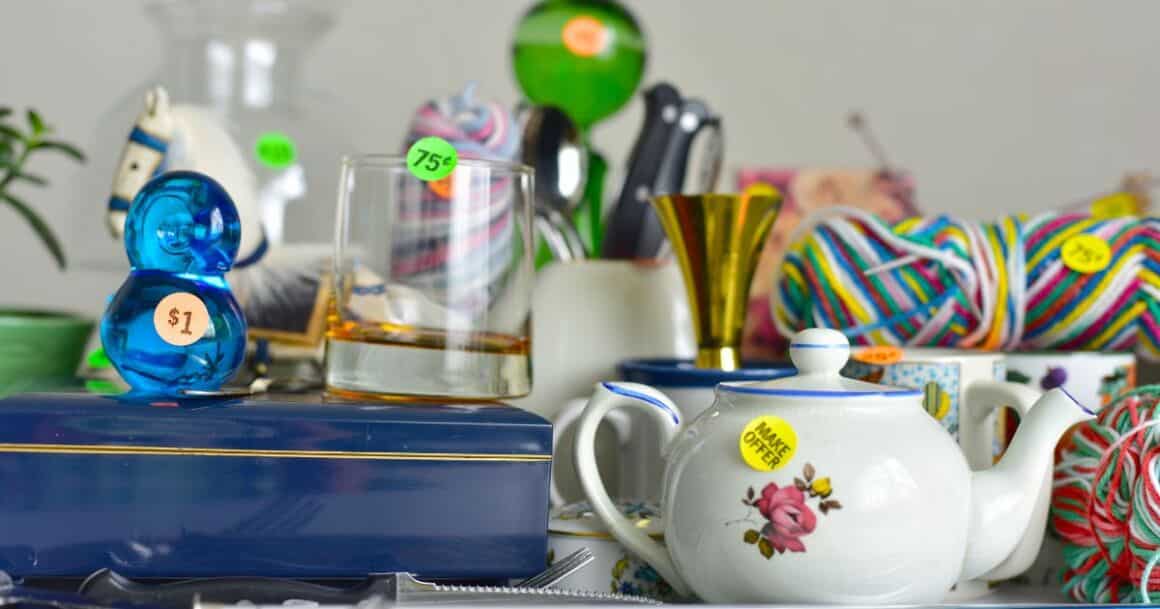 How to have a garage sale: garage sale 101
So what do you think? Are you ready o have a garage sale?

I am confident that if you Follow these tips for a successful garage sale, you will not only declutter your home but also put some extra cash in your pocket in no time!
Have you ever had a garage sale? Did I leave anything out? Leave your comments below.
Until next time,
XO, Christine