How to Start a Lifestyle Blog Using WordPress 2023
So you want to start a lifestyle blog using WordPress? You've come to the right place!
I know from experience that embarking on the blogging journey can be both exhilarating and overwhelming. There is more to it than meets the eye.
Each step is essential, from pinpointing the ideal niche for your blog and crafting a captivating name to outlining the topics you would like to highlight.
But it doesn't stop there.

Securing a memorable domain name, establishing robust hosting, selecting a visually appealing theme, integrating indispensable plugins, and setting up essential pages are just a few more steps you will need to walk through to get your lifestyle blog up and running.
This article is a roadmap primed to help you quickly launch your new lifestyle blog without a hitch!
.Are you ready to get started? Let's go.
This post may contain affiliate links. Read disclosure here
What is a lifestyle blog?
A lifestyle blog is a web presence that focuses on the author's personal interests, activities, and experiences.
It's distinct from other kinds of blogs because of its broad content variety, rooted in the personal brand of the blogger.
Here's a brief overview of typical lifestyle blog content:
Lifestyle blogs can encompass a wide range of topics, including, but not limited to, fashion, beauty, health and wellness, fitness, home and garden, travel, food, and personal stories or anecdotes.
Lifestyle blogs can encompass various topics, depending on the blogger's interests and audience.
Here are some common lifestyle blog categories:
Fashion: Outfit inspirations, fashion week reviews, style tips, and shopping hauls.

Beauty: Makeup tutorials, skincare routines, product reviews, and hacks.

Health & Wellness: Fitness routines, healthy recipes, mental health discussions, and wellness tips.

Home & Garden: Home decor, DIY projects, home tours, indoor and outdoor gardening, and organization tips.

Travel: Diaries, destination guides, travel essentials, packing tips, adventure stories, and bucket lists.

Food & Drink: Recipes, restaurant reviews, diet tips, and culinary adventures.

Parenting & Family: Child-rearing advice, family activities, pregnancy stories, and parenting hacks.

Personal Development: Self-improvement tips, book reviews, and motivational content.

Finance & Budgeting: Money-saving tips, investment advice, and budget-friendly lifestyle hacks.

Arts & Crafts: Step-by-step project guides, craft ideas, and creative inspirations.

Entertainment: Movie and TV show reviews, music recommendations, and pop culture discussions.

Relationships: Dating advice, marriage tips, friendship stories, and relationship dynamics.

Career & Business: Blogging tips, entrepreneurial journeys, career advice, side hustles, and productivity hacks.

Hobbies & Interests: Topics like gardening, photography, painting, or any other hobby the blogger is passionate about.

Sustainability & Minimalism: Eco-friendly practices, sustainable product reviews, and minimalist living tips.
How to Start a Lifestyle Blog Using WordPress
1. Choose a Lifestyle Blog Niche.
First things first. Let's go over what a blog niche is and why choosing a niche is essential, along with a few examples of lifestyle blog niche ideas.
What is a blog niche?
A blog niche refers to a specific topic or area of interest a blogger chooses to focus on.
By targeting a particular niche, bloggers can cater to a specific audience, establish themselves as experts in that field, and provide concentrated content that appeals directly to that audience's interests.
Here's why choosing a blog niche is so important:
Targeted Audience: Niches allow bloggers to address a particular segment of the larger audience. For instance, while a "health" blog might appeal broadly, a "vegan nutrition" blog targets a specific subset of health enthusiasts.
Expertise: By focusing on a niche, a blogger can delve deeper into the subject matter, providing detailed insights, specialized advice, and in-depth information, thereby establishing themselves as authorities in that domain.
Monetization Opportunities: Niche blogs often attract advertisers and partnerships from industries or companies specifically related to that niche. This can lead to more effective and targeted monetization strategies.
Less Competition: While broad topics may have many bloggers covering them, a niche topic might have fewer, allowing a blogger to stand out more quickly.
Community Building: Niche blogs often foster a strong sense of community, as readers with shared interests engage more deeply with the content and one another.
Clear Content Strategy: Having a niche can help streamline the content creation process, as the blogger knows precisely what topic areas to focus on.
Examples of lifestyle blog niches

Parenting Teenagers: Parenting Teenagers: This niche is dedicated to guiding parents through the tumultuous teen years, covering many topics, including effective communication, the challenges of digital life and social media, academic pressures, peer relationships, and the journey toward independence.

Minimalist Lifestyle: Embracing simplicity, decluttering, and minimalist design tips.

Luxury Living: Highlighting high-end products, luxury travel spots, and elite experiences.

Home Organization: Tips and hacks to declutter and organize various spaces in the home.

Clean Living: This niche revolves around a lifestyle emphasizing natural, sustainable, and chemical-free choices in various facets of life, with topics ranging from organic food consumption, toxin-free household cleaners, and clean health and beauty routines.

Plant-Based Diets: Vegan or vegetarian recipes, restaurant reviews, and dietary tips.

Beauty over 50– Include beauty and skincare articles about the best pro-aging treatments, products, and lifestyle choices for women over 50. 🙂

Bohemian Lifestyle: Embracing boho fashion, decor, and a free-spirited way of life.

Urban Homesteading: Growing food in urban settings, sustainable city living, etc.

Fitness for a busy lifestyle: Quick workouts, office exercises, daily healthy habits, and nutrition tips tailored for people on the run.

Pet-Centric Living: This lifestyle blog niche focuses on pet care, pet-friendly travel, products for pet lovers, and much, much more.

Couples Travel: This niche celebrates couples journeying together, from romantic beach getaways to the adventurous realms of glamping, RVing, and van life. Articles can range from travel bucket lists to the best glamping gear and luxury vacations for two on a budget.

Work-from-Home Life: This blog niche idea speaks to that growing demographic, offering invaluable insights on creating an efficient home office space, managing distractions, and balancing work with household duties.

Posts might explore ergonomic home office setups, time management techniques, or how to maintain professionalism during virtual meetings.

DIY and Crafts This ever-popular blog niche resonates with creative spirits and hands-on enthusiasts.

Posts might include DIY and craft tutorials, reviews of craft materials, tips for sourcing crafting supplies, techniques for mastering specific skills, like knitting or pottery, and much more.

Spiritual Practices in Daily Life: Incorporating mindfulness, meditation, and other spiritual practices such as Christianity, Buddhism, Hinduism, etc.

Midlife Lifestyle: Covering topics related to aging gracefully, travel, health, and hobbies and activities.
The key is to find a niche that resonates deeply with you. A blog niche is a specific topic or topic you'll write about on your blog.
Some Personal Advice about Blog Niches
I suggest you pick a topic for the lifestyle blog that you are passionate about so you won't get bored writing about it.

This might mean that you have a few related subjects you write about.

Think about your interests & hobbies and your obsessions!
Are you a dog lover? A cook, perhaps? Are you a beauty or style buff? An artist?

Maybe you are a wanderlust, so a travel blog would be perfect. Are you a stay-at-home mom? Then what about a mommy blog?!
What can you help your readers with? What problems can you solve? How can you inspire them?
The possibilities are endless!
Once you've decided on the topic of your blog, it's time to brainstorm a name.
2. Choose a Name for Your Blog + Tips for Naming Your Blog
Choosing a blog name for a lifestyle blog can be super tricky!

Your blog name is one of the most important steps when starting a blog. I know that I have struggled with this step.

The blog name and domain are what people see first, setting the tone for what people think about your blog.
Think about your blog, who your target audience will be, and your writing style.
How to Name a Lifestyle Blog:
Have a good old-fashioned brainstorming session with your tribe.
Reach for the Thesaurus.
Research other blogs like the one you want to write for inspiration.
Use Abbreviations or Acronyms.
Consider another language.
Think about using your name or part of your name.
Once you think you've got it nailed down – it's time to purchase your domain. Yay!
3. Purchase a Domain name for your lifestyle blog.
Now that you've decided on a lifestyle blog niche and a name for your blog, it's time to purchase a domain for your website!
A domain is your address on the internet.
A domain refers to the unique address or URL used to visit a specific website on the internet. Essentially, it's the web address where visitors can access your website.

A domain name can be any combination of letters and numbers, and it can be combined with various domain name extensions, such as .com, .net, .org, and more.

For instance, "google.com" is the domain name for Google. Owning a domain helps establish a brand's identity and credibility online.

To obtain a specific domain name, one must register it through a domain registrar, and it's typically rented on an annual basis.
Choosing a domain name is a crucial step in establishing your online presence.
How to Choose a Domain Name for Your Lifestyle Blog
Here are some pointers to consider when deciding on the perfect domain name for your new blog:
Keep It Short and Memorable: A shorter domain name is easier to recall and less prone to typos. Aim for something concise yet catchy.
Avoid Numbers and Hyphens: They can be confusing and often misinterpreted when spoken out loud. For instance, people might not know if they need to spell out the number or use the numeral.
Use Keywords Thoughtfully: Include keywords related to your business or industry if possible. It can help with search engine optimization (SEO) and give visitors an immediate idea of what your site is about.
Choose the Right Extension: While ".com" is the most popular, there are many other TLDs (top-level domains) available like ".net", ".org", or ".blog". Pick one that aligns with your brand's purpose.
Make It Brandable: Your domain name is an extension of your brand. Choose a name that aligns with your branding and sounds trustworthy to your audience.
Avoid Copyright Issues: Make sure your desired domain name isn't trademarked, copyrighted, or being used by another company. It could lead to legal issues down the road.
Check Social Media Availability: It's beneficial if you can have the same name across your domain and social media handles. This creates a consistent brand identity.
Easy to Spell and Pronounce: It might be worth reconsidering if people can't easily spell or say your domain name after hearing it once or twice.
Think Long-Term: Remember, your domain name will be a long-term commitment. Choose something that you won't outgrow in a few years.
Check Past Records: Before settling on a domain, research its history to ensure it wasn't previously associated with spam or other malicious activities.
Consider Geographic Names: If your business is local, consider including your city or state in the domain name for local appeal.
Act Fast: Domain names get snatched up quickly. If you find one you like, it's wise to register it as soon as possible.
The Best Places to Purchase a Domain
Here is a list of the best places to purchase domains. I have used each of these services and can recommend them all.
4. Set up Web Hosting for Your Lifestyle Blog
Now that you've got your domain, web hosting is next on the list.

Web hosting is essentially a parking place for your lifestyle blog. Think of it this way -If your domain is your car, your hosting account is your garage.
The Best Types of Web Hosting for New Blogs and Beginners
The sheer variety of hosting options can overwhelm new and beginner bloggers.
However, specific hosting plans are better suited to newcomers due to their simplicity, affordability, and balance between performance and ease of use.
Shared Hosting:
This is the most basic and economical type of hosting where multiple websites share the same server and its resources. It's generally the cheapest option and is straightforward for beginners to set up.
It can become slower as traffic grows and if other sites on the same server experience traffic spikes.
I suggest using a shared hosting plan until your traffic grows and you've got some revenue from your lifestyle blog to cover monthly costs.
Managed WordPress Hosting:
Specifically tailored for WordPress, this type of hosting takes care of the technical backend tasks, such as security, backups, and updates.
This lets beginners focus on blogging without diving deep into technical details.
Managed WordPress hosting is more expensive than shared hosting. However, its convenience and peace of mind can be worth the extra cost, especially for those less tech-savvy.
I switched from shared hosting to managed WordPress hosting after about six months of blogging because of the traffic increase to my blog.
The Best Hosting Companies to Use along with WordPress
Certainly! Below is a list of some of the most popular hosting companies for WordPress:
Known for outstanding customer support and high-performance hosting solutions, BigScoots offers managed WordPress hosting that emphasizes speed, security, and reliability.
BigScoots Services: Managed WordPress Hosting, Shared Hosting, VPS Hosting, and Dedicated Hosting.
A favorite among many bloggers, especially beginners, Bluehost is officially recommended by WordPress.org.
It offers an easy setup process and a reliable hosting environment. (I used Bluehost when I first started blogging with zero issues.)
Bluehost Services: Shared Hosting, VPS Hosting, Dedicated Hosting, Managed WordPress Hosting, WooCommerce Hosting.
Recognized for top-notch customer service and innovative server technology, SiteGround provides solutions tailored for WordPress websites. (I have never used SiteGround, but I hear good things.)
Services: Shared Hosting, Cloud Hosting, Managed WordPress Hosting, WooCommerce Hosting.
Specializing in Managed WordPress hosting, WP Engine is ideal for those looking for a premium, hassle-free experience. It provides fast speeds and a suite of developer-friendly tools.
Services: Managed WordPress Hosting.
Powered by the Google Cloud Platform, Kinsta offers premium managed WordPress hosting known for its speed and security.
Services: Managed WordPress Hosting.
5. Install WordPress and Configure Settings
Many hosting providers offer a one-click WordPress installation feature.
Log in to your hosting account.
Navigate to your control panel (often called "cPanel").
Look for the WordPress icon or a 'One-Click Installs' section.
Click on it and follow the instructions. You'll choose your domain, create an admin username and password for your WordPress site, and then complete the installation.
Configure Basic Settings: Once WordPress is installed, you can access your blog by going to yourdomain.com/wp-admin.
Log in with the admin username and password you created.
You'll be taken to the WordPress dashboard, where you can configure settings, choose a theme, and start creating content.
Basic Setting Suggestions for a New WordPress Blog
Setting up WordPress correctly from the beginning is essential for both user experience and search engine optimization.
Here are some basic recommended settings for a new WordPress installation:
Permalink Structure: Navigate to Settings > Permalinks. The recommended setting for SEO is "Post name" as it allows for clean, easy-to-read URLs.
Timezone, Date, and Time Format: Go to Settings > General. Set the correct timezone, date format, and time format based on your preference and audience's location.
Reading Settings: Under Settings > Reading, decide if you want your homepage to display your latest posts or a static page. Set the number of blog posts to show and how many posts to send via RSS.
Discussion Settings: Navigate to Settings > Discussion. Decide on comment settings, such as whether an administrator must approve comments and settings to reduce spam.
Media Settings: Under Settings > Media, set image sizes. WordPress automatically creates three sizes when you upload an image: Thumbnail, Medium, and Large. You can specify those dimensions here.
Search Engine Visibility: Still under Settings > Reading, there's a checkbox for "Discourage search engines from indexing this site".
Ensure this is unchecked unless you're working on a development site you don't want to be indexed.
User Profile: Go to Users > Your Profile. Fill in your first name, last name, and display name. You can also add contact information and a short bio.
This is the theme I use for this Blog. The Create Theme by Restored 316
6. Choose a WordPress Theme
In the dynamic world of WordPress, the theme you choose plays a pivotal role in determining the appearance and functionality of your website.
But what exactly is a WordPress theme, and how do you choose between free and premium options?
What is a WordPress Theme?
A WordPress theme is a collection of templates and stylesheets used to define the appearance and display of a WordPress-powered website.
It affects the design of your website, including its layout, typography, color schemes, and other design elements.
In simpler terms, if WordPress is the foundation and framework of a house, the theme is its architecture, design, and decor.
Free WordPress Themes:
Pros of Using a Free WordPress Theme:
Cost-Effective: As the name suggests, they're free! It is ideal for those starting out or working with tight budgets.
Ease of Use: Generally designed to be more user-friendly and straightforward, ideal for beginners.
Official Repository: Available on the WordPress official theme repository, ensuring quality and security.
Cons of using a free WordPress Theme:
Limited Features: It won't have all the bells and whistles of premium themes. (pretty boring…)
Less Frequent Updates: Free themes may not receive regular updates, potentially leading to compatibility or security issues.
Limited Support: Often, developers don't offer dedicated support for free themes.
Premium Themes WordPress Themes
Pros of using a Premium WordPress Theme:
Advanced Features: Comes with additional features, functionalities, and customization options.
Regular Updates: Premium themes typically receive regular updates, ensuring compatibility with the latest WordPress version and enhanced security.
Dedicated Support: Purchasing a premium theme usually entails dedicated support from developers or their teams.
Unique Design: Less likely to see other sites using the same design since it's a paid product.
Cons of using a Premium WordPress Theme
Cost: There's an initial financial outlay, and sometimes there are renewal fees.
Complexity: With more features, beginners might have a steeper learning curve. (You can do it!)
Making Your Choice:
While free and premium themes can be excellent choices, your decision should be based on your needs.
A free theme might be okay if you're starting and experimenting with your online presence.
However, investing in a premium theme will be worth the cost if you aim for a more professional or intricate design or prioritize having a unique appearance with dedicated support.
Remember, no matter what you choose, ensure your theme is responsive (mobile-friendly), SEO-friendly, and updated regularly by the developer for security and compatibility.
My Two Cents on WordPress Themes.
When I first started blogging, I went with a free WordPress theme. That lasted all of 5 days.

I quickly hopped on Facebook, joined some blogging groups, and asked for recommendations for the best premium WordPress Themes.
This is what they told me.
The Best Premium WordPress Themes (in order of popularity)
1. Kadence (what I use)
Kadence is a versatile, lightweight, modern WordPress theme known for its high performance and customization capabilities.
It offers an extensive range of header and footer configurations and detailed typography settings.
By integrating the Kadence Blocks plugin, users can design unique and functional page layouts using the WordPress Block Editor.
Kadence's responsive design ensures that the website looks great on all devices.
Furthermore, the theme is WooCommerce-ready, making it an excellent choice for online store builders.
Astra is a highly customizable and lightweight theme, perfect for beginners and professionals.
The Astra theme is known for its speed and performance optimization. It offers a variety of starter sites (pre-designed templates) that can be imported with a few clicks.
Astra is compatible with major page builders like Elementor and Beaver Builder.
Moreover, it's WooCommerce-ready, offering deeper integration with customization options tailored explicitly for online stores.
The theme's settings are vast, yet intuitive, making it a favorite among many.
GeneratePress is a multipurpose theme, praised for its speed, stability, and micro-level customization capabilities.
It's a lightweight theme with a focus on performance and usability. While the base theme is minimalist, its premium modules allow users to expand functionalities as per their needs.
GeneratePress integrates seamlessly with page builders and is also WooCommerce compatible. The theme follows best coding practices, ensuring top-notch performance, SEO optimization, and mobile responsiveness.
Blocksy is a fast, visually appealing WordPress theme that works seamlessly with the Gutenberg Block Editor.
Its intuitive, live customizer lets users see real-time changes without page refreshes. The theme boasts various header and footer builders, color options, and typography settings.
It's also WooCommerce compatible and offers multiple archive layouts, ensuring the site appeals to both businesses and bloggers.
Blocksy's responsive design ensures mobile compatibility.
What Theme I use for my Lifestyle WordPress Blog
I decided on Kadence for my Theme and purchased my blog theme at Restored 316. And I could not be more happy. (I have two other blogs and use Restored Themes on all of them!)

These themes are built using the Kadence framework, a fantastic foundation for any blog and considered one of the best WordPress frameworks.

Since using the Kadence framework, my site speed and performance have improved significantly.
Restored 316 specializes in creating feminine WordPress themes built on the Kadance Framework.
Founded by Lauren Gaige, Restored 316 has become synonymous with stylish, chic, and highly functional designs tailored mainly for female entrepreneurs and bloggers.
The themes provided by Restored 316 are known for their elegant aesthetics, intuitive designs, and customizable features, making them popular choices for various online niches, from lifestyle and beauty bloggers to online shop owners and business professionals.
Restored 316 has fantastic customer service and strongly emphasizes community, offering support and resources to help users maximize the potential of their chosen theme.

If you purchase a theme, you can join the Restored 316 Facebook Community, which I have found to be an excellent resource for blogging.
7. Install and Customize Your WordPress Theme
Installing your theme is easy.
There is a bit of a learning curve, but stay calm and follow the instructions with the WordPress theme you purchased. You've got this.
Once you've installed the theme, you must ensure you have installed all the necessary plugins to help the theme run properly.
8. Install Demo Content
Once the theme and plugins are up and running-hopefully, you will take my advice and purchase a piece with demo content.

If so, follow the instructions and install. Installing demo content will help push you in the right direction for customization.
Demo content is your friend, my friend!
9. Install Essential WordPress Plugins
WordPress plugins enhance and expand the functionality of your blog, enabling you to add features and optimize performance without knowing any code.
When starting a new blog, some essential plugins can provide foundational support in various areas.
Here's a list of essential WordPress plugins and a brief description of their purpose: (what I use)
UpdraftPlus: Backs up your website. Has scheduled backups, cloud storage integration, and site migration tools.
Wordfence Security: Enhances security for your WordPress site with features such as a firewall, malware scanning, and real-time threat defense feed.
Grow by Mediavine: GROW is a social sharing plugin designed for content creators who want to promote their content across various social media platforms. (It's the best one around.)
WP Rocket: A premium caching and performance optimization plugin. Key features include age caching, cache preloading, GZIP compression, browser caching, lazyload, and more.
Its user-friendly interface and easy configuration make it a top choice for WordPress speed optimization. (It's a game-changer for site speed!)
Imagify: Image optimization plugin. This plugin compresses images without sacrificing quality, offers three compression levels, and can automatically optimize new images upon upload.
(You must compress images, or your site will be slow, slow, slow.)
Rank Math: The SEO plugin is designed to optimize your content for search engines.
Key features include advanced SEO analysis based on 40 factors, Google Search Console integration, keyword ranking tracking, internal linking suggestions, and rich snippets.
I used to use Yoast SEO, but I like Rank Math MUCH, MUCH better!
Antispam Bee: A super lightweight plugin to eliminate spam comments on your blog.
ConvertKit: This is an email marketing integration plugin that seamlessly integrates your WordPress blog with your ConvertKit email marketing account and allows for easy addition of sign-up forms and landing pages on your website.
Kadence Blocks: An enhancement for the Gutenberg block editor. Provides additional custom blocks and options that extend the capabilities of the default Gutenberg editor in WordPress, making it easier to create custom layouts and designs.
Regenerate Thumbnails Advanced: A tool to refresh and manage your media thumbnails.
How to install WordPress Plugins:
Log into your WordPress Dashboard.
Go to Plugins > Add New.
Use the Search Bar to find each plugin by name.
Click on "Install Now" for each plugin and then "Activate" once the installation is complete.
For premium plugins or those not found in the WordPress repository, purchase and download the plugin from the developer's site. Then, in your WordPress dashboard, navigate to Plugins > Add New > Upload Plugin, select the plugin file, and install and activate.
Once your plugins are installed, take time to configure them as per your needs. Make sure that they work harmoniously together and with your theme to ensure optimal website performance.
10. Add Pages to Your Lifestyle Blog!
When starting a new blog, several pages are essential to establish credibility, facilitate navigation, and offer comprehensive information to your readers.
Here are the must-have pages for a new lifestyle blog:
Home Page: This is typically the first-page visitors land on. It provides an overview of what your blog is about and can feature your most recent or highlighted posts.
About Page: This is where you introduce yourself and the purpose of your blog. Readers often visit this page to connect with the blogger personally and understand the story or motivation behind the blog.
Contact Page: Essential for readers, brands, or fellow bloggers who want to contact you. Typically, this page includes a contact form, email address, and possibly links to social media profiles.
Blog/Posts Page: A centralized place where all your blog posts are listed, usually in reverse chronological order.
Disclaimer and Policies: This is especially important for bloggers who offer advice (e.g., financial, health, or legal topics). It ensures readers understand that the content is for informational purposes only and should not replace professional advice.
A privacy policy is required, mainly if you collect user data (like email addresses for newsletters) or use cookies. It informs visitors about how their data is used on your blog.
Services/Work with Me: If you plan to offer services or collaborate with brands, this page will detail what you offer and possibly rates or a portfolio.
FAQ (Frequently Asked Questions): Not always necessary from the outset, but as your blog grows, it can be helpful to address common questions or concerns.
Shop or Products Page: If you intend to sell digital or physical products, this page showcases what's available for purchase.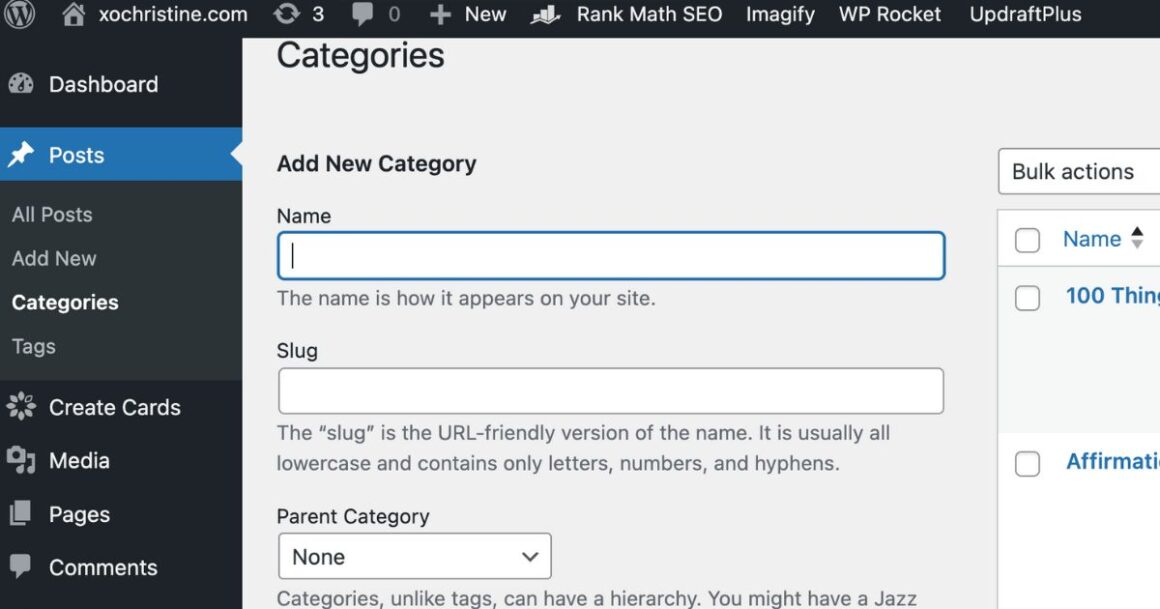 11. Decide on Lifestyle Blog Categories
Blog categories are essentially a method to organize and group related blog content. They help readers and search engines understand your site's main topics or themes.
Properly set up categories can significantly improve the user experience by making site navigation intuitive.
Why Blog Categories Are Important:
Structure: They give your blog a clear structure, making it easy for readers to find the content they're interested in.
SEO: They can optimize your site's search engine optimization if set up correctly.
User Experience: Categories enhance the user's experience by grouping related posts.
How to Set Up Blog Categories:
Brainstorm: Before you dive into setting up categories in your CMS (like WordPress), consider the main topics you want to cover in your blog. Aim for broad categories rather than specific ones.
Limit Your Number: You don't want too many categories as it can confuse readers. A handful of primary categories (5-10) is typically a good number for most blogs.
How to Add Categories in WordPress:
Go to your WordPress dashboard.
Hover over 'Posts' and click on 'Categories'.
Enter the name of your category.
Add a slug (this is a URL-friendly version of the category name).
Write a description (this is optional, but it can be useful for SEO).
Click 'Add New Category'.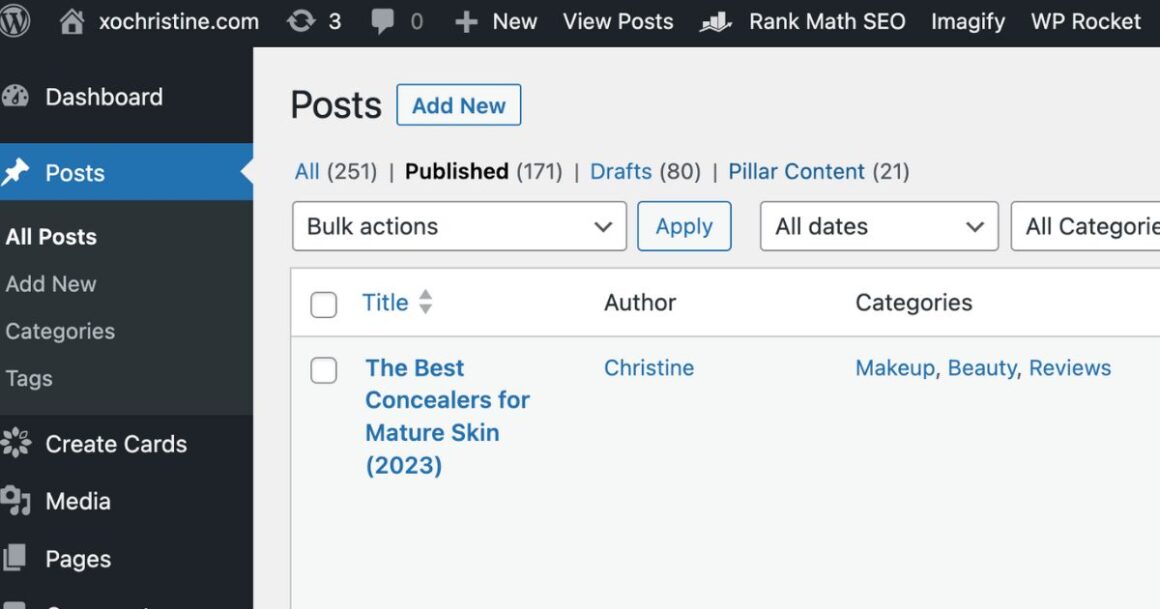 12. Write your first blog post!
Ok! There is a ton- I mean a TON of information about writing a good blog post.

If you need some help writing your first blog post, here are a few excellent resources to check out.
Related article: 100 Lifestyle Blog Post Ideas!
And last but not least- Hit that publish button on your blog post! YAY!
If you've made it this far, you will have a successful lifestyle blog! But don't stop there!

Here are a few more things you should cross off your to-do list as soon as possible.
A blog to-do List:
Add Google Analytics to your blog. (I'm not going to lie-it's a bit of a pain, but it's got to be done!).

This is a super helpful article that gives step-by-step instructions on installing Google Analytics to your lifestyle blog.

Sign up for affiliate programs so that you can start making some money! I suggest starting with Amazon and LTK.

Create a blog content calendar to stay organized.

Learn about Keyword Research and SEO (new blog articles coming soon!)
How to Start a Lifestyle Blog Using WordPress
Blogging is an adventure filled with creativity, personal expression, and the potential to make a lucrative income.
With the right tools, starting a lifestyle blog is achievable and can be a seamless experience.
As you take these initial steps, remember that every great blogger begins in the same place, at the beginning. 🙂
Harness the capabilities of WordPress, follow the steps, and before you know it, your blog will be up and running and thriving.
I wish you all the best in your blogging adventure! Don't hesitate to contact me if you have any concerns or questions. I'm happy to help!
Happy Blogging!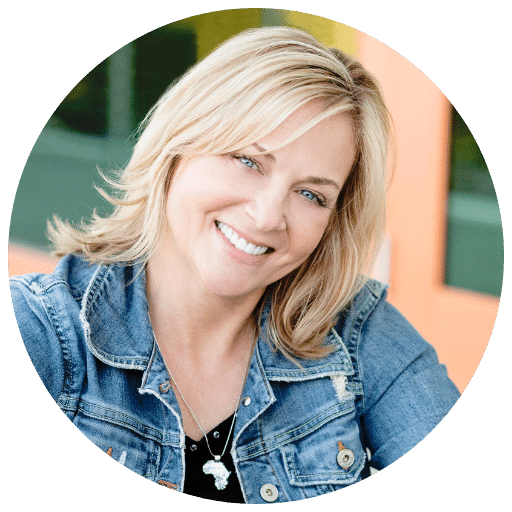 I've been keeping it real since 1963. 🙂

I'm a child of God, a wifey, mama, grandma, full-time creative, domestic engineer, and self-care enthusiast.
I am obsessed with all things makeup and skincare and love getting my hands dirty out in the garden, my art room, or in the kitchen with my hubby whipping up something yummy for the fam.

I'm always down to chat and love collaborating with other creatives and brands alike!
Feel free to reach out anytime!