100 Things To Put in Your Purse: The Ultimate Guide
What do you carry around in your purse? Chances are, it's a lot more than just your wallet and phone.
In this ultimate guide to 100 things to put in your purse, I will cover everything from the basics like cash and cards to the more unique items like a passport or an emergency whistle.
Yes! An emergency whistle! 🙂
Whether you're looking for ideas on what to pack for a weekend getaway or just curious about what other girls have in their everyday bags, keep reading for my top 100 things to put in your purse.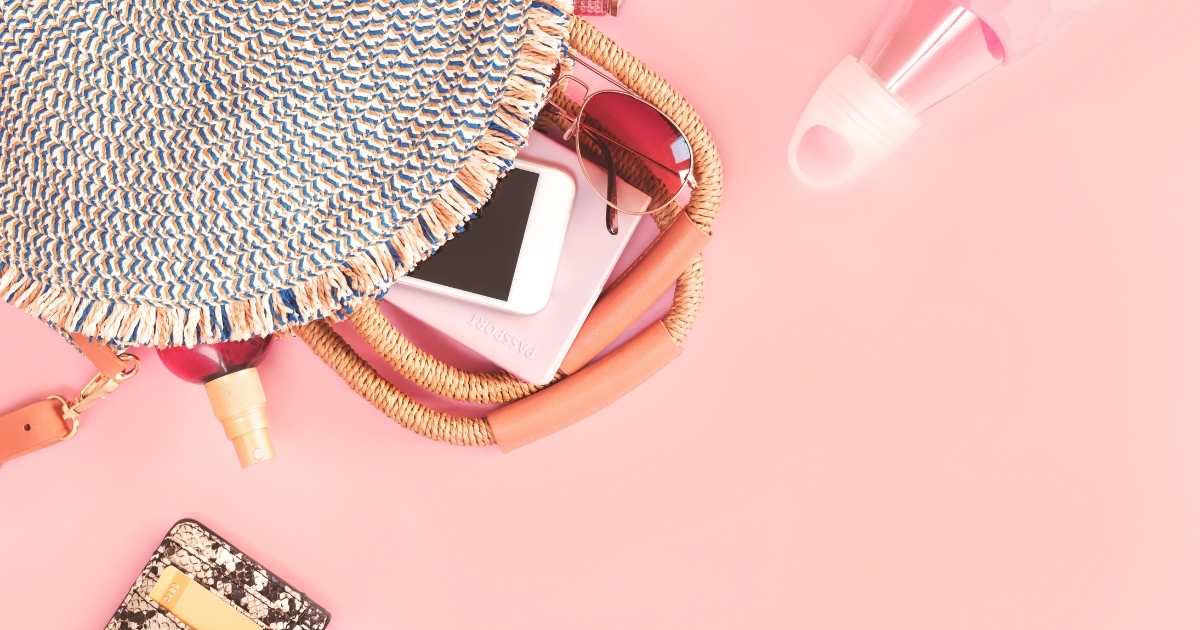 This post may contain affiliate links. Read disclosure here
100 things to put in your purse: The ultimate guide

Passport– Don't have a passport? Oh no! Get one as soon as possible! You never know when you will have the opportunity to jump on a plane and travel the world!


Drivers License– I still haven't gotten my new fancy driver's license. Have you?


Cashola (Money)- I don't carry a lot of cash, but it's always good to have some. I remember when my mom used to say, "don't leave the house without a quarter-you never know when you'll need to make a phone call"! LOL.


Debit/Credit Cards– God forbid I ever leave the house without my credit cards!


Phone and charger– I don't know about you, but I go into panic mode if I leave the house without my phone. It's so silly. We went years without phones!

Check out my new favorite phone case!-It's the bomb!


Headphones– I love, love, love my AirPods! I got them for Christmas; they are one of my favorite gadgets! The noise cancellation is the best part (when my husband snores!)


Ear plugs-I always pack earplugs! They are a must for traveling. And if you've got a husband that snores!


Wallet– Who remembers when we used to have huge wallets with checkbooks inside!? And about a thousand pictures of the kids! Times have changed, but I still have a too-big wallet!


Keys– This is another thing that has changed for me in the past few years. My car has a fob, and my front door has a keypad. So I have only the key to the mailbox left.

I still have my big giant key chain hanging in the laundry room because I'm afraid to through those old keys away!


Pepper spray– This is a good one, and you can't be too careful these days. Just be extra cautious not to spray yourself. I did this once long ago, and it was a miserable experience.
Sunglasses– I have owned about a thousand pairs of sunglasses. I buy cheap ones and expensive ones, and the same thing happens. They disappear. Ugh.

I love oversized sunglasses these days (because they protect more of my face!), and they have many cute ones on Amazon.


Sunscreen-I lives in Arizona, so sunscreen is a significant part of my life. I've got sunscreen for my face, body, and lips in my bag.


Lip balm– I cannot survive without chapstick. It has to be the original. I put on this yummy lip mask at bedtime, which is my favorite part of my nighttime routine.

Ever wonder what the difference is between lip balm and chapstick? I did! So I did a little research and this is what I found out!


Lipstick or gloss– I have a few favorites; I love Nars afterglow lip gloss/balm in the shade orgasm and Charolette Tilbury's Pillow Talk.


Hand sanitizer– We have a lifetime supply of hand sanitizer. I may never need to repurchase it! I love these purse-size hand sanitizers from Bath and Bodyworks because they smell oh-so-good!


Face mask (ugh!) As of yesterday, it looks like we may be done wearing masks, even on airplanes! I hope and pray that we are done with them forever!


Tissues– I love these travel-size tissues that I found on amazon. I have them in my purse, gym bag, and stashed in my car.


Collapsable Water bottle– This foldable water bottle can be folded from 9.8" to 5.5" Super awesome for travel!


Snacks– What kind of snacks do you stash in your purse? I love to have these little Sahale nut snack packs in my purse. They are so yummy, a great protein hit, and satisfy my sweet tooth without being too sugary.


Protein bars– I love, love, love these FITCRUNCH protein bars! We discovered them at Costco but also have ordered them on Amazon.

These fit crunch bars taste like candy and are packed with protein and low in sugar! (16 grams of protein and only 3 grams of sugar!)

Gum or mints– I love Altoids, and these little tins are so dang cute!

I buy them in bulk once a year or so. They are on my desk, car, gym bag, and even the kitchen junk drawer.

You never know when you are going to need a breath mint.


Makeup bag– I use these little mesh zipper bags in my purse and travel bags to carry small items and essentials. I love the mesh bags because you can see right through them, and they lay flat in my bag.


Related: My Favorite Makeup + Beauty articles
Facewash– I have used a thousand different face washes over the years. These days I use Cerave's hydrating cleanser, and I love it. It's become my holy grail face wash.


Face Moisturizer– My dermatologist got me hooked on Cerave! I use Cerave's nighttime face moisturizer both day and night. I love, love, love all of Cerave's products.


Facial mist– Sometimes, you just need a blast of facial mist! Am I right?! I love this travel-size facial mist. And since I live in Arizona, I reach for it often!


Hair ties and bobby pins– I use these soft and silky hair ties every day, which are my hair clips. I can't live without them!


Brush or comb– I love Wet detangling brushes and swear by them. I carry this travel-sized wet detangling brush in my purse daily. My hair is a hot mess, so I can't leave home without a brush!


Perfume or body spray– I have worn Happy by Clinique for years and years. It's my signature fragrance! So I have this little Happy travel perfume in my bag, and I love it.


Deodorant– I switched to natural deodorant about five years ago and have not looked back.

It took me a minute to find the right natural deodorant. Then, my daughter-in-law told me about Kopari natural deodorant, and I've used it ever since!
Hand lotion– I never leave home without hand lotion! It's dry here in Arizona, and I cannot stand it if my hands get too dry! I have it in my purse, my car, on my desk, and next to every sink in the house. I am lotion obsessed.


Feminine hygiene products– These tampon storage containers for your purse hold two tampons keeping them from being destroyed in the bottom of your purse.


Pain reliever medication– I buy these little travel-sized Ibuproven in three packs on Amazon. I've got one in every bag.


RX Meds– I love this little pill container! It has two sections, closes nice and tight, and even has a small mirror inside. These containers are available in a ton of colors!


EPIPEN- I never leave home without my EpiPen! I learned this one the hard way. If you need an EpiPen, make sure you have several at the ready!


Band-Aids– It's always good to have a few stashed away in your cosmetic bag just in case. I love that the band-aids brand came out with Our tone Bandaids-for every skin tone.



Blister pads– These are a lifesaver! If you're headed out with high heels or new shoes, make sure you have some blister pads at the ready.


Antacid tablets- Every time I go on a vacation and don't have my heartburn meds with me, I regret it and have to run out to find them. Heartburn is the worst!


Motion sickness pills-Even if you think you won't need Dramamine, take it anyway. You never know. Dramamine has saved the day for our family many times!


Cough drops or throat lozenges– It gets awkward if you so much as clear your through in public these days! God forbid you to get a tickle! Cough drops are a must!
Eye drops– I use eye drops about 100 times per day! I've got dry eyes and terrible seasonal allergies, so I am an eye drop expert!

I use Lumify eye drops to get the red out and Pataday allergy eye drops when I have itchy eyes. (Which is 99.9% of the time!).

The great thing about the Pataday drops is you only need to use them once a day! They are both the bomb.


Contact lenses and case– I found this excellent travel contact lens case on amazon that I'm thinking about grabbing. It's got everything you need including tweezers. But who uses tweezers to remove contacts? I'm confused by that.


Eyeglasses or Blue glasses– Do you wear blue glasses when you are on screens? If not, it's high time you grabbed yourself a pair! I've got reader blue glasses all over the house and in my purse.

I get this five-pack on Amazon for under $15!

Don't wear blue light glasses? Check out my article all about blue light and the benefits of blue light glasses.


Eyeglasses wipes– We buy these in bulk! There's nothing worse than dirty glasses! Ewwww!


Sewing kit– I have this little sewing kit in my travel bag. My husband tends to lose buttons so I'm always glad I have it.


Safety pins-Have you ever needed a safety pin and couldn't find one to save your life? I have! Do yourself a favor and through one in your makeup bag!


Lint roller– Investing in a small travel-sized lint roller is a good idea. These days I have a ton of hair fall out and when we go out to eat, I get lint from the white cloth napkins all over my mostly black clothing. 🙂


Stain remover wipes or Tide to-go pen– I've carried these around for years! Just when I think, "I don't need this in my purse,"- I need it! Tide is the best.


Wrinkle releaser spray– Praise be for wrinkle release spray! I hardly iron anymore! Between this wrinkle-release spray and my clothes steamer-the, the iron only comes out once a year to iron napkins for Thanksgiving.


Static guard– When I brainstormed 100 things to put in your purse, I thought, Static Guard! Why not?! LOL.
Change of clothes– I have a change of clothes stashed in my gym bag just in case. Sometimes I think I will be going straight home after, but plans change. It's nice to be prepared!


Personal wipes– Life is too short to use toilet paper when you can use Cottonelle flushable wipes! I buy these travel size packs on amazon. They are great for my purse, gym bag, and travel bag.


CBD pen or gummies – I love CBD for stress and anxiety. For example, I use a CBD pen or CBD gummies when I'm going to fly because I get super stressed out when I fly.


Sweater– No matter the season, I need to have a sweater or light jacket with me. I get cold!

And hey! You never know when you will have to tie it around your waist and walk backward out the door! (one of my most embarrassing teenage memories!)


Clothes steamer– I love my little travel steamer! It has changed my life. Ironing is terrible enough, but ironing at a hotel with the iron spits hot yucky water all over your clothes is the worst!


Flask– It's not bad to have a nice flask for that rare occasion you might need one. Me? I have run into an occasion or two when I have needed one! I love this simple little flask. It does the trick.


Fashion tape- Fashion tape has saved my butt a time or two! Fashion tape is double-sided strips for wardrobe mishaps! Also, perfect for quick hemming and other emergency repairs.


Clear nail polish– Back in the day, I would NEVER leave home without clear nail polish to fix those pesky runs in my nylons!


Nail file or clippers– I always need a nail file but rarely have one! It drives me crazy. I just ordered these nail files that come with a plastic case! Emery boards don't play nice with things like sunglasses in my purse!


Hair straightener or curling iron– This is my new favorite hair tool! I doubt I will ever go back to using a blow dryer and brush to style my hair again! It drys, straightens, and curls my hair! It's the bomb!
Hairspray– Who remembers big hair in the 80s?! Thank God those days are gone. But they were a lot of fun, am I right?! Anyway, I love this hair spray and see no reason to switch now. I've used it for years and years.


Dry shampoo– Can I get a big YES and AMEN for dry shampoo!? YES. I thank the good Lord above for dry shampoo every chance I get. I love this four-pack of Batiste Mini dry shampoos!

They are the perfect size for a purse, overnight bag, or suitcase.


Styling gel or mousse– I use root boost to add volume to my hair. Root boost works great on my fine hair- it helps add volume without weighing my hair down. Good stuff.


Leave-in conditioner treatment– Since my Son is a hairstylist, I've got the skinny on all things hair. Since my hair is color-treated, I use Olaplex to deep condition my hair. It's the best stuff in the world. Get you some.


Travel-sized shaving cream– If you don't have space for shaving cream, or you forget it-shave with conditioner! It is almost better than shaving cream for a smooth shave!


Razor– I found the best razor! It shaves both ways! That's right. You can safely shave forward and backward. It's a great shave and a fast shave! You've got to check it out.


Tweezers– I can't live without my tweezers!

I carry a pair with me at all times because if you don't, you will need to tweeze your eyebrows while in the pick-up line, and you won't have them.

Raise your hand if you know that the best place to tweeze your brows is in the car?! The light is perfect.


Mouthwash– I can't leave home without a travel mouthwash in my bag. You never know when you might need to freshen up your breath and listen!-gum and mints help, but they don't cut the mustard after Thai food!


Travel toothbrush and toothpaste– It's good to carry a travel-sized toothbrush and toothpaste with you when at all possible.

They also have these cool disposal toothbrushes called Wisps that are a great addition to a cosmetics bag—ever heard of them? So handy!


Floss– Not having floss when you need floss is such a drag! If you love to floss, then great, but I recommend the dental floss picks instead.
Dental floss picks– These dental floss picks are much better than old-school dental floss!

Like everything else I like and use daily, I buy these glide dental floss picks in bulk. (Glide is the best!- The other brands bend and break.)


Whitening strips– I don't whiten my teeth because I have veneers! Love them!

But if I did, I would use crest whitening strips or this kit. I've heard that they both work pretty well, but I'm sure it's better to get your teeth whitened at the dentist.


Hat or visor– I don't look good in hats! But! If I'm at the beach or hanging by the pool or gardening. I wear one. You've got to protect that pretty from the rays!


Swimsuit- I was shopping around on Amazon, and I can't believe how many cute one-piece swimsuits (with tummy control) they have this season!


Swimsuit Cover-up– I have several swimsuit cover-ups, but I always keep my eyes peeled for cute ones! I saw some super cute cover-ups at Target, but I didn't have time to stop.


Sandals or flip-flops– I would rather be barefoot, but since I have to wear shoes a lot of the time, I wear flip-flops! And I love how I can just throw them into my bag.


Makeup remover wipes– Worth their weight in gold! I love these travel-sized Neutrogena Makeup Remover Facial Cleansing Towelettes! They are individually wrapped, perfect for my purse, gym bag, and vacations!


Foldable Beach bag– This beach bag is great because you can fold it up to bring on either your purse or your suitcase!


Towel- If we're talking beach bag, you'll need a good beach towel.

These Turkish cotton beach towels are the best! I promise you!

They are lightweight and roll up great to fit in your bag, you can easily shake off the sand and they dry super fast!


Small Insect repellent– I lived in Texas for nine years and I always, WITHOUT FAIL, had insect repellent in my bag! Have you seen the bugs in Texas?
Pistol-I don't own a pistol, but one of my best friends reminded me to include this on the list! It's a crazy, mixed-up world out there, so if you are inclined to carry a pistol, do it!


Notepad- I use notes on my phone these days, but it is nice to have paper and a pen handy. You just never know!


Address book– I still have my old address book. I don't have the heart to get rid of it even though all my contacts are on my phone these days.

What happens if we can't access the cloud one day?


Daily planner- I still use a paper daily planner because I love the old-school way of planning my day. Nothing like a good old-fashioned to-do list!



Shopping List- If you're anything like me, I make a shopping list at home and forget it. I have to call my husband and ask him to take a picture of it. HA! I recently installed a new app called Keep, a digital list maker. It works along with Google calendar and is free from the app store.

The jury is still out for me, but I thought it was worth a share.


Laptop or tablet– Since I'm a blogger, I take my laptop almost everywhere.

I just bought myself this quilted Calia tote and I love it! It serves double duty as a purse and a computer bag.

It's got a pocket for my phone and a full-sized water bottle!


Charger- Whatever you do, don't forget the dang charger!


Camera– Most of us just use our phones to take pictures these days, but I still bring my small digital camera or my big camera on trips or special occasions. 100 things to put in your purse


Film or digital memory card– It's good to keep a memory stick on hand with your photos and important documents. You just never know. If you lose your phone, you've got a backup.


Small tape measure– This is a must! I cannot tell you how many times I needed a tape measure while out shopping!

Pro tip: It's also good to put measurements into your notes on your phone if you find that perfect entry table while you're out and about! 100 things to put in your purse

As if 100 things to put in your purse isn't enough? Here's one more for good measure!


Emergency whistle! (I couldn't forget that one!) But, this personal safety alarm is better than an emergency whistle!

My daughter is a nurse and has one on her keychain. In the world we live in today, it's more than worth the $20 investment! Makes a great gift too.
Related: Fun + creative hobbies for women
Phew! 100 things to put in your purse, to be exact!
So there you have it – 100 things to put in your purse.

Some of these 100 things to put in your purse are essential, while others are just for fun.

Let me know in the comments which of these items 100 essentials you always carry around with you and whether there's anything I missed.
As always, thanks for stopping by!
PS. I want to shout out to my girls in The Midlife Girl Tribe for helping me come up with the last few essentials for your purse! Thanks, girls!