16 of The Best Side Hustles for Women for 2023
Are you a woman looking to make some extra money? If so, then I've got exciting news for you!

There are plenty of opportunities out there for women to make an income on the side from freelance writing and graphic design to starting your own e-commerce store or even becoming a virtual assistant—the possibilities are endless!
In this blog post, I have curated 16 of the best side hustles for women in 2023 that can bring in steady income.
So if you're ready to dive into the wonderful world of side hustling and take back control of your finances – let's roll!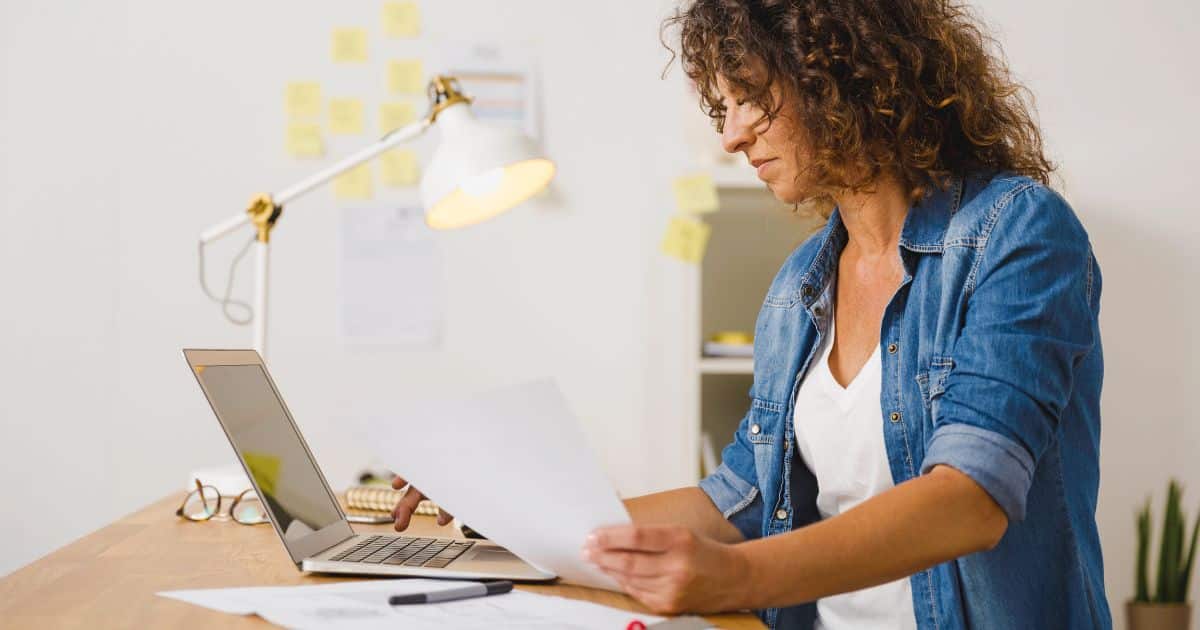 This post may contain affiliate links. Read disclosure here
Looking for a Side-Hustle That's Right for You
Maybe you've got extra bills to pay. Don't we all?!

Maybe you've got a kid going to college and need tuition money.

Maybe you want to take your family on a memorable vacation. Or perhaps you've retired and got some spare time on your hands?!
Whatever the reason, there are many ways to make extra income.

Some online hustles are easy side hustles for women, while other side hustles are a bit more challenging and take more time.
Regardless, I've got a lot of great side-hustle ideas for women, many of which can be done remotely from home online.

There is something for everyone!


The Best Online Side Hustles for Women in 2023
1. Start a Blog! Blogging is a great side hustle!
I may be biased, but starting a blog is one of the best side hustles for women!

If you have a knack for writing, blogging can be an effective way to make money online.
To be clear, blogging doesn't pay right away. Blogging is a long play. It takes time to build a blog and gain traffic.

That said, there are numerous ways to monetize a blog and turn a blog into a money-making machine.
How can you make money with a blog?
Here are some of the most effective to make money on a blog:
Affiliate marketing.

By regularly promoting affiliate products on your blog and writing reviews of affiliate products, you can make significant commissions.

These can add up quickly, resulting in thousands of dollars per month.


Promote your services.

A blog can be one of your business's most effective promotional tools.

For example, let's say you're a health coach. You establish yourself as a health expert by regularly writing posts about health.

This will attract new clients, resulting in an influx of cash.


Advertisements. You can put advertisements throughout your blog. Platforms like Google AdSense make it incredibly easy to put ads on your blog.

You don't even have to worry about finding advertisers. They do all the hard work for you.

With many advertising platforms, you get paid based on how many people see the ads. So the bigger your audience, the more people see your ads and the more money you make.

Advertising platforms pay you each time someone clicks on the ad and or when you make a sale.

Sponsored posts. Sponsored posts are when you partner with a brand to create original content for your website.

The content is typically somehow related to the brand and promotes the brand in a unique way. For posting on your blog, the brand pays you a set amount.
Blogging is a long play.
Before starting blogging, it's important to note that monetizing a blog requires an audience.
You can't make money from your blog if no one reads it.
You can slowly but steadily build your audience by blogging consistently and then sharing those posts online through social media.
With blogging, consistency is the key. If you want to build an audience, you must create content consistently.

Related article: How to start a WordPress blog
2. Affiliate Marketing
Affiliate marketing is an outstanding side hustle for women and a great way to start making money online!

The bar to entry is relatively low, and you can get started with it immediately.
Here's how affiliate marketing works:
First, promote an online product or service created by someone else.

If some purchases a product or service through your promotion, you get a commission or portion of the sale.
Typically, you promote the online product through a special link connected to you. That way, the company knows that the sale came through your promotion.
Amazon Affiliates is a simple example of affiliate marketing. Once you sign up for their affiliate program, you can promote ANY product on Amazon.

If someone clicks on your affiliate link and then purchases the product, you get a small portion of that sale.
Here's a list of affiliate networks:
These affiliate programs have thousands of products to choose from, including ones from top retailers like Target, Sephora, and many, many more.
You might think, This sounds great, but how exactly do I promote affiliate these products?
There are numerous ways to promote affiliate products.
Write reviews of affiliate products on your blog or website and include affiliate links.
Put banner ads on your website or blog promoting affiliate products.
Post affiliate links on social media. (FaceBook, Instagram, Twitter, Etc.)
Promote affiliate products to your email list.
If you have an audience, whether on social media or through a website, you can make money through affiliate marketing.
One of the reasons affiliate marketing is such a great way to make money online is that you don't have to create any products. You're simply selling what someone else has already created.
The best affiliate marketers can make thousands of dollars each month through their efforts.
3. Poshmark Side hustle or an Etsy Side Hustle!
Selling products online is a great side hustle for women! The possibilities are endless.
Poshmark, Etsy, Amazon, and eBay are just a few side hustle ideas off the top of my head when thinking of selling products online.

There are numerous ways to sell products online:
If you want to sell products on your blog or website, great!

You'll need to set up an eCommerce website to list your products and accept payments.
Thankfully, companies like Shopify make it incredibly easy to set up an eCommerce store.

In a relatively short time, you can have an online store up and running, ready-to-sell products, and get paid for them.
What sorts of products should you sell online?
Sell homemade hand-crafted products you make yourself on sites like Etsy.

If you're the crafty type and can make a product that others would purchase, Etsy can be a great option.

The top Etsy sellers make thousands of dollars every month.

Resell products on sites like eBay, Amazon, and Poshmark.

For example, let's say you like to go to thrift stores. You can find great products to sell on eBay at thrift stores if you're willing to do a little hunting.

Like Etsy, the top eBay sellers (and other sites) can make thousands each month.

Dropshipping products.

Dropshipping works a little differently than the standard way of selling products online. With drop shipping, you find a product that is available online for a relatively inexpensive amount.


You list that product on your eCommerce store for a higher amount. Then, when you make a sale, you keep the markup amount. The product's maker then sends the product directly to the buyer without you ever touching it.

To be clear, you act as a middleman, connecting the buyer and the seller and then taking a portion of the sale. You don't ship any products.

You sell them at a markup and then let the product maker ship them.

If you're trying to find good products for dropshipping, AliExpress is a great place to start.

With Shopify, you can create a store that connects directly to AliExpress to make it easy to sell products.

Out of all these options, selling products on sites like eBay and Etsy is probably the simplest way to get started making money online.

And the fastest way to make money too!

If you can find products to sell, such as at thrift stores or garage sales, you can start making money relatively quickly.
4. Sell Services Online
There's a good chance you have specific skills that you can sell online on a freelance basis. Just look at all of these potentially lucrative side hustle ideas!
Online Freelancing Opportunities:
Graphic Designer
Freelance Writer
Translator
Health and fitness coach
VA (Virtual Assistant Service)
Photo Editor
Social media management
Bookkeeper
Web Designer
Run Facebook group
Search Engine Optimization Expert
Digital Marketing
Tutoring
Life Coach

How to get started freelancing online:
Create a portfolio that shows off your work and services

The reality is that most businesses will want to see an example of your work if they're going to hire you. A portfolio shows that you've already done solid work.

I suggest creating an online line portfolio online.

Set your prices for online services

There are numerous ways to set prices, including by the hour, by the project, or as a retainer fee.

Research what your competitors charge and the current fair market value of your services.

Set your prices at what you consider a fair amount, and be confident in that amount as you talk to potential clients.

Join freelance platforms.

Numerous online platforms make it easier to jump into the freelancing workforce.

Starting a freelance career takes time. But if you're diligent about finding and applying for jobs, you can quickly turn it into a profitable gig.
The key to succeeding in the freelance world is persistence.

5. Become an Online Coach
This is somewhat similar to freelancing but with a different flavor.
If you have significant knowledge in a particular industry or area of expertise, you can package your knowledge and sell it.

In other words, you're selling your expertise instead of a product or service.
What sort of coach could you become? The options are endless:
Health coach
Life coach
Music/vocal coach
Finances coach
Executive coach
Sales coach
You might be thinking, But I'm not an expert in anything. So how could I be a coach?
You don't have to be an expert to be a coach.
You may not be an expert because you don't have a degree, but you've still acquired expertise through many years of experience.
Several platforms make it easy to do coaching:
6: Create Online Courses
Online courses are a fantastic way to monetize knowledge that you already have.

And unlike coaching, which requires regular meetings with a small number of clients, you can sell your course to hundreds, if not thousands of people.

Online Courses are a way to create evergreen passive income.
The good news is that you can create an online course around almost any subject and find people to purchase it.
For example, you can find courses on many topics, such as:
Photography and Photography business
Health and Fitness: Losing weight
Learning to play an instrument
How to DIY: The possibilities are endless
Art and Crafting
Singing and/or dancing
How to start an Etsy shop or a Poshmark Closet
Learn to Invest in stocks
How to start a blog, YouTube Channel, Etc.
Cooking and Baking
Social Media Marketing
The list goes on and on. To create a course, you need a platform to distribute it.
There are several platforms to create courses, enroll students, and accept payments, such as:
These platforms allow you to upload various materials, including video, audio, and text.
One way to get an excellent feel for a course is to take a few courses yourself. Udemy offers thousands of courses for relatively low prices.

Consider taking a few courses in your niche for ideas about what to include in your course.
7: Start a YouTube Channel
Believe it or not, YouTube is a relatively good way to make money online.

It takes work and time to build up your subscriber base, but once you do, you can monetize it effectively.
Steps to Start a YouTube Channel as a Side Hustle
Before starting a YouTube Channel, you've got to brainstorm and then begin with the end goalin mind.

So what's the end goal? To have a successful YouTube Channel and make a ton of cashola! Right?!
How much money can I make on YouTube?
According to Forbes.com, the average YouTube pay rate hovers between $0.01 and $0.03 for an ad view, a YouTuber can make around $18 per 1,000 ad views, which comes out to $3 to $5 per 1,000 video views.

Over time, a YouTube channel can grow from making a little money to a full-time income!
Steps to Starting a YouTube Channel:
Set up a YouTube Channel
Decide on your niche and demographic.
Plan content. Planning your first 15 videos is a good idea.
Buy video equipment and lighting
Purchase video editing software
Record and edit videos. Load to YouTube.
Market and grow your YouTube channel.
Some simple yet effective ways to grow your channel include:
Share your YouTube videos on social media
Posting your YouTube videos to your blog or website
Send your YouTube videos to your email list
Ask everyone under the sun to subscribe to your channel
In many ways, growing a YouTube channel is like growing a blog. It takes time and consistency.
You probably won't get much traction if you post one video monthly.

However, if you post and consistently promote those videos once or twice a week, you'll slowly but surely build your channel.

The more subscribers you get, the more views you rack up and the more money you'll make.
8: Write and Sell a Book
Another highly effective way to monetize your knowledge and talent is to write and sell a book.

The best part about Writing a book is that it can be done in your free time, and once the book is complete, it can provide a steady income for years and years to come!

In addition to making money with every sale, writing a book has several other specific benefits:
First, it establishes you as a thought leader in your industry.
It provides you with a resource to give to clients.
Third, it allows you to attract new clients who wouldn't have heard of you otherwise.
Steps to Writing a Book as a side-hustle:
Create an outline, and then hire a ghostwriter on Upwork or Fiverr to write the book for you.

Once you've written your book, you'll need to get a cover design and have the book printed.

With each sale, you can get it printed on demand through Amazon CreateSpace, and you can quickly get a cover designed through Upwork or Fiverr. Alternatively, if you want to design the cover, you can use software like Canva.

After your book is complete, it's time to promote it.
Some simple ways to promote your book include:
Post about it on your website.
Send an announcement to your email list.
Create shareable graphics with quotes from the book (using Canva).
Share insights from the book on social media.
Create a video promoting the book and share it on YouTube and other platforms.
9: Become a Virtual Assistant
This is similar to selling your services on a freelance basis but with a bit more specificity.
A virtual assistant performs a large variety of tasks for a person. Unlike a normal assistant, who works in close physical proximity to the person, you don't need to be anywhere near the person you're assisting. Instead, all the tasks are given to you online.
The virtual assistant market is heating up, with many business owners overwhelmed by the daily tasks they have to do.
You might make an outstanding virtual assistant if you're organized, can effectively get tasks done, and can communicate efficiently online.
Typical Virtual Assistant Tasks:
Daily administrative tasks
Manage Online Communities and Facebook Groups.
Create and Post Pinterest Graphics.
Content writing (including writing blog posts)
Edit videos for YouTube and Social Media
Data entry or database management
Email management
Managing a YouTube channel
Managing social media profiles.
Responding to business inquiries.
Where should you look for virtual assistant gigs?
10: Become a Tutor (A great side hustle for teachers!)
Being an online tutor is one of the best online side hustles for women and a perfect side hustle for teachers and retired teachers alike!

With platforms like Zoom, Skype, and others, you can tutor people worldwide from home!

If you have a knack for teaching and love to meet people regularly, tutoring people could be a great way to make money online.
There are several places where you can find online tutoring jobs:
11: Become a Social Media Influencer or Content Creator
Becoming a Social Influencer or content creator is one of the most popular side hustles for women and for a good reason!

Social influencers are online personalities who use social media to promote brands or products.

Social influencers can earn money by creating and sharing photos, videos, and other content on their social media accounts.
How do Social Influencers Make Money?
Paid partnerships with brands.
Become a brand ambassador.
Sell physical or digital products.
Offer freelance services.
Sell online courses or workshops through social media.
Affiliate Marketing.
How to get started as a Social Media Influencer?
Start a social media account such as Instagram.
Create a high-quality Bio. Link Website or blog if you have one.
Choose a niche: IE: Beauty, fitness, finance techie, self-help, etc.
Define your audience or demographic
Create content!
Build a following: Engage with your audience.
How much money do social media influencers make?
On average, influencers charge $20 per post per 1,000 subscribers. Facebook. Influencers on the platform charge an average of $25 per post per 1,000 followers.
-Beginning Social Media Influences or Nano Influencers with 1K to 10K Followers:
Nano influencers have small yet mighty audiences with 1,000 – 10,000 followers. An average nano-influencer on Instagram can command up to $88 per post on average.

And this means there is a potential for you to earn even more as your account grows.
-Micro-Influencers: 10K to 100K
A micro-influencer with 10,000 to 50,000 followers can earn anywhere between $40,000 and $100,000 per year.
3. Macro Influencers: 100K to 1M
Macro influencers are often content creators who make anywhere between 100,000 followers and can earn $1,000 per post.
4. Mega Influencers: >1M
On the other hand, influencers with millions of followers can earn tens of thousands of dollars per post. Yep, PER POST!
12: Sell Stock Photos
Selling stock photos online is a perfect side-hustle for photographers!

Are you a photographer or a retired photographer?

Do you love taking photos? Are you always snapping away with your phone or camera? Then, you might be a great candidate for selling stock photos online.
Stock photos are photos that are licensed to others for a fee.

Once someone licenses a photo, they can use it in various ways, such as on their blog, social media pages, or in print.
Stock photo sites like iStock and Shutterstock allow you to submit your photos to their site. You get a small royalty whenever someone buys one of your photos.
For more information about selling stock photos online, check out this resource.
13: Create and Sell Digital Products
Creating and selling digital products is a wonderful side hustle for women and a great way to create passive income.
What makes selling digital products especially appealing is that they can be created once and repeatedly sold to different customers without replenishing inventory.

Selling digital products is the ideal side hustle for creatives, bloggers, educators, and freelancers looking for passive ways to make money online.
Examples of Digital Products to create and sell:
Digital planners
Coloring sheets or worksheets for kids
Meal planning printables
Organization printables
Journals
Habit trackers
e-books
Canva Pro is a great tool for designing digital products.
Once you have created your digital products, you can put them on an online store using Shopify, Creative Market, Etsy, and more!
14: Start a Podcast
Podcasting is another great side hustle for women looking to make extra money! There is so much to talk about!
Podcasts can be monetized in several ways, including through sponsorships, affiliate marketing, and promoting your products.
How to get your podcast started:
Pick your topic or niche. Then, list your first ten podcasts to help you decide.
Decide on a podcast name. Based on your niche, subject matter, and demographic.
Write a podcast description.
Pick your Podcast format. Will it be just you, or will you have guests?
Create podcast artwork and music
Purchase podcast equipment
Choose a Podcast hosting service
Write podcast outlines, invite guests
Schedule podcasts
Record podcast episodes
Market your podcast
15: Become a ProofReader
Proofreading is among women's best side hustle ideas because the hours are usually pretty flexible.
You can work around your full-time job easily. It focuses on correcting errors and inconsistencies in grammar, spelling, punctuation, and capitalization.

So, if you have a great eye for detail and love to read, being a proofreader may be the perfect side hustle for you!

And if you're looking to network, Twitter and LinkedIn are full of writers and proofreaders.
16: Be a Food Delivery Driver
Working as a delivery driver can be an excellent side hustle!

Most services like door dash and Uber Eats allow you to set your hours – making it a great side hustle for busy women with full-time jobs and/or kiddos at home.

And! There are so many food delivery driver jobs that you could be working and start making money within just a few days!
How much can you make being a food delivery driver?
Indeed reported that the average salary for a delivery driver is $22.52 per hour in Phoenix, AZ. (updated on July 18, 2022)

WOW! That's some pretty righteous bucks!
You can apply to be a food delivery driver at any of these companies:
The Best Side Hustles for Women 2023
We live in an incredibly unique time. You no longer have to work for a company to make money.

You don't have to work a 9-5 job, sit in a cubicle, or clock in and out. If you want freedom and flexibility, you can have it. You can make money on your schedule and do the jobs you want.
The ways you can make money online from home are almost endless. You're only limited by your imagination.
Today, we've just scratched the surface of what's available out there. If you can imagine it, you can make money doing it.
All that's required is some hustle!

What side hustle idea appeals to you the most? Do you have another side hustle idea to add to my list? Please share your thoughts in the comments below.
Until next time,
XO, Christine

Get the latest in your inbox!