Bucket List Ideas for Fall: 100 Fun Things To Do This Fall 2023
Looking for some super fun thing to do this fall? You've come to the right place!

Since fall is my absolute favorite season, I thought I would brainstorm some fun things to do this fall. And guess what?!
I came up with the ultimate Fall bucket list: 100 fun things to do this fall 2023!
Fall is such a wonderful time of the year! With Halloween and thanksgiving, the fall season is overflowing with fun and excitement!
There are fun fall activities for everyone!
This post may contain affiliate links. Read disclosure here
100 Fun Things to Do This Fall:
1. Visit a pumpkin patch and pick your favorite pumpkin.
Visiting a pumpkin patch is one of my all-favorite fall activities to do in the fall! Most pumpkin patches have hayrides, yummy fall food, and carnival rides!
It's so fun to pick out the perfect pumpkin, and it's always a great photo opportunity with the kiddos, so don't forget your camera!
2. Stock up on Pumpkin Spice Everything!
YAY! I love, love, love me some pumpkin spice. I stock up on pumpkin spice everything in August or so.
3. Start Your Christmas Shopping Early
It's never been more important to start Christmas shopping early! And it feels so good to get a jump on wrapping everything ahead of time too!
4. Organize a Bake Sale
Bake sales are one of the oldest and most traditional ways to fundraise for a school, team, church, or other organization; check out this article about organizing a bake sale here.
5. Go on a Family Bike Ride.
Cycling is one of our favorite outdoor activities in the fall! Bike riding together as a family is a great way to bond outdoors and makes exercise fun for all!
6. Organize a Neighborhood Block Party!
Block parties are a great way to get everyone in the neighborhood together and meet new people!

Read this article to plan and organize a block party!

7. Get a Headstart on that New Year's Resolution
Why wait for the New year to start a new habit or to set new goals? Get a head start and reap the benefits of practicing new healthy habits now!

Related article: How to Make a vision board for the new year
8. Go Ice Skating with the Kids or for Date Night
Why not go ice skating? Ice skating is a great way to get into the fall spirit! Plus, it's a great workout!

Whether a beginner or a seasoned pro, there's nothing like gliding across the ice. And if you're worried about the kids falling, don't be – most rinks offer skate aids that can help to keep balance.
9. Play backgammon.
We love to play backgammon at our house! Cuddle up by the fire and play backgammon with your favorite someone. And don't forget the hot cocoa!
10. Carve Pumpkins for Halloween
Carving pumpkins for Halloween is always a family affair! We love this pumpkin carving kit, and we use it year after year!

11. Put up a Thanksgiving Tree
I just love a Thanksgiving tree! I put up a Thanksgiving tree every year. It helps to start the holiday season off with a bang!
12. Learn to Meditate
Meditating has many benefits, including better sleep, less stress, and better focus! I have a couple of meditation apps with guide meditations and sleep mediations that help my meditation practice.
Related article: The Benefits of Daily Meditation
13. Have a Campout in the Backyard
Camping out overnight in the backyard is so much fun. Having a backyard campout is fun for the kids when they have a sleepover!
14. Make Gratitude Jars.
Making gratitude jars is a fun craft you can do with the whole family. Check out this resource for step-by-step instructions.

15. Stock up on Fall Scented Candles
For me, fall means pumpkin spice, pecan pancakes, and cinnamon spice! Make your house smell oh-so-yummy with fall-scented candles.

We buy our candles at Bed, Bath, and Body works when they have their sale twice a year.
16. Road Trip!
Fall is the perfect time of year to take a road trip! A scenic drive up to the mountains to see the beautiful fall foliage is a perfect way to spend the day!

Plan a weekend getaway or a day trip. Find somewhere two hours away and head out. Go explore new territory.

Stop and have breakfast or lunch on the way.

And don't forget a road trip playlist!
17. Listen to an Audiobook or a Podcast
There are so many Podcasts available today. And the good news is that they are all free! Check out this article on the best podcasts for road trips.
18. Plant Fall Flowers
Depending on your location, planting fall flowers is a fun family activity and will brighten up your entryway or patio for the fall holidays.

We live in Arizona, so fall is the perfect time to plant mums, marigolds, and more!

This article is a great resource for what to plant in the fall.
19. Start a Dream Life Journal
A dream life journal is a journal especially to help dream up your dream life.

What are your biggest dreams for your life? What are the action steps to make your dreams come true? What are your goals for the year? The next five years?

A Dream life journal is a place where you can brainstorm your dreams and where you can set personal goals to make those dreams for your life come true!

20. Have a Fancy Fall Picnic
Having a Picnic is one of my favorite things to do in the fall because here in Arizona, the weather is THE BEST.

Plan your picnic early in the fall before the weather gets too chilly.
-Choose a beautiful setting that will make your picnic feel like a true escape from everyday life. Next, prepare your menu with care.

–Think crusty bread, aged cheeses, and seasonal fruit. Add a bottle of wine or bubbly if you're feeling extra indulgent.
-Finally, don't forget the ambiance! A few special touches can make your fancy fall picnic spread look extra inviting.
Consider a fancy picnic basket complete with all the necessities and a checkered tablecloth.

With a little extra effort, you can turn your next picnic into a beautiful memory!
21. Start a JigSaw Puzzle (at least 500 pieces)
We love having a zigsaw puzzle in progress! It's a fun way for everyone to gather, work on the puzzle, and chat. I also love working on the puzzle in the morning to "boot up" my brain.

Not only are Jigsaw puzzles a fun activity but they are good for you too!

Just look at the many benefits of doing puzzles:
Exercises both the logical and creative sides of your brain, giving you a mental workout.
Improves short-term memory.
Improving visual-spatial reasoning.
Relieves stress!
An excellent way to have a casual conversation with others.
22. Make Mulled Wine.
Mulled wine is unbelievably easy to make, even on a weeknight, and fills your home with holiday fragrance. Check out this recipe here.
23. Take a Cooking Class
In addition to being a lot of fun, taking a cooking class can also be a great way to meet new people.
Many cooking classes are held in small groups, so you'll have the opportunity to chat with fellow students as you cook.
You might even make some new friends who share your love of food. So why not sign up for a cooking class today?
24. Make Pine cone Bird Feeders
Making pine cone bird feeders is easy and fun! All you need is pinecones, twine, peanut butter, and birdseed. I would also suggest working on paper plates.
Related article: How to Make Pinecone Bird Feeders
25. Clean out the garage.
Cleaning the garage doesn't sound like a lot of fun, but it is rewarding! Fall is the best time to clean out the garage and get things in order before the weather gets cold and the holiday madness starts. You will be glad you did it!
26. Bundle up and go Stargazing
Bundle up and go stargazing. I don't know about you, but I always feel a sense of wonder when I see the vast array of stars, and I can't help but feel grateful for the beauty of nature.

Whether lying in your backyard or on a blanket at the beach, gazing at the stars is a great activity that's sure to please.
27. Have a Garage Sale
Fall is the perfect time to have a garage sale! The weather is still nice, and it's nice to declutter and put some extra cash in your pocket before the holidays!

Related article: How to have a successful Garage Sale
28. Go to the Park and Feed the Ducks.
It's the simple things in life. Get bundled up if you need to and head to the park. Don't forget to bring duck food to feed the ducks. But whatever you do, don't feed them bread.

DO: Feed ducks cracked corn, oats, rice, birdseed, frozen peas, chopped lettuce, or sliced grapes.
29. Eat Candy Corn.
A Fall season without candy corn is like a day without sunshine! I look forward to candy corn all year long. When I first spot it in Target, I buy three bags! It's just that good!

And! You can make so many yummy and fun things with candy corn! Check out these candycorn recipes for more inspiration!
30. Take a Trip to the Grand Canyon
Visit the Grand Canyon. Located in northwestern Arizona, this natural wonder is one of the most popular tourist destinations in the United States.

Visitors can choose from various activities, including hiking, rafting, and horseback riding. There are also plenty of opportunities to enjoy the incredible views.

Whether you're looking for an active vacation or a relaxing getaway, the Grand Canyon is one of the most beautiful national parks and is sure to impress.

If you've already visited the Grand Canyon, here's a great resource of all the national parks in the united states.
31. Attend a High School Football Game
Let's hear it for football season!

Both of our sons played high school football. We watched them play for years and wouldn't trade those games for the world.

There's nothing like spending Friday nights at a high school football game. It's fun to bundle up in team colors and cheer for your team and your favorite players!

And I love, love, love football snacks!
32. Try Wordle
Do you Wordle? If you haven't tried Wordle, then it's high time that you do! Wordle is a FREE once-a-day word game available online via The New York Times.

I do my Wordle puzzle every morning as part of my morning routine. Our entire family and many of our friends are hooked!

Give Wordle a try , and let me know in the comments what you think.
33. Buy a New Planner for the Up Coming Year
What can I say? I'm old school. I still like a paper yearly planner. I love planning my year, month, week, and days-writing it down and planning.

And I love to make lists for my lists. Making lists and planning my time helps me to process my goals and schedule.

And having the planner keeps overwhelm to a low roar.

How about you? Do you still use paper planners?
34. Jump in a Big Pile of Leaves!
When is the last time you played in a big pile of fall leaves? It's so much fun! And it is a great photo opportunity for your socials! Just sayin'.
35. Make an Apple Crisp.
Do yourself a big favor. Get some fresh, yummy apples and make yummy apple crisp this weekend.

Apple Crisps are simple to make and, in my book, the best comfort food dessert on the planet! Don't forget the vanilla ice cream and the caramel sauce!

Need an Apple Crisp recipe? This apple crisp recipe is the bomb!
36. Do a Digital Detox
There are many benefits to doing a digital detox. Limiting screen time opens up so much free time to enjoy more of what life offers!
Related article: Why a digital fast is a good idea
37. Make Fall Crafts with the Kids
Let's hear it for fall crafts!

One of the best things about fall is all the fun fall crafts you can do with the kids!
From pinecone bird feeders to gratitude jars, not to mention all the Halloween and Thanksgiving crafts ideas out there-you will never run out of artsy-craftsy projects to do with kids of all ages this fall!

38. Visit Trader Joe's
Raise your hand if you love Trader Joe's?! Raise both hands if you love Trader Joe's even more during the Fall Season! If you haven't experienced Trader Joe's in the Autumn, I suggest you head over to your nearest TJ location ASAP.

First, Trader Joe's has the best fresh flower at amazing prices all year round.

They've also got it going on when n it comes to all things pumpkin spice, cinnamon, maple, and the like.

You. can also find Fall pumpkins of all shapes and sizes. I love the white pumpkins and the gourds the best!

I loved this article: 30+ Trader Joe finds this fall.

39. Host a Pot-Luck Football Party
I love having family and friends over for Sunday football! It's easy to throw a Pot-luck football party because everyone brings something.

Invite your guests and bring them either an appetizer, a main dish (like chili), a side, or a dessert.

I also ask our guests to wear their favorite team colors, and sometimes we do a football pool to make the day extra fun.

If it's a playoff game or the Superbowl-We go all out and decorate. Especially if the Seahawks are playing! 🙂
40. Make a Big Pot of Chili.
Chili has got to be on the top of everyone's list of fall comfort food. Am I right?! I don't mean to brag, but I can whip up a mean pot of chili! I make two kinds.

I make a traditional chili that bubbles in the crock pot all day long and then is served with all the sides-sharp cheddar cheese, Fritos chips, onion, and sour cream.

This chili is the best for football night and Sunday afternoons in the fall and winter. Another great thing about chili is it never goes to waste.

We make Frito pie, Chili dogs, and even chili mac. YUM.

I also make a white chicken chili that is to die for! I got the recipe from The Pioneer Women years ago, and it's become a fall staple at our house.

I even won 3rd place in a chili cookoff with this recipe. Trust me; it's so dang good!
41. Buy your Christmas cards.
We receive fewer Christmas cards every year, and it makes me sad! I have even been guilty of not sending out Christmas cards. the past few years. This year I've got high hopes.

What about you? Do you send out Christmas cards anymore?
42. Have Family Pictures taken
Fall is the best time to have family photos taken! The weather is cool and crisp, the leaves are beautiful, and the light is golden.

And you can use your family picture for your Christmas card! Two birds, one stone.
43. Make hot spiced cider.
Making hot spiced cider could not be easier. Hot spiced cider smells like heaven and is so yummy!

I love this Hot Spiced cider recipe from the barefoot contessa.
45. Start using a Whoop!
WHOOP monitors your sleep, recovery, and daily effort around the clock to deliver actionable insights on how you can optimize your performance.

My husband and I have been wearing a whoop! for over a year now. We love it.

I will be writing a full review on my Whoop experience very soon, but for now, you can check out the Whoop! website for more information.

46. Cuddle up by the fire and make Smores.
There's nothing like a warm, crackling fire and smores on a crisp fall evening! We love to gather with family and friends outside at sunset to enjoy an evening of stories, laughter, and smores! YUM!
47. Play Monopoly or Clue.
When is the last time you played a good old-fashioned game of Monopoly or Clue?!

Outside-ditch Netflix for a fun game of Monopoly or Clue when it gets rainy or cold. If you choose to play Monopoly, ensure you have a couple of solid hours to play.

Our family gets very competitive, and we have tons of fun. Our little five-year-old Granddaughter can play Monopoly with the best! We start 'em early at our house.
48. Hang a fall wreath for your front door.
Having a fall wreath on the front door is welcoming. I've got a wreath for every season at my house.

The best places to buy fall wreaths are Hobby Lobby and Home Goods.

But if you want to make a fall wreath for the front door, I would check out this awesome fall wreath resource from the Pioneer Women. (I just love her!)
49. Celebrate Oktoberfest
If you love beer, parties, and European vibes, you should visit Oktoberfest in Munich at least once in a lifetime. (Put it on your fall-bucket list!)

Oktoberfest is the world's biggest beer and folk festival. It gathers more than six million people from around the world every year.
In addition to a huge beer selection, you can enjoy various attractions, such as games, amusement rides, food, music, and more!
You can celebrate Oktoberfest right here in the U.S.
50. Roast Chestnuts on an open fire.
What do you think of when you think about roasting chestnuts? I think about the traditional Christmas song lyrics, "Chestnuts roasting on an open fire-Jack frost nipping at your nose…."

Roasting chestnuts is pretty straightforward, and you don't need an open fire to roast chestnuts-although it sounds like a fun thing to do in the fall and winter seasons.

Click here to learn how to roast chestnuts, and let me know how it goes.


51. Decorate the Mantle for Fall
Looking for something fun to do this fall? Decorate your Mantel for Fall!

Since we moved over two years ago, we no longer have a fireplace or mantle. But when we lived in our old house, we always had a fireplace and a mantle.

And we decorated our mantle most holidays-especially in the fall! (Because fall is the best season!)
All that said, I highly recommend decorating your fireplace mantle in the fall. Check out my Everything Fall Pinterest board for a ton of fall decorating ideas.
52. Watch Scary Movies
My Family loves scary movies! Me, not so much! If you love a good fright-then maybe watching scary movies is a perfect thing for your family to do this fall!

Grab an outdoor movie screen and projector and bundle up outside to watch scary movies. Don't forget the candy and the popcorn!
53. Make a Fall Centerpiece
If you love the fall season as I do, you will probably want to create a fall centerpiece for your table. Making a fall centerpiece doesn't have to be complicated or expensive.

You can decorate for fall using dried leaves and pinecones found outside, or visit your local craft store and pick up some artificial fall decor.

Here is a link to one of my favorite Pinterest boards for Fall Centerpieces.
54. Go to the Farmer's Market
Farmers' markets are a great place to get all your fresh produce all year long!

You can also find many unique items you won't find at your local grocery stores, such as hand-poured candles, homemade salsa, handcrafted jewelry, etc.

Best of all, the market is a great place to support local farmers and businesses. So why not head to your local farmers market this weekend? The National farmer's market directory
55. Make a Vision Board
Making vision boards is so much fun! All you need is a poster board, some magazines, scissors, and glue. First, decide what kind of vibe you want for your board.

For example, do you want it to be about your bucket list and travel dreams? Or do you want to focus on your career goals?

Once you have a general idea, start flipping through magazines and cutting out images representing what you want to manifest.

Arrange your pieces however you like, and collage them on your poster board. Hang your vision board somewhere where you will see it often.
Related Article: How to make a vision board + Vision Board Quotes
56. Read a NY Bestseller
Read good NY Bestseller. Currently, I'm reading The seven husbands of Evelyn Hugo By Taylor Jenkins Reid! If you are looking for a good book-I highly recommend anything by Taylor Jenkins Reid. She is such a talented writer.

57. Plan a trip for the Thanksgiving holiday.
For many families, Thanksgiving is about family traditions. But what about making new family traditions?

Why not plan a trip for the Thanksgiving holiday?

When planning a trip for the Thanksgiving holiday, the possibilities are endless.

Do you want to go up to the mountains and enjoy some snow and skiing for the holiday weekend?

Or maybe you are craving a little vitamin SEA like I am?! Then how about Mexico or Hawaii? Why not?

I love the idea of renting a big house, big enough for the entire family so that we can all be together but also enjoy some new scenery.

Celebrating thanksgiving somewhere different every year could become a new family tradition!.

58. Put food out for the squirrels.
Speaking of vacations. When we go up to the mountains and stay in the woods, the kids love to put out food for the squirrels. We usually head over to the local Ace Hardware and buy squirrel food.

If you want to feed these cute little critters, check out this article about what to feed squirrels. 🙂
59. Boo or booze your neighbors for Halloween.
Have you ever been booed or boozed at Halloween time? It's so much fun!

A Halloween boo is a small gift or treat left anonymously by a friend or neighbor, and once you've been booed, you're expected to hang a picture of a ghost on your front door.

This lets everyone know you've gotten your surprise.

How to BOO the neighbors.

60. Plant bulbs for next Spring.
Planting bulbs is a fun fall activity that brings flowers in the spring!

Planting fall bulbs are a great way to create a spring flower garden and are not only easy but very affordable.

The best bulbs to plant in the fall are:
Tulips
Daffodils
Crocus
Allium
Hyacinth
Starflowers
For more information about how to plant bulbs this fall, click here.
61. Host a Potluck Friendsgiving Dinner.
Friendsgiving is a blend of friend and Thanksgiving and refers to a large meal eaten with friends either on or near Thanksgiving.
How to host a Friendsgiving dinner:
Choose a date for Friendsgiving. ( Maybe the weekend before Thanksgiving?)
Put a guest list together.
Invite friends using an online invitation app like evite.
Plan the menu. Potluck is a great idea.
Have guests sign up for a dish if you're having a potluck
Ask guests to bring a "beverage of their choice."
Plan decorations and place settings (how to decorate for Friendsgiving)
Ask a few of your closest friends to come early to help
Pick a playlist and set the mood (candles, twinkle lights, etc.)
Have a blast, and don't forget to take pictures!

62. Visit a Museum
Visiting a nearby museum is always a fun thing to do when the weather gets chilly or darn right COLD.

Our kids loved the children's museum when they were young; it was always a sure beat for a fun afternoon.

If you are visiting a large city like New York this fall, don't miss the American Museum of Natural History!
63. Make Something Yummy in the Crockpot.
Fall is all about comfort food! So before you head out for a day of fun, why not put together a yummy dinner in the slow cooker?!

There is nothing like coming home to the smell of comfort food cooking! And the best thing? It's ready to go when you walk in the door!

I love these comfort food recipes that can all be done ahead in the crockpot.

64. Get lost in a Corn Maze.
Each autumn, farms across the United States transform their cornfields into interactive mazes, perfect for a fall family outing. There are more than 500 of these mazes across the US.
Many mazes are family-friendly and have petting zoos, picnic areas, and fall treats.

You can also find haunted corn mazes for teens and adults that feel like they're straight out of a horror movie! No thanks. 🙂
To get a little lost and have a lot of fun, use the maze locator: corn mazes to explore this fall.
65. Learn to Play Chess
Why not try your hand at chess? Chess is a challenging and rewarding game that people of all ages can enjoy.

It's also a great way to exercise your mind and meet new people.

Many resources are available to help you get started, including online tutorials and local chess clubs.

You might just surprise yourself at how much you enjoy it.

66. Go on a Brewery Tour.
One of my favorite things to do in the fall is to visit a local brewery. Want to know what's even more fun? Traveling to a new city and visiting a local brewery!
The Best 18 Cities for Brewery Tours
67. Get up early and watch the sunrise.
Waking up before dawn to watch the sunrise is like giving yourself a special gift and is a great head start on a perfect fall day!

Watching the sunrise is a beautiful experience and more than worth the early call.

Consider making a thermos of coffee or hot cocoa and enjoy the sunrise with that special someone under a cozy blanket. Sounds nice, right?!
68. Watch the sunset and give thanks.
Here in Arizona, we see beautiful sunsets all year round. Watching a beautiful sunset is one of my all-time favorite things to do.

And did you know that watching the sunset is good for you?! YES!
Check out this article: The benefits of watching the sunset to learn more.
69. Bake Zucchini Bread.
I have been baking zucchini bread since I was a young girl (and that's a very long time!)

When I was young, we had a huge vegetable garden with a surplus of zucchini at the end of every summer. So, we ate a ton of zucchini and bake even more zucchini bread.

It's so good and good for you too!

The great thing about zucchini bread is that you can make a big batch of it and then put it in the freezer for up to six months!

I love this zucchini bread recipe. It's super easy and very moist! You'll love it!
70. Collect Fall Leaves & Pine cones
Collecting fall leaves and pinecones is a fun activity while on walks in the fall. You can use fall leaves and pinecones in your fall centerpieces and decorate your mantle.

There are also hundreds of fun fall crafts using leaves and pine cones.
71. Start a Gratitude Journal
The fall season is the perfect time to start a gratitude journal.

Writing in a gratitude journal helps us to bring our focus to the things in our lives that we are grateful for and not the things that stress us out or that are burdens.
How to start a gratitude journal:
Purchase a gratitude journal for yourself. Some include journaling prompts which can be helpful.
Keep your gratitude journal on your bedside table.
Write in your gratitude journal every day. (bedtime is nice)
Write 3-5 things that you are grateful for. Big things and little things.
Related article: How to cultivate an attitude of gratitude
72. Make Hot Chocolate Bombs!
Have you heard of Hot Chocolate Bombs?
Hot chocolate bombs are balls made of chocolate shells on the outside with the ingredients for a delicious cup of hot chocolate.

The inside of the hot chocolate bombs includes hot chocolate mix and mini marshmallows, but the sky is the limit on what you can put inside.
Put this magical little sphere into a mug and pour hot milk over it. The milk will melt the chocolate bomb, releasing the contents inside.

Stir and enjoy a delicious mug of chocolate heaven! This article tells you everything you need to know about hot Chocolate bombs and how to make them yourself!
73. Cultivate a Green Thumb!
It's always the right time to bring some life into your home!

Plants are not only beautiful and add a nice decorative touch to any living space, but plants also help to clean and purify the air.

Don't have a green thumb? These easy tips for new plant owners will help!
74. Buy New Winter PJs
My husband bought me the best PJs last year for Christmas!

They are the best, most comfy PJs on the planet. They are a tad pricey, but I promise you they feel like sleeping in a cloud.

If you're looking to splurge on a comfort item for yourself or looking for a special gift for someone you love, go check out Cozy Earth.
75. Go Wine Tasting
If you're looking for a fun activity to do this fall, why not go wine tasting?
Wine tasting is a great way to sample different wines and learn about the styles and flavors out there. There is so much to learn about wine!
Plus, it's a great excuse to go on a romantic date or weekend getaway with your favorite someone or maybe a girl trip?!
Look for a winery near you.
76. Go to a Haunted House.
My husband and our daughters go to a haunted house or "Fright Night" every fall season. Me? I stay home, take a hot bubble bath, and read a good book.

They make a night out of it. Dinner, right night, and a stop for desert on the way home.
77. Make Candied Apples
Have you ever made candied apples or caramel apples? If not, you've got to cross it off your fall bucket list! Candied apples are fun to make and beautiful addition to a fall party.
78. Make a Gingerbread House
Making a gingerbread house during the holidays is a super fun activity to do with the entire family!

You can make gingerbread from scratch, or you can purchase a gingerbread house kit. There are some awesome gingerbread kits available online that looks pretty fun!

This is a great place to start if you want to make a homemade gingerbread house
79. Volunteer Your Time
The opportunities to volunteer our time are limitless.

For example, you can volunteer with children, homeless shelters, environmental organizations, food pantries, church organizations, etc.

Love babies? Volunteer at your local hospital to hold and rock babies in the NICU.
Through volunteering your time, you will be making a positive impact on the world. How cool is that?

Find volunteering opportunities near you here.
A thankful tree, or a gratitude tree, is a fun and festive decoration for the Thanksgiving holiday.

A thankful tree can be a tree branch decorated with paper leaves on which people can write notes about things they are thankful for and appreciate in their lives.

You can also make a thankful tree using construction paper with hands traced by the kids as the tree leaves. (my personal favorite)

There are many ways to make a thankful tree. You can check out this resource to make your own or purchase this cute thankful tree kit for kids.

Either way, having a thankful tree this thanksgiving will be a huge hit and something to treasure for a lifetime.
81. Go to the State Fair!
State fairs mean yummy food, rodeos, carnival rides, live music, and much more!

Ever had a fried Snickers bar? What about a rodeo? Ever been to a rodeo? Want to check out some baby pigs or spend the evening riding carnival rides and eating corn dogs and cotton candy?

That's what the State fair is all about! State fairs usually start in September.

Click here for a round-up of state fairs in the US for 2022.
82. Make a pumpkin Spice Latte.
Pumpkin lattes are the yummiest treat during the fall season! You can find pumpkin spice lattes at Starbucks as early as August, which is way too soon.

If you want to save a little money and make spice lattes at home, you will be happy to learn that making a pumpkin spice latte is easier than you might think!
How to make a pumpkin spice latte at home:
Gather ingredients: Milk, pumpkin spice flavoring, brewed espresso or coffee, vanilla syrup, whipped cream, and pumpkin spice.

Put all ingredients except whipped cream and pumpkin spice in a saucepan and heat until just before boiling.

Pour into mugs, top with whipped cream, and sprinkle with pumpkin spice.

Can you believe it? It's so easy! And about 1/10th the cost of a Pumpkin spiced latte at Starbucks! Enjoy!

83. Update your Holiday Playlist.
The holidays need to be filled with good holiday music. I love this Spotify Holiday playlist.
84. Learn to Knit or Crochet.
Fall is the perfect time to learn how to Crochet or knit.

Learn how to crochet or knit; you'll be crafting cozy hats, scarves, and blankets in no time!

Just think of beautifully crafted gifts you could make for Christmas gifts!

Learning to Knit or Crochet is relatively simple. There are several knitting and crochet classes available online.
85. Make Homemade Dog Treats for your fur babies
I make the best homemade peanut butter dog treats for our dogs! They are super easy to make, and our dog loves them!
Related article: Easy Homemade Peanut Butter Dog Treats
86. Attend a Fall Festival.
Fall months are a great time to celebrate!

The fall fun is about sweater weather, pumpkin spice, and much more!
Fall is traditionally known as a time to celebrate the harvesting of crops – including grapes, cranberries, apples, squash, and pumpkins.

Farms and orchards celebrate with entertaining fall festivals, events, and activities. This is a great resource to find the 24 top fall & harvest festivals in the US.
87. Start a self-care routine.
Fall is the perfect time to establish a new self-care routine before life gets so crazy with the holidays!

Make you a priority!

Related article: 26 Ways to Practice Self-Care!
88. Take an Art Class
Why not take an art class and explore your creative side? With the kids back in school, it's the ideal opportunity to take an art class.

There are plenty of classes to choose from, whether you're interested in painting, sculpture, or photography. The possibilities are endless!
89. Go Apple Picking.
Fall is the best time to go apple picking!

While different varieties of apples ripen at different times, and the climate varies the harvest year, early October is almost always a good time to go apple picking.

Most local farms offer free admission along with fun activities like live music, food trucks, and even crafts for the kids, including how to make apple cider.

While different varieties of apples ripen at different times, and the climate varies the harvest from year to year, early fall is almost always a reliable time to go apple picking.

Click here to find the ten best places to pick apples in the US.
Shop Fall Essentials
Shop my favorite Amazon finds
90. Organize Your Pantry!
I know, I know! Maybe organizing your pantry doesn't sound like something fun to do this fall but trust me! It feels so great to get to throw out all expired food and get everything organized before the holiday season.

There are so many fun pantry organizing bins, baskets, and such available these days to make organizing your pantry a breeze.
91. Go on a day hike.
Here is your ninety-first fun thing to do this fall!

Go on a day hike!

Hiking is good clean fun, and what better time to pack it up and head out for a day hike?

Hiking is a great way to get light cardio, vitamin D, and fresh air!

Take some snacks and lots of water, wear sunscreen, and whatever you do, make sure you wear the right shoes! Wearing the right shoes with good traction is key to a successful hike.

There is always a need for blood. Sometimes, there is an urgent need for blood donations.

Consider adding giving blood to your fall bucket list.

You can visit the Red Cross to learn more about donating blood and platelets.

Want to give blood? There's an app for that!

The FREE Blood Donor app puts the power to save lives in the palm of your hand.

Find nearby Red Cross blood drives, schedule and manage appointments, complete your RapidPass®, get notified when your blood is on its way to a patient, view results from your mini-physical, and more.

Download the Red Cross app here: for iphone | Google Play
Having an annual mammogram can save your life! Learn more here.
94. Host a Halloween costume party.
Halloween is such a fun holiday! Make this Halloween even more fun this fall by hosting a Halloween costume party!
How to host a Halloween costume party:
Set the date
Make a guest list
Send invitations (I love to use evite)
Plan menu
Plan decorations
Organize games
Make a spooky playlist
Plan costumes
Organize costume contest
Purchase prizes
Have fun!
95. Make some Beer!
Brewing beer is fun and rewarding!

There are many different ways to brew beer, so you can tailor your process to suit your personal preferences.
Whether you like light and refreshing lagers or dark and rich stouts, a brewing method will let you create your perfect pint.
So if you're a beer lover looking for something fun to do this fall, why not give home brewing a try? Cheers!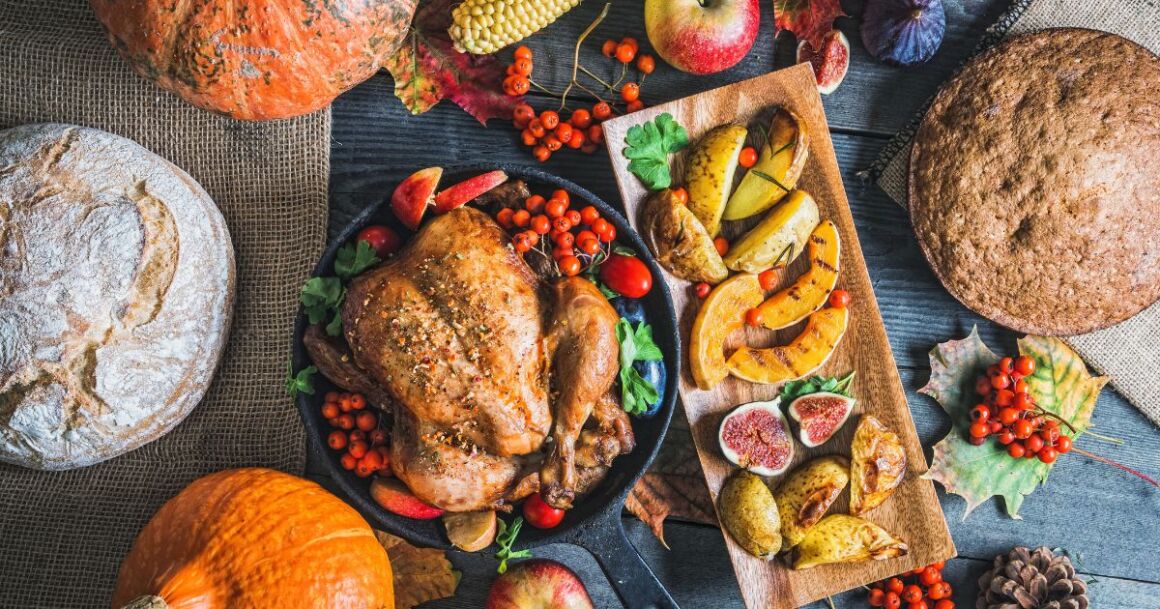 96. Make a Thanksgiving feast.
Making a Thanksgiving feast is as fun as it is rewarding.

There is nothing like planning a beautiful Thanksgiving celebration for family and friends.

Want to know how to make a Thanksgiving feast that is sure to make history books?

The pioneer woman does it again with these 40 Thanksgiving menus.
97. Make Mosaic Stepping Stones
I love making your mosaic stepping stones with the kids!

Not only do you get to spend some time outdoors in the crisp fall air, but you also end up with a beautiful and unique piece of art for your garden or for a Christmas gift for Grandma and Grandpa!
Making mosaic stepping stones is pretty straightforward and a great way to get crafty with the kids and create lasting memories.
Check out this resource for more information.
98. Go Shopping on Black Friday
It may seem crazy, but it's fun to get out with the crowds and shop on Black Friday!

Some people even pitch tents at their favorite stores like BestBuy and Walmart-But I'm not quite that committed to black Friday Shopping.

I like to head to the mall later in the day because I like to sleep in the day after Thanksgiving. By the time we arrive at the mall, the crowds have died.

I like to stop at Starbucks for (you guessed it) a pumpkin spice latte before shopping.

We usually spend a couple of hours at the mall and then head home for thanksgiving leftovers.

If you're not up for the craziness of Balck Friday shopping-Just stay home in your Pj's and do your shopping online.

Don't you just love technology?!
99. Host a Game Night with Friends
Hosting a game night with friends is a great way to spend time with friends and family. You can make your game nights simple or get as extravagant as you'd like.

Check out this great article about how to host a game night for step-by-step instructions.
100. Start an Affirmation Wall
Affirmations are positive statements that can help you challenge and overcome negative self-talk.

When you repeat an affirmation to yourself, it can help to boost your mood and increase your motivation.
One way to make affirmations even more effective is to create an affirmation wall. This is simply a collection of affirmations you can refer to when you need a pick-me-up.
You can write affirmations on sticky notes or pieces of paper and then stack them up on a wall or other surface.
Creating an affirmation wall is a simple way to give yourself a regular dose of positivity and motivation.

Don't know where to start? I wrote an article with 100 Positive affirmations for Women.
Fall Bucket List: 100 Fun Things to do this Fall (2023)
What are your favorite things to do in the Fall?

I look forward to crossing several of these off my fall bucket list! First on my list?!
I will decorate my little heart out and make gratitude jars with the kiddos to give as gifts on Thanksgiving.
Thanks so much for stopping by!

Until next time-Happy Fall!
XO, Christine