The Art of Bathing: 10 Self-Care Bath Ideas for a Relaxing Bath Routine
‍In this article, The art of bathing, I share ten self-care bath ideas for a relaxing, stress-free self-care bath routine.
Life is hard! Sometimes, it's all we can do to make it through the day.

One of my favorite self-care rituals is a relaxing, stress-free bath to ease my mind, body, and spirit.
Keep reading to learn how to turn your bathtime into a self-care bath ritual.
The bath can be a truly luxurious experience.

From ambient lighting to aromatherapy oils and bath salts and bubbles, there are plenty of ways to upgrade your bathing routine and make it something you look forward to.
The Art of Bathing: Self-Care Bath Ideas for a Relaxing Bath Routine
The key to the art of bathing is to make it as enjoyable as possible by turning your self-care bath routine into a stress-free luxurious ritual.

Life is short, so why not?

Bathtime is a chance to unwind and relax on your terms, and you can make the most of it by incorporating as many of these ideas as possible.
Don't rush your bath – make it as luxurious and indulgent as possible.

From the temperature and scent of the water to the type of bubbles or salts you use, there are plenty of ways to make your bath an oasis of relaxation.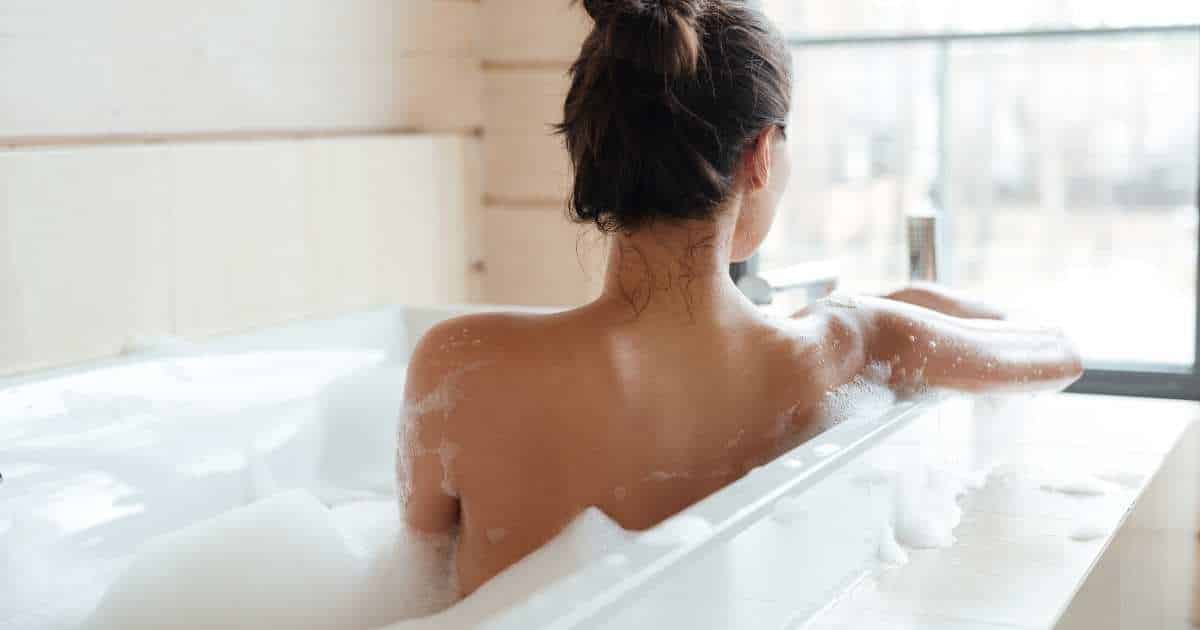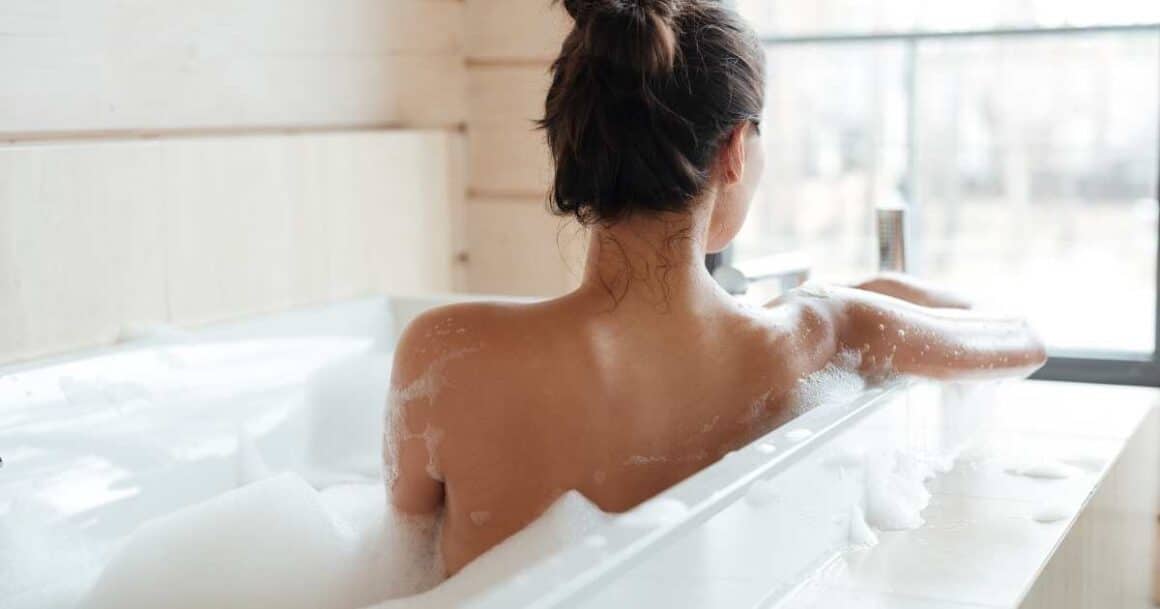 1. Turn Your Bathroom into an Oasis
Turning your bathroom into an oasis is the first step in the art of bathing.

The more spa-like your bathroom is, the more relaxing and stress-free your self-care bath routine will be.

Here are a few tips to help you make your bathroom feel more like a spa.
This article may include affiliate links. Read full disclosure here.
Shop The Art of Bathing

How to turn your bathroom into an oasis:

Declutter. If your bathroom is cluttered with makeup, toiletries, and hair products, remove items you don't use daily and store them underneath your sink, in a basket, or in a medicine cabinet.

Upgrade your towels. Fluffy bath rugs to rest your feet on and large, luxurious towels to wrap up in are key for creating a spa-like feel in your bathroom.

Bring in some life! Incorporate houseplants and flowers into your bathroom to help create a healthy environment and add life to the room.

Lighting is key. The lighting in your bathroom plays an essential role in creating a perfect spa feel. If you don't have them already, install dimmers to control the brightness level of the lights. Dimmers are ideal since they let you adjust the light intensity according to your mood.

Gather Bath Essentials. Consider a nice basket for all your bathing essentials to have them in one place.

Here are a few self-care bath essentials to gather ahead of time:
Self-Care Bath Essentials:
Towels, Robe, Hair turban, or hair clip
Scented Candles and essential oils
Bath Salts, Bubbles bombs, and oil
Dry Brush, sponges, and loofah
Shaving Essentials (Razor and shaving cream)
Music (have a bath playlist ready)
Book or Ipad
Hair mask, face mask, etc.
A glass of water or maybe wine 🙂
2. Set Aside Uninterrupted Time.
Set aside as much uninterrupted time as possible for your self-care bath routine.

Having at least 20-30 minutes of uninterrupted bath time is key to the art of bathing.

Time for yourself to enjoy the many benefits of taking a long soak in the tub.

The world can wait.
3. Cue the Candlelight
I've already mentioned that lighting is key to turning your bathroom into a spa-like oasis.

In addition to having nice lighting in your bathroom, light some scented candles to create a spa-like ambiance and a relaxing mood.

This is my all-time favorite candle for the bathroom:
I love lavender, and having a lavender-scented candle burning in my bathroom while bathing is the best.

Lavender has relaxing properties, making it the ideal choice for bathtime.

I love the WoodWick candles because they are clean burning candles that last a long time, and this lavender scent gives that spa-like vibe I love.

4. Get the Temperature Right
When setting the stage for a beautiful bath experience, it's essential to get the temperature in the room and in the bath water right.
Experts say that the optimal bath water temperate for a soaking bath is between 98 degrees to 100 degrees Fahrenheit.
5. Add Bath Salts, Bubbles, and Oils
Adding bath salts, bubble baths, and oils can elevate your self-care bath routine to a luxurious spa-like experience!

Adding bath salts and the like to your bath is relaxing, smells amazing, and provides several cosmetic and health benefits!
Bath salts have long been used as an easy and inexpensive way to treat mental and physical health ailments.

Bath salts, commonly made from magnesium sulfate (Epsom salt) or sea salt, are easily dissolved in warm bath water and used for everything from stress relief to aches and pains.
To learn more about the health benefits of bath salts, click here.
More bath salts on amazon >
There's just something about bubbles!

Adding bubbles to your bath is little adding a little bit of magic and is a great way to create a romantic mood if you sharing bathtime with someone special.

I suggest using a gentle bubble bath as bubble bath products can dry out and irritate the skin.

This bubble bath produces yummy long-lasting bubbles, smells heavenly, and is gentle on the skin.

I also love Dr. Teal's Foaming Bath! It comes in several fragrances and contains Epson salts which is an extra plus!
Bath bombs are a fun way to add bath salts, fragrance, a little fizz, and even a splash of color to your bath water.

There are many bath bombs on the market these days to choose from, but I gotta tell you, these little Chill pills are the bomb! (pun intended) 🙂

They are soothing and moisturizing to the skin, and the fragrance is nice and light, which I love.

They are a tad-bit pricey-but I feel like they are worth the splurge.

I will also link a few other bath bombs I love for you to take a look-see.
6. Aromatherapy and Essential Oils

Aromatherapy is a holistic healing treatment that uses natural plant extracts and essential oils to promote health and well-being.
Studies show that aromatherapy can help with mental health conditions or specific physical issues such as anxiety, nausea, insomnia, and even pain. (source)

There are plenty of different scents, ranging from floral and fruity to woodsy and spicey.

Once you've decided on your scent of choice, just add a few drops to your bath water.

Essential Oils
Adding essential oils to the bath is a nice way to add a natural and therapeutic element to your bath experience.

I love Handcraft Essential Oils – They are 100% Pure and Natural, premium therapeutic grade, and come in a Premium Glass bottle with a dropper.

Handcraft has over 30 different oils to choose from and are very affordable at just $20 per 4-ounce bottle!

I like to add a couple of drops to our humidifier to add a touch of fragrance throughout the house.
7. Grab a Good Read
Reading is a great way to relax and unwind after a long day.

I love to read in the bath because it helps me to switch off and escape from everyday life.

If I'm tired and need to rest my eyes, I love listening to audiobooks in the bath. I have been an Audible member for years and love it!

If you're not feeling a book, you can do many other things while soaking in your bath.

Or, you can choose to do absolutely nothing! The choice is yours.
Things to do in the bath:
Scroll your feed (if you must)
Shave your legs
Listen to a podcast
File your nails
Watch a Rom-Com
Shop The Art of Bathing

8. Play Chill Tunes
I like to have spa music playing in the bathroom while I soak. (Unless I'm watching a movie or listening to a podcast)

I love this Spa Playlist on Spotify and highly recommend it!
9. Dry Brush
You might have heard of using a loofah to exfoliate and cleanse your skin, but did you know that you can do this with a dry brush?
Dry brushing is a self-care ritual that can be done as part of your daily showering or bath routine or as a stand-alone experience to exfoliate the skin.
You can dry brush as part of your self-care bath ritual; dry brush your skin before getting into the water.
10. Deep condition your hair
Try adding a hair mask to your bathtime routine.

There are many different types of hair masks available.

Since my hair is colored corrected, I use Olaplex on my hair, and it makes a world of difference.

I put it on my hair while running the bath water and rinse it in the sink after my bath.

Once I've got it rinsed out, I end with a cold water rinse, which closes the hair's cuticle and makes my hair shiny.

11. Moisturize Your Skin
Baths are a great way to hydrate your skin by adding bath oil or butter to your water.

If you've never tried Neutrogena Body oil before- now is the time! I have used this super light and yummy oil for years!

And you want to know a secret?-This stuff drives my husband wild! Really. He loves this stuff so much that he requests that I use it every chance he gets. 🙂

You can add it to your bath water or use it after your bath (or shower).

More Noteworthy Body Moisturizers
I can't forget to mention my all-time favorite body moisturizer CeraVe. If you've been around here for a while, you'll know I am obsessed with everything, CeraVe.

My dermatologist recommended it to me years ago, and I was hooked.
The Art of Bathing: Self-Care Bath Ideas
Ok! 10 Self-care bath ideas to turn your bathtime into a self-care ritual.

I hope this article gave you some inspiration for your bath routine. I know that a nice long bath brings peace and recenters me, and I hope it does the same for you!

Let me know what you think in the comments below!

As always, thank you so much for stopping by!

See you soon!
XO, Christine
Shop The Art of Bathing