Easy 3-Ingredient Homemade Peanut Butter Dog Treats
We love to make our pups homemade peanut butter dog treats! And let me tell you, they love them! And I feel good about the ingredients.

And it's a fun activity to do with the kids! My Granddaughter loves to make the dog's treats!

This peanut butter dog treat recipe is quick and easy and can be modified into peanut butter pumpkin dog treats, peanut butter banana dog treats, and more, depending on your fur baby's preference!

Our dogs like the peanut butter treats and the peanut butter pumpkin treats the best!
This post may contain affiliate links. Read disclosure here
Easy 3-Ingredient Homemade Peanut Butter Dog Treats
I have tried a few different homemade dog treats recipes, but this one is my all-time favorite because it's so easy and versatile! (and because my dogs love 'em!)
2 cups oatmeal (or a substitute grain)
1/2 cup peanut butter (or 1 Cup if only using peanut butter)
1/2 cup soft fruit or vegetables (cooked apple, carrots, sweet potato, canned pumpkin, or a banana)
Supplies for Homemade Dog Treats
Ingredients (above)
Food Processor
Baking Sheet
Parchment Paper
Rolling pin
Cookie cutters
Cooling rack
Dog Treat Container
Instructions: Homemade Peanut Butter Dog Treats
Preheat oven to 250°

Place Oatmeal in a food processor or blender and blend until oats are ground.

Add peanut butter, fruit, or vegetable to a food processor until the dough comes together.

Roll dough 1/4″ thick, using flour if the dough is sticky.

Cut out using a cookie cutter. (I love the dog bone cutters!)

Place cookies on a cookie sheet lined with parchment paper and bake at 300° for 15 minutes.

Store at room temperature or in the freezer.
Homemade Peanut Butter Pumpkin Dog Treats
My dogs love pumpkin!

And they love these homemade peanut butter pumpkin dog treats even more!

When making home peanut butter pumpkin dog treats for my dogs, I use canned pumpkin. Not Pumpkin pie filling!
Pumpkin is a superfood for dogs!
It turns out that Pumpkin is a superfood for dogs!

Pumpkin contains essential micronutrients and fiber that make it a very nutritious treat.

Besides being a natural stomach soother, pumpkin also helps to remove excess water in a dog's digestive tract.

Learn more about giving your dogs pumpkin here> Source
Homemade Peanut Butter Banana Dog Treats
When making the peanut butter and banana dog treats, ensure you add the banana to the food processor first to mash it thoroughly. Then I add the oats and peanut butter.

The peanut butter-banana mixture comes together quickly as the banana helps to bind the recipe together nicely and rolls out like a dream.
Tips & Tricks When Making Homemade Dog Treats
Since I have been making my fur babies' dog treats at home, I've learned a thing or two.

The first time I made this recipe, I tried to mix the ingredients by hand but quickly realized that the dough for these dog treats is very dense!

I tried my hand mixer, and it worked, ok-but trust me when I say, if you have a food processor, use it! It will make life so much easier.

Another thing I learned the hard way is that you must let the treats cool and dry completely before storing them. If they are too moist, they will mold.

My daughter keeps her homemade dog treats in the freezer to keep them fresh. She says her dog loves them frozen even better! 🙂
Homemade Dog Treats Tips and Tricks:
Use a food processor! Trust me.
If the dough is too dry, you may need to add a small amount of water.
If the dough is sticky, use all-purpose flour on the countertop when rolling out the dough.
I recommend using a rolling pin with rings to ensure the dough is rolled out evenly.
You must ensure dog treats are dehydrated before storing, or they may get moldy.
Easy Homemade Peanut Butter Dog Treats
Ok! I think I've covered everything you need to know about making homemade peanut butter dog treats!

I highly recommend trying the peanut butter-pumpkin combo-my fur babies' favorite!

Let me know what you think about this dog treat recipe! I hope your pups love them as much as mine do!
Until next time,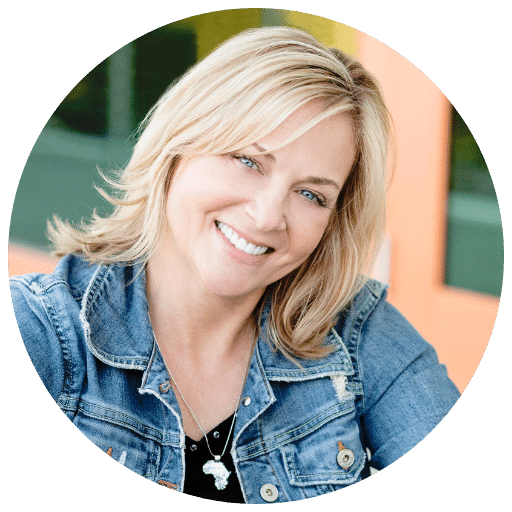 I've been keeping it real since 1963. 🙂

I'm a wifey, mama, grandma, full-time creative, domestic engineer, self-care enthusiast, and lover of all things beauty and skincare.

When not typing away on my blog, I can be found making a mess in the art room or kitchen, getting my hands dirty out in the garden or hanging with the fam.
I'm always down to chat and love collaborating with other creatives and brands alike! Feel free to reach out anytime!
Connect with Christine