Super Easy 5 Ingredient Strawberry Fudge Recipe
Do you want to make a special treat for your loved ones on Valentine's Day? Look no further than this super easy 5-ingredient strawberry fudge recipe!
This simple yet delicious strawberry fudge recipe is oh-so-creamy, requires minimal ingredients, and is super fast to assemble!
Its beautiful pink colors make it the perfect sweet treat for Valentine's Day, or anytime you crave pink treats!
This post may contain affiliate links. Read disclosure here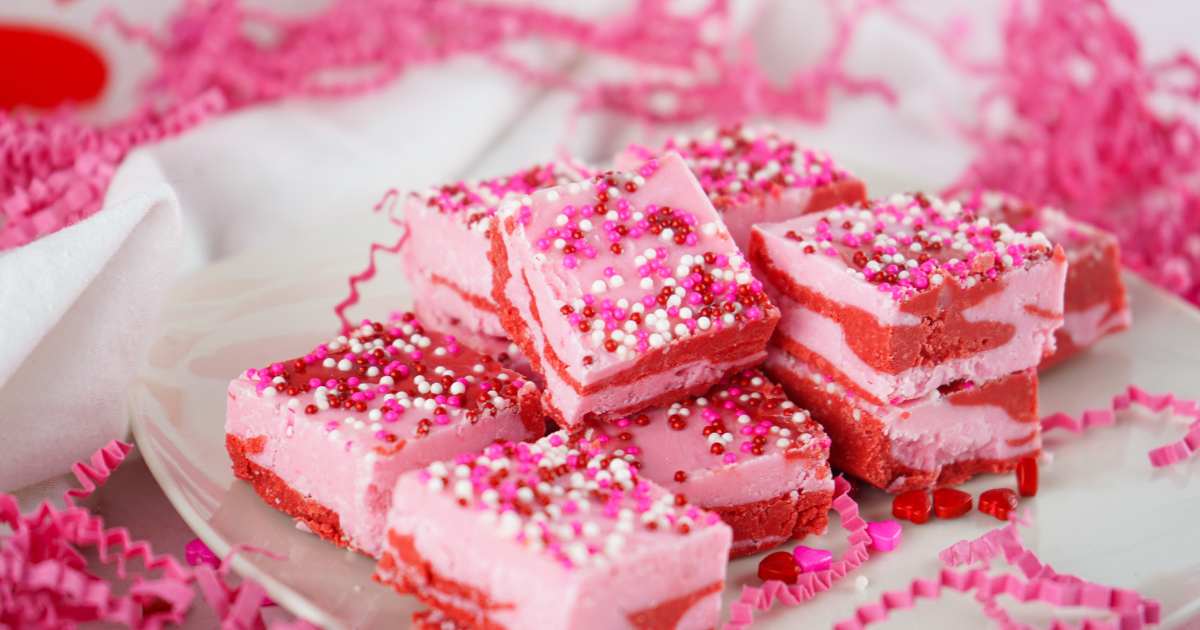 5 Ingredient Strawberry Fudge Recipe
This yummy pink strawberry fudge is the perfect dessert for Valentine's day, Mother's day, a baby girl's baby shower, or anytime you need a splash of pink!
This easy treat is no-bake fudge and is a perfect recipe to do with the kiddos!
Prep Time: 15 Minutes Cook Time: 7 Minutes Chill Time: 2 Hours.
Yields: About 16 1-inch Squares
Ingredient List: Easy Strawberry Fudge Recipe
Supplies Needed for Strawberry Fudge:
8×8 Square Pan
Large bowl (microwave-safe)
Microwave or Double-Boiler
Square Cookie Cutter (optional)
Easy Directions for Strawberry Fudge:
Line your baking dish with parchment paper, leaving some overhang.

Place the red candy melts in a microwave-safe bowl and heat on high, in the microwave, for 2-3 minutes or until smooth when stirred.

Stop every 15-30 seconds to stir during the melting process to ensure the candy melts don't overcook. (no need for a candy thermometer!)

If you prefer to use a double boiler to melt the candy melts, then do so on low to medium heat, stirring until smooth.

Follow step one for the pink candy melts, separating the two colors.

Add the Strawberry extract to the frosting and stir well.

Place half of the frosting in with the red candy melts and the other half with the pink candy melts.

Stir each color vigorously. Stop beating when smooth.

Pour into the prepared pan: Alternate pouring in the two colors in random spots, pausing to tap the pan in between so it evens out and removes bubbles.

Once all your chocolate mixtures have been poured in and evened out, sprinkle the top of the fudge with sprinkles as you like.

Place strawberry fudge in the fridge for 2 hours or until hardened.

Once it is chilled, you can cut the fudge with a sharp knife or 1″ cookie cutter.

You can easily store fudge by wrapping it in wax paper, plastic wrap or aluminum foil and store in an airtight container.
Easy Variations & Substitutions:
You can substitute the buttercream frosting with vanilla frosting. However, buttercream tastes a heck of a lot better. 🙂

If you can't find strawberry candy melts, no problem. The extract still adds plenty of flavors. You can use normal pink candy melts instead.

If you don't have pink candy melts available, use white candy melts and add pink food coloring to achieve desired pink color.

If you don't have access to candy melts, you can use white chocolate chips and color the chocolate with oil-based food dye. Do not use water-based dye, or it ruins the chocolate as the extract does
.
Add a twist by adding dark chocolate chips, white chocolate chips, or freeze-dried strawberries.

You can garnish with larger sprinkles, candy kisses, or fresh strawberries.

You can make chocolate-strawberry fudge by using chocolate frosting and the buttercream mixture, alternating the chocolate mixture in the pan with the pink mixture.
Tips & Tricks When Making Strawberry Fudge
If desired, use the set-aside frosting and place a dab on the back of a heart sprinkle, and press it into the middle of each fudge square you cut for a cute addition.

If your fudge turns out hard or seems to fall apart when you're cutting it, this means too much chocolate was used.

You'll need to reduce the chocolate the next time around. It will still taste good; it just won't be very soft or pretty.

If your fudge won't set up well, it means not enough chocolate was used. You either need to increase the chocolate used or decrease the amount of frosting the next time around.

The chocolate will slightly seize when the frosting is added to it. This is normal; no need to worry. You need the mixture to be pourable. Just keep stirring, and you'll be good to go.

Do not add the extract directly to the chocolate, or it will ruin it. The extract seizes the chocolate to the point that it's not usable.
Printable Recipe Card: Easy Strawberry Fudge
Conclusion: Strawberry Fudge Recipe
I hope you enjoy this simple recipe for strawberry fudge!

It's one of the best strawberry fudge recipes I've ever tried and is always the perfect treat for Valentine's day! My Granddaughter loves making it every year!
If you try this delicious recipe, let me know in the comments below! I love to hear feedback from my readers!
As always, thanks so much for stopping by!
XO, Christine