Best Magnification for a Makeup Mirror + Reviews 2023
Welcome, beauty enthusiasts! If you've ever wondered about magnifying makeup mirrors and what the best magnification for a makeup mirror is, you're not alone. 
With so many options today, choosing the right magnification for your makeup mirror can seem daunting. (there are so many to choose from!)
The Best Magnification and More
This blog post will explore the various types of magnification makeup mirrors and magnification levels and help you find the best makeup mirror that suits your needs. 
Whether you're a professional makeup artist, a beauty aficionado, or someone who can't see what you're doing in your bathroom mirror, the correct magnification can make all the difference in the world!
So, let's dive in and discover the world of magnifying makeup mirrors together!
This post may contain affiliate links. Read disclosure here
The Essential Magnified Makeup Mirror
As a girl who doesn't have the best eyesight, as I did 20 years ago, dealing with fun stuff such as fine lines, wrinkles, and spray brows has led me to appreciate the value of an excellent magnifying makeup mirror. 
A higher magnification level, such as 10X or even 15X, can be a game-changer for someone like me. 
Magnification is Heaven Sent
Magnification helps you look closer at your face, allowing you to apply makeup more precisely, spot imperfections, catch those stray hairs and ensure flawless makeup looks.
Without magnification and proper lighting, it can be challenging to achieve the desired look, especially if you've got poor eyesight for detail work, as I do.
But what is the best magnification for a makeup mirror? And what type of mirror should I buy?
These are all good questions, and I've got the answers.  Let's press on.
What is the Best Magnification for a Makeup Mirror?
Magnification Level
Three different magnifications are commonly found in makeup mirrors: low, medium, and high.
-Low Magnification
Typically ranging from 2X to 3X, lower magnification mirrors are perfect for those who only need a slight enhancement to see their facial features.

This degree of magnification is ideal for someone who has good vision and everyday makeup application
-Medium Magnification
From 5X to 7X, medium magnification mirrors offer a more detailed view, making it easier to apply makeup precisely.

This level of magnification is great for people who wear glasses or have mild vision issues.
-High Magnification
With 10X or higher magnification, these mirrors provide an extremely close-up view, allowing you to see even the tiniest details.

High magnification is perfect for applying intricate makeup or for individuals with more severe vision problems.
Finding The Best-Magnifying Makeup Mirror
When selecting the perfect magnifying makeup mirror, there are several factors to consider that cater to your personal needs and preferences.
Factors to keep in mind when shopping for the right makeup mirror:
Personal preference
What are your personal needs?
Consider the type of makeup you typically apply and the level of detail you require. A higher magnification mirror might be ideal if you frequently work on intricate areas like eyeliner or facial hair.
Eyesight
Your vision plays a significant role in choosing the right magnification. If you have perfect vision, a low to medium magnification should suffice.

If you have poor eyesight, you may require a higher magnification.
Lighting
Good lighting is essential for accurate makeup application.
Consider whether your makeup area has sufficient natural lighting or artificial light. If not, opt for a lighted makeup mirror that provides even, adjustable illumination.
Think about the type of light you prefer (EG: warm light, cool light, etc).
Some wonderful lighted mirrors have several different light settings to choose from.
Available Space
Evaluate the available space on your vanity or bathroom counter. If you have plenty of space, you may opt for a tabletop mirror with an adjustable stand.
If space is limited, consider a wall-mounted vanity mirror, a makeup mirror with suction cups, or flexible gooseneck mirrors that saves on counter space.
Portability
If you often travel or need a mirror for on-the-go makeup application, look for a lightweight, compact mirror or travel makeup mirror
Adjustability
An adjustable mirror allows you to position it at the most comfortable angle and height for your makeup application. Look for mirrors with adjustable arms, goosenecks, or swivel designs for added convenience.
Power Source
Some lighted mirrors come with rechargeable batteries battery-operated, while others are rechargeable or require a power outlet.
Consider the power source that best suits your needs and preferences.
Budget
Magnifying makeup mirrors come in a wide range of prices. Determine your budget and look for a mirror that offers your desired features within your price range.
In my experience, the higher the magnification, the higher the price tag (for a full-sized makeup mirror)
Aesthetics
While not as crucial as functionality, the design and appearance of your makeup mirror can also be a factor.
Choose a mirror that complements your existing decor and personal style.
Like rose gold? Look at this lighted makeup mirror! LOVE IT.
The Different Types of Magnifying Makeup Mirrors
There are many makeup mirrors today, each offering unique features and benefits.
Different types and styles of magnification makeup mirrors:
A lighted mirror has built-in lighting, providing even illumination for better visibility during makeup application.
Light-up mirrors have built-in LED lights are a common choice if you don't have enough natural lighting for makeup application.
A double-sided mirror has two sides, each with a different magnification level.
One side typically offers 1X magnification (or no magnification) for a standard view, while the other side provides a higher magnification for detailed work.
As the name suggests, these mirrors are designed to be mounted on a wall, freeing up valuable counter space.
Wall-mounted mirrors often come with adjustable arms, allowing you to move and position the mirror as needed.
A trifold mirror has a central panel and two adjustable side panels, providing multiple viewing angles.
Tri-fold mirrors often include different magnification levels and built-in lighting for added convenience.
Compact and lightweight, travel mirrors are the perfect size for easy transport and on-the-go makeup application. They often come with protective cases and foldable designs for added convenience.
These mirrors feature a flexible neck or arm that allows you to adjust the mirror's position and angle easily.
They sometimes come with a suction cup base for easy attachment to smooth surfaces.
Vanity mirrors are designed to sit on a countertop or vanity table, providing a stable base for makeup application.
They often include storage compartments, adjustable angles, and built-in lighting.
Or there are large wall mirrors with lighting (but rarely magnification)
Extra Features Available in Magnification Makeup Mirrors
Apart from the standard magnification and lighting features, some makeup mirrors have additional extras that make your makeup application experience even more convenient and enjoyable.
Here's a list of some extra features you might like:
Bluetooth Connectivity
Some mirrors come with built-in Bluetooth speakers, allowing you to connect your smartphone or other devices to listen to music, make phone calls, or access voice assistants while getting ready.
Smart Sensor
Smart sensor technology enables the mirror to automatically turn on the built-in lighting when your face approaches, ensuring optimal lighting conditions for makeup application.
Touch Controls
Touch-sensitive controls on the mirror surface allow you to adjust the lighting intensity and different color temperatures or even control features like Bluetooth connectivity with a simple tap.
Storage Compartments
Some vanity mirrors include built-in storage compartments or drawers for organizing your makeup and beauty tools, keeping your countertop clutter-free.
USB Charging Port
Mirrors with USB charging ports enable you to charge your smartphone or other devices using a USB cable while getting ready, ensuring your devices are always powered up and within reach.
Color Temperature Adjustment
Some lighted mirrors allow you to adjust the color temperature of the lighting, enabling you to switch between warm, neutral, or cool lighting to best suit your makeup application needs and personal preferences.
Dimmable Lights
Dimmable lights allow you to adjust the brightness of the mirror's illumination and create the perfect lighting conditions for your makeup application.
Timer Function
A timer function can help keep track of time while getting ready, ensuring you stay on schedule.
And turns off on its own, which is a great option because I constantly leave my makeup mirror turned on.
Fog-Resistant Coating
Mirrors with fog-resistant coatings are ideal for bathroom use, as they remain clear and free of condensation even in a steamy environment.
Magnetic Phone Holder
Some makeup mirrors come with a magnetic phone holder, allowing you to attach your smartphone to the mirror while getting ready securely.
This feature is handy for those who like to watch makeup tutorials, video chat with friends, or keep their phone within easy reach during their makeup routine.
Best Wall-Mounted Magnifying makeup mirrors
Wall-mounted mirrors are popular due to their space-saving design, versatility, and adjustability, catering to various needs and preferences.
They help maintain a clutter-free, organized environment while offering a range of styles to suit any decor.
These mirrors provide practicality and convenience, stay in place for daily use, and serve as an attractive focal point, enhancing a room's aesthetic appeal and creating a brighter, more spacious appearance.
My Favorite Wall-mounted Magnifying Mirrors:
This mirror has 1X and 10X or 7X magnification options, perfect for various makeup application needs.
The mirror is equipped with energy-efficient LED lights that provide even illumination, and the 360-degree swivel design makes it easy to find the perfect angle.
This double-sided mirror is battery-powered (uses aaa batteries) and comes in two different magnification options (7X and 10X)
This 11″ mirror offers 10X and 1X magnification options; this mirror has a dual-sided design with energy-saving LED lighting that closely simulates natural sunlight.
The mirror easily mounts to the wall and features an adjustable arm for customizable angles.
BOTH CORD & CORDLESS – Battery powered by 4 C batteries or use the US standard AC wall-plug power adapter cord.
This high-quality makeup vanity mirror features a 5X magnification, adjustable LED lighting, and a built-in smart sensor that turns the lights on automatically when your face approaches.
The mirror is rechargeable, eliminating the need for batteries or cords, and the telescopic swing arm allows for easy adjustments.
The Simplehuman magnification mirror comes in five different finishes.
This popular wall-mounted mirror features an 8X magnification and built-in halo lighting for precise makeup application.
The adjustable arm and 360-degree swivel design make it easy to position the mirror exactly where you need it.
It comes in three finishes (nickel, bronze, and chrome). This mirror is a plug-in, but a hard-wired option is available here.
This two-sided wall-mounted makeup mirror offers 10X and 1X magnification options and five different finish options.
This is a good mirror choice if you have ample lighting in your bathroom, as it does not have a built-in light.
The solid brass construction ensures durability, and the extendable arm allows for flexible positioning and has a great price point at under $50.
The Best Vanity Magnification Makeup Mirrors
Vanity mirrors offer convenience and ease of use, as they can be placed directly on a vanity, dresser, or bathroom countertop.
This mirror offers bright, adjustable LED lighting for flawless makeup application under any conditions.
This high-rated mirror features a magnifying function (1x & 7x ) for precision tasks, while the sleek design ensures it fits perfectly on any vanity or countertop.
Its modern aesthetic makes it a stylish addition to your space, and it has a super high-capacity rechargeable battery and 84 LED bulbs; a fully charged light can work for 1-2 weeks. 
This highly-rated countertop or dressing table mirror features a 5X magnification and is adjustable.
LED lighting that simulates natural sunlight with smart sensor technology turns the lights on automatically when your face approaches; so cool!
The Simplehuman sensor mirror is cordless, comes in five different finishes, and has a stylish design which I love!
The mirror offers a spacious 10″ viewing surface and 17″ height for a comfortable posture during makeup sessions.
It comes with adjustable brightness levels and can be powered by the Adaptor or with 4*AA batteries with a 1-hour auto shutdown function to save energy. 
This sleek and stylish makeup mirror has 1X/5X magnification and a beautiful pearl nickel finish.
Here are a Few More Vanity magnifying makeup mirrors that I love:
This classic mirror offers 1X and 7X magnification options on its double-sided design.

The built-in incandescent lighting provides even illumination for makeup application, and the mirror's elegant design complements any vanity or countertop.
This versatile mirror features a 10X magnifying side and a 1X side, along with dimmable lights (LED)  that provide bright, natural light for precision makeup application.
The touch-sensitive controls make it easy to adjust the lighting, and the mirror's sleek design suits any decor.
This double-sided mirror boasts 1X and 10X magnification options and adjustable LED lighting that closely simulates natural sunlight.
The 360-degree swivel design ensures the perfect angle for makeup application, and the mirror's elegant design adds a touch of sophistication to any vanity.
This ultra-slim mirror offers five dimming stages and a magnifying mirror attachment for detailed makeup application.
The mirror also has Bluetooth connectivity, allowing you to connect your smartphone for selfies or video calls.
The Best Magnified Makeup Mirrors with suction cups
Suction cup mirrors are a fantastic choice for those seeking a portable and versatile mirror option.
Their strong suction cups allow easy attachment to smooth surfaces, making them perfect for use in various locations like bathrooms, bedrooms, or traveling.
This unique mirror has a flexible gooseneck and a strong suction cup base for easy attachment to smooth surfaces.
The 10X magnification and built-in LED lights provide excellent visibility for detailed makeup application, while the adjustable gooseneck allows for comfortable positioning.
Daylight LED Light
Rotating arm with suction cup for easy mounting
Beautiful design-glossy white casing with chrome accent
Makeup Mirrors with Suction cups:
Best Magnifying Makeup Mirrors for Travel
This compact, portable mirror offers a 10X magnification on one side and 1X on the other.
The built-in LED lights provide bright, natural light for precise makeup application, and the slim design easily fits into your purse or luggage.
A Few More Great Magnifying Makeup Mirrors for Travel:
This 4″ mirror comes with two levels of magnification – 1X and 10X, allowing you to toggle between a standard reflection and a detailed close-up view.
Whether you're applying a full face of makeup or focusing on precision tasks like tweezing eyebrows, this mirror has you covered.
This versatile mirror offers 1X and 7X magnification options and adjustable LED lighting to ensure optimal visibility.
The folding design and built-in stand make it easy to use and pack away in your travel bag.
Best Lighted Makeup Mirrors with 15X Magnification
Remember that 15X magnification mirrors may not suit everyone, as they provide a highly detailed view that can overwhelm some users.
However, if you require this level of magnification for your makeup routine, these highly-rated mirrors should serve you well. (I love my 15X!)
Finding 15X magnification mirrors can be more challenging, as they are less common than lower magnification options.
Magnifying Makeup Mirrors with 15X magnification
This compact mirror features a 15X magnification, allowing you to focus on the tiniest details during makeup application.
The 6.5″ Diameter Mirror has a powerful 15x magnification.
Bright LED Bulbs never need to be replaced
It comes with an electric adapter and will also work on Batteries
The Beinocci 15x Magnifying Mirror with Light & Tweezers has a sleek design, powerful magnification, adjustable lighting, and a strong suction cup for mounting.
15X Magnification
Adjustable lighting
Dual Power Supply-powered by batteries or plug in (not rechargeable)
Strong Suction Cup-For easy mounting
Shop Makeup Mirrors with 15X Magnification:
The Highest X Magnification Mirror
The highest magnification typically found in makeup mirrors is around 20X.
However, such high-magnification mirrors are rare and less common than lower magnification options like 5X, 7X, or 10X.
Mirrors with 20X and 30X magnification provide an extremely detailed view, which can be helpful for specific tasks like precise tweezing or makeup application for individuals with vision impairments.
20X and 30X magnification mirrors I recommend:
Conclusion: The Best Magnification for Makeup Mirrors + Reviews
In conclusion, determining the best magnification for a makeup mirror depends on your needs, preferences, and routine.
Each magnification level serves a unique purpose, from detailed tasks like applying eyeliner or tweezing to broader applications like foundation and contouring.
By considering factors such as your eyesight, lighting, counter space, and specific makeup requirements, you can find the perfect magnifying makeup mirror that enhances your daily makeup routine.
Remember, there's no one-size-fits-all answer to the question, "What is the best magnification for a makeup mirror?"
The key is to explore your options, experiment with different magnifications, and choose the best option.
As always, thanks so much for stopping by-I hope this article was helpful and answered all of your questions about magnifying makeup mirrors! Drop a comment below to say 'Hi" and let me know you were here.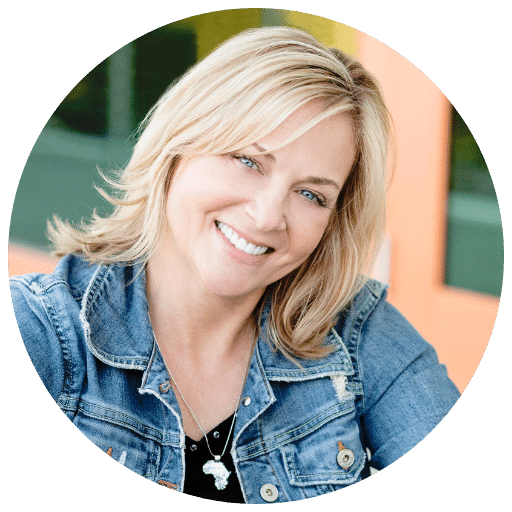 I've been keeping it real since 1963. 🙂

I'm a child of God, a wifey, mama, grandma, full-time creative, domestic engineer, and self-care enthusiast.
I am obsessed with all things makeup and skincare and love getting my hands dirty out in the garden, my art room, or in the kitchen with my hubby whipping up something yummy for the fam.

I'm always down to chat and love collaborating with other creatives and brands alike!
Feel free to reach out anytime!