The Best Face Primer for Mature and Aging Skin (2022)
A high-quality face primer is arguably one of the most critical components of solid makeup, especially for mature and aging skin (women 40 and over).

I have tried a lot of face primers in my time! Today I'm sharing everything I know and what I believe is the best face primer for mature and aging skin!

Trust me when I say I think I have tried them all!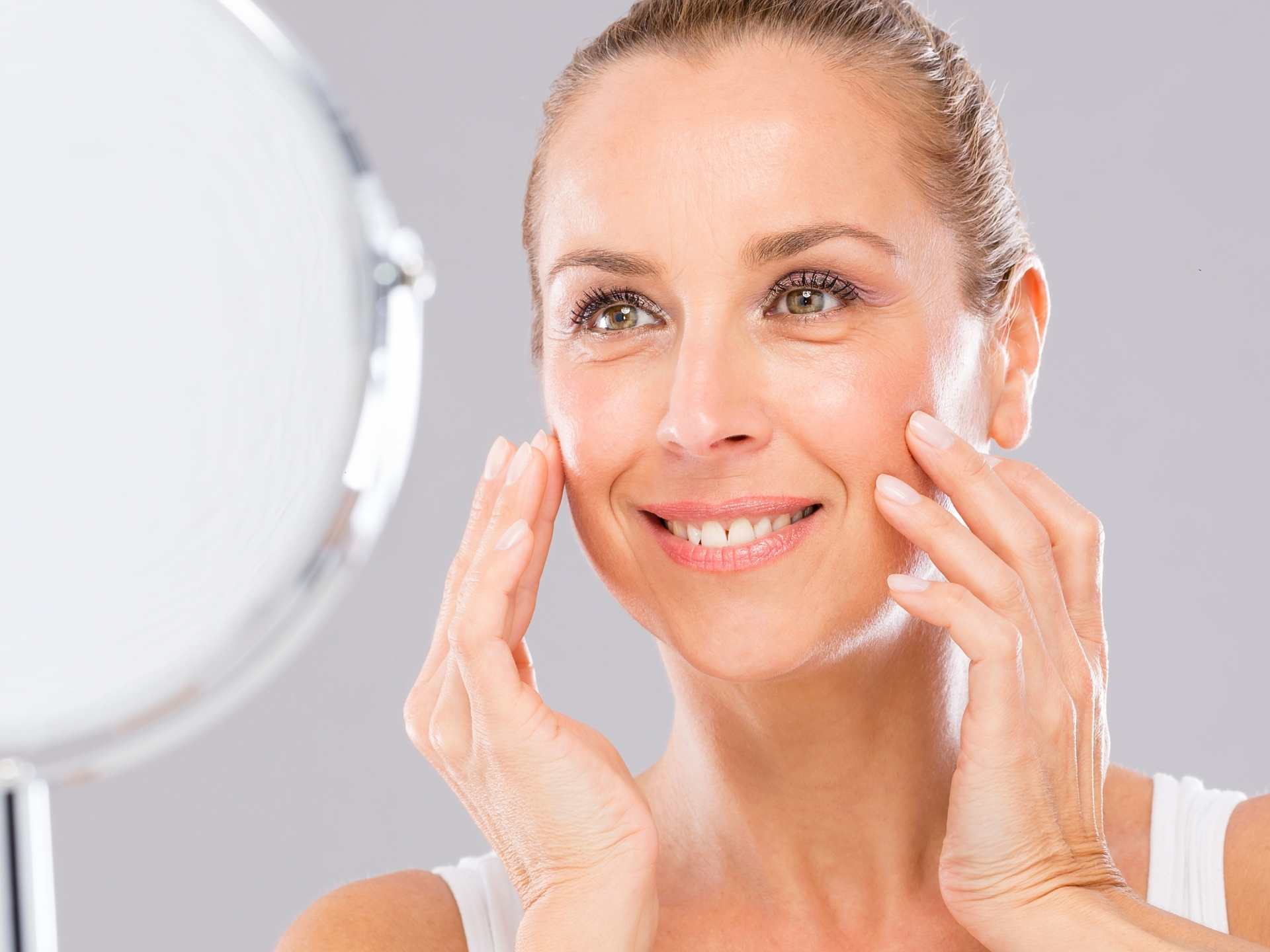 This article may include affiliate links. Read full disclosure here.
What is Face Primer?
Face Primer is just what it sounds like: It's a product applied after a good skincare routine that gets the skin ready for makeup. Then, it creates a foundation or a canvas for foundation, CC Cream, or BB Cream.
Shop Primers for Mature Skin

What face primer does:
-Primer prepares the skin for foundation and helps make-up last longer!
-It can help eliminate foundation creasing, cracking, and settling into fine lines and wrinkles.
-Face primer can reduce the appearance of large pores, giving the final finish a more smooth appearance
-Many different primers on the market treat various concerns, including oily & blemished skin and more.
Makeup Primer is a powerful tool for the beauty toolbox!
A good makeup primer is a powerful tool that everyone should have in their beauty toolbox!

I underestimated the power of a good primer for way too long. As a result, I didn't understand how much it would improve my makeup's overall performance and finish.
Using a face primer is easy and only adds 60 seconds to your routine!
Priming your face before applying makeup is worth the extra effort and time. It only adds about 60 seconds to your make-up routine. Worth it!
How to apply face primer (three easy steps) :
Cleanse and moisturize your skin as usual. Wait a few minutes to let the moisturizer absorb into the skin.

Less is more. Use only a thin layer of primer. Spread evenly with fingers.

Wait at least a minute to let the primer set.
Finding a Face primer for mature skin can be tricky
Face primer doesn't always play nice with a foundation, making it tricky to find the perfect combination.

Sometimes if the formulations don't mesh, it can cause the foundation to either slide right off your face or worse-become dry and crack! The worst!

The bottom line-not all primers are created equal.
It took a lot of trial and error to find the best face primer for my mature skin.
The Best Face Primers for Mature Skin and aging skin :
My Number one favorite, the holy grail of all face primers, is VEIL MINERAL PRIMER.

A make-up artist friend of mine recommended veil mineral primer. She said this face primer would do wonders for my aging and mature skin. She went on to say that this primer smoothes out fine lines and wrinkles and blurs the appearance of large pores. All of which are my biggest concerns!
Here's why I love this primer:
Veil Mineral Primer gives my skin a smooth, "soft-focus" appearance
Fills in the fine lines and wrinkles! Really!
It is a great pore corrector! It blurs the areas where pores appear to be larger
Works nicely with all of my cream and liquid foundations alike!
The final finish is like magic! Just Magic!
It's got an SPF of 15
It's vegan and cruelty-free!
After using this primer for several years, I understand why make-up artists love it!
Oh! And another HOURGLASS product that I love is the VEIL setting spray! It's amazing!
You can find Veil Mineral Primer online: Ulta, Sephora, Amazon and Walmart!
I have loved and used Laura Mercier's make-up for over 30 years! Laura Mercier products are some of the best on this planet. And I love this pure canvas primer!
I started using the pure canvas primer after a visit to Sephora. I was browsing, and a friendly makeup artist asked if I needed help and asked what face primer she would recommend for my skin.
What I love most about this face primer:
It's got SPF 30, which makes it perfect for everyday
Improves skin overtime: Infused with a blend of Vitamins C & E
The finish is creamy and smooth
Bottom line, I love this primer as an everyday primer.

Its finish is just lovely. Not matte. Not dewy. Just a perfectly smooth finish. SPF. Good for my skin: that's a triple win in my book!
Shop for Pure Canvas Primer here: Ulta, Walmart.com , Sephora, and Amazon!
This primer is fantastic for those large pores and helps to minimize the appearance of pesky fine lines and wrinkles! I first came across this primer years ago (when I was in my 40's). Back then, my biggest concern was pore size.

I was not too fond of how my foundation looked in the areas where my pores were more prominent. So I went on the hunt for a solution. I was at Ulta and stumbled across The Porefessional face primer. The name caught my eye, and I liked the price tag too.

Right away, I loved the thick and balmy kind of texture; and the way it blurred the appearance of my pores and the overall texture of my skin.
What makes this face primer worth a look-see:
This primer is the best I've found for large pores. It's like, "Bondo," if that makes sense?
Helps conceal scars and indents
A little bit of this primer goes a long, long way…
The price tag is nice!
And as a bonus, this primer helps to camouflage a scar that I have on my nose.
Great pore perfecting primer, but not for dry skin
I have loved this pore perfection primer, but it has become a bit dry as my skin has aged. Nevertheless, this is an excellent primer for oily skin or combination skin.

Since my skin has become drier and drier, I have noticed that this primer can be drying. So to combat that, I apply a nice layer of moisturizer before application and use only where my pores are more prominent (on my nose and chin area)
Tip: Be sure to apply an excellent moisturizer before application and avoid dry areas.
While, in my opinion, this isn't a good choice for those who may have dry skin, it is an excellent primer for large pores and normal to oily skin.
As I mentioned previously, as my skin has aged over the last several years, my skin has gotten a bit dry. Not to mention, those fine lines and wrinkles started to become more of an issue.

I discovered Too Faced Hanover Replenishing face primer while searching for a primer with moisturizing properties. And boy, does it deliver!
This Too Faced primer is not only a moisturizer, but it's another excellent choice for everyday wear-perfect for aging and mature skin!
Why I love, love, love this face primer for every day!
I love this primer because it is so hydrating!
Does a great job locking down my makeup (so it doesn't slide!)
Makes my make-up last for hours and hours!
I reach for the too-faced hangover replenishing face primer when I've been going heavy on the Retin-A or if I've had recently had a chemical peel because it's so dang hydrating!
This primer from the ordinary is well-loved by many and is a wallet-friendly option. Very silky and light -it's the perfect primer for those "no-makeup look" makeup days. You know, when running errands or going to the gym.

I like to mix a few drops of The Ordinary High-Spreadability Fluid Primer with my foundation, which gives it a little extra "Grab" and leaves my face looking glowy and natural.
What I like most about The Ordinary Primer
Its silky and light texture
Locks in my BB CREAM on those "no make-up" make-up days
It's so affordable!
Love the glowy finish

Alrighty then! There you have it!
The absolute best face primer for mature and aging skin (Like mine!)
I hope this has helped you search for the perfect face primer for mature and aging skin! I know just how hard it can be, and I'm happy to help!
Let me know if you have any questions or concerns in the comments below- I will get back to you promptly!
Until next time!
XO, Christine
Shop Primers for Mature Skin