Best Foundations for Mature Skin Over 50+ for 2023
Hello and welcome! If you are looking for the best foundation for mature and aging skin, you have come to the right place!
In this article, the best foundation for mature skin women over 50, I have curated a list of the best foundations for older women for all mature skin types.
This post may contain affiliate links. Read disclosure here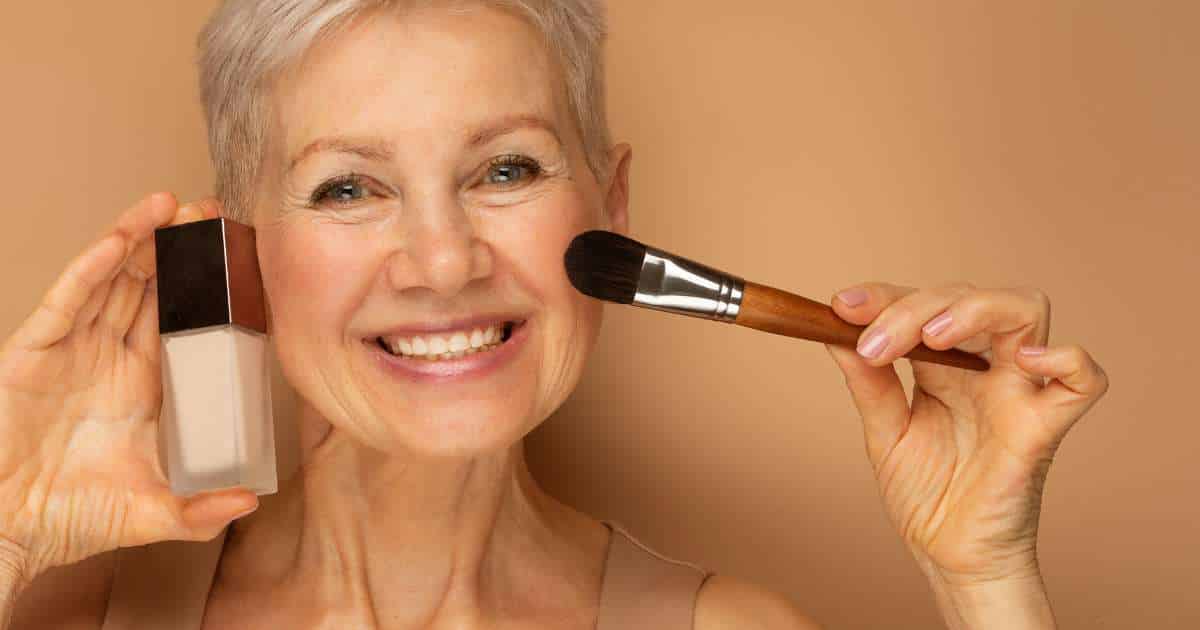 It's no secret that as we age, our skin changes. As a result, we see more fine lines and wrinkles, age spots, larger pores, dryness, and uneven skin tone.
Adjusting our skincare routine, makeup, and foundation formulas as we age is essential.
Choosing the Best Foundation for Mature Skin.
A few things to keep in mind when deciding on the right type of foundation for mature skin:
1. Skincare Benefits
When considering the right foundation, look for active ingredients like hyaluronic acid, vitamin C, vitamin B, vitamin E, and jojoba oil.

And looking for a foundation with a broad spectrum SPF whenever possible is super important.
Related Article: The Best Anti-aging Treatments for 30s, 40s, 50s+
2. Skin Type
When looking for the perfect foundation for mature skin, it's essential to identify your skin type and what ingredients work best for each skin type.
Dry Skin
When choosing the right foundation for dry skin, look for key ingredients that keep the skin hydrated and moisturized, such as hyaluronic acid and squalane.
Oily Skin
When shopping for a foundation for oily skin, look for Oil-free formulations that contain ingredients like charcoal to detoxify, colloidal clay to absorb oil, and tea tree extract and salicylic acid to combat blemishes.
Combination Skin
Combo skin can be tricky and may take trial and error. Look for Foundations that are oil-free and also contain hyaluronic acid. You may also consider powdering the areas that tend to be oily, like the t-zone.
Sensitive Skin
If you have sensitive skin, look for non-comedogenic, fragrance-free formulations that contain skin-soothing ingredients like ceramides, glycerin, squalane, and hyaluronic acid.
3. Different Coverage
The type of coverage you choose comes down to personal preference.

Depending on the desired look for the day, you may want to keep a few different foundation formulations on hand.
Makeup foundations offer a wide range of coverage choices:
Sheer Coverage Foundation
Sheer coverage foundation, tinted moisturizers, or cc creams. These are a good option for those days when you want
Light Coverage Foundation
The lightweight foundation comes in foundations like bb cream and cc creams.

I love that lightweight coverage offers a youthful glow and a more natural look.
Medium Coverage Foundation
Medium coverage foundations are often liquid foundations and are the best option if you are looking for buildable coverage.

Medium coverage foundation does a great job of covering imperfections such as sun damage, dark circles, and age spots which is a plus!
Full Coverage Foundation
Full-coverage foundations are generally heavier and are a good choice when looking for extra coverage of dark spots, sun damage, dark circles, or scars.
4. Different Finishes for Mature Skin
Foundation formulations offer several different finish choices:
Matte Finish Foundation
Matte foundations offer a dull finish and are often a good choice for oily skin or a foundation when being photographed.

A matte finish is not ideal for older mature skin because it can dry.

Matte foundation can always highlight the appearance of fine lines, wrinkles, and skin texture, which is not ideal for older skin.
Natural, Sheer Finish Foundations
Sheer finish foundations look natural on the skin and feel ultra lightweight.

They even out skin tone and minor imperfections while allowing the skin to shine through, enhancing your skin rather than masking it.
Dewy, Luminous Finish Foundations
Dewy, luminous finish-A dewy and luminous finish offers a healthy look that is lightweight and glowing.

This finish can be a fantastic choice for older skin types but may require powder to knock down the shine on some skin types or when used in humid climates.
Radiant Finish
Similar to a dewy, luminous finish, a radiant finish offers even more shimmer. Like a luminous finish, it's a great choice for mature skin.
5. Different Formulations for Mature Skin
When shopping for the best foundation for mature skin, it's important to understand the different formulations available and their benefits.
Liquid Foundation
Liquid foundations offer a variety of finishes – natural, dewy, and matte and give a sheer, medium, and full coverage.
Powder Finish Foundation
Powder foundation is a dry formula made of finely milled ingredients. Powder foundation offers light to medium coverage. Powder foundation is a good choice for oily skin types.

I do not recommend powder foundation for older, mature skin types, as it accentuates fine lines and wrinkles.
Cream Formula Foundations
Cream foundation typically has medium to full coverage and a slightly heavier texture than liquid or powder foundation.

Cream formulas are many times well suited for dry or mature skin types.
Stick Foundations
Stick foundations typically offer medium to full coverage and are most often highly blendable and buildable foundations.

Stick foundations are convenient and offer quick application. Stick foundations are great for on-the-go applications and travel.
6. Different Shades
While it's always important to find the perfect match no matter the skin type, it's even more important when talking about older, more mature skin because skin tone can be more uneven and, therefore, more difficult to match.

When choosing a foundation, it's a good idea to know your shade range.
If you don't know, I suggest visiting a beauty counter like Sephora or Ulta to get color matched by a beauty expert.

Choosing a foundation that offers several different shades in your skin tone is a bonus making it easier to get the perfect match for a flawless look.
The Best Foundation for Aging Skin Over 50
Body Makeup for Mature Skin
Body makeup is heaven-sent!

Applying body makeup is a great way to improve skin tone, cover blemishes, and give skin a healthy glow. But with so many products on the market, it can be hard to know where to start.

Look for hydrating products and offer coverage without being too heavy or cakey.

Good body makeup should also blend easily, be water-resistant and be transfer-resistant!

When choosing body makeup, test it on a small area of your skin first to see how you like the color and texture.

Body makeup is a great way to boost your skin confidence by covering age spots and imperfections such as scars and tattoos!
I started using body makeup for our oldest daughter's wedding.

I could not believe all the dark spots popped on my skin, seemingly out of nowhere! And I wanted to cover what is left of a wrist tattoo I have removed.

I needed something that would look as natural as possible, blend well, and that wouldn't transfer onto my clothing or anyone else's!

I tried several different brands of body makeup at the beauty counter and decided that Christian Dior Face and Body foundation was the perfect choice for the wedding.
I am thrilled with the results of this body foundation!

Christian Dior Dior Backstage Face And Body Foundation are so versatile! It's my go-to foundation for pool parties!

This Water-resistant body makeup lasts all day and doesn't transfer to my clothing!

Apply sunscreen first (it does not contain SPF), and then use a beauty sponge or body makeup brush.
Use it on the tops of your hands and decolletage.

You can also use it to cover scars and brown spots on your legs by adding your favorite body lotion to give them a nice finish.

Although it's a bit pricey, a little goes a long way! And it's one of my go-to foundations!

It's one of the best foundations for aging skin over 50, and I highly recommend it!
Final thoughts on Christian Dior Dior Backstage Foundation :
My go-to foundation for both face and body
I love the lightweight formula
LOVE that is transfer-proof and water-resistant!
I wish it had sunscreen.
Purchase Backstage Foundation Online: Sephora, Amazon, and eCosmetics
Everyday Foundation for Mature Skin Over 40+
Clarins UV Tinted moisturizer is my go-to everyday foundation these days.

This lightweight foundation is my holy grail for a fresh, dewy look, complete with 50 SPF! LOVE IT.
Perfect for every day around the house, running quick errands, or the gym. The coverage is super light and does tend to slide if it's humid (rare here in Arizona!)
So when it is humid, I suggest using a good face powder for mature skin.
Final Thought on Clarins. UV Tinted Moisturizer:
This is my Favorite foundation for every day!
It's the best lightweight foundation/Tinted moisturizer I've found.
Its natural, translucent finish is the bomb.
I love that it contains SPF 50!!!
A little goes a long way!
Purchase Clarins UV Tint Online: Target, Kohls, and Walmart
The Best Hydrating Foundation for Mature Skin
I still love Clinique Foundations after all these years!
I have used Clinique's Even Better Foundation for years and love it!

But now that I've discovered the Clinique Even Better Refresh Hydrating & Repairing formulation- I love it even more for my aging skin.

This lightweight formula is perfect for mature skin because it goes on smooth and adds much-needed moisture when my skin is on the dry side.

And I love the natural-looking finish. It offers a flawless finish while helping to lessen the appearance of large pores!
Final Thoughts on Even Better Foundation:
I love the long-wearing natural finish.
It reduces the appearance of pores like magic!
Add much needs moisture to dry skin.
Offers medium coverage with SPF 15
Purchase Online: Sephora, Ulta, and Amazon
My Favorite CC Cream for Mature Skin
IT Cosmetics CC cream is my other favorite everyday go-to when I need a full-coverage foundation with staying power!

IT Cosmetics CC cream has a 55 SPF physical sunscreen and a long list of yummy anti-aging ingredients.
It's color-correcting, which helps tone down the red in my skin, and is very hydrating!

Since this CC cream offers full coverage, it requires a bit more blending time than the Clarins UV-tinted moisturizer, which is no biggie and worth the extra time.
Final Thoughts on IT Cosmetics CC Cream:
Offers full, buildable coverage
It contains SPF 55!
I love those anti-aging ingredients: Collagen, peptides, and hyaluronic acid!
I like the pump tube. Lasts forever!
Purchase Online: Ulta, Sephora, and Amazon
Best Foundation Photographs and Special Events
Charlotte Tilbury's Airbrush Flawless Foundation
I discovered the flawless Charlotte Tilbury Airbrush foundation when shopping for the perfect one for my daughter's wedding. I love it!!
The Airbrush flawless foundation's finish is excellent!
It's a nice natural finish that is buildable, making it versatile. And it's got incredible staying power!

It's absolute Perfection for special events and photoshoots.

I love this foundation for photographs because of its semi-matte finish; it won't transfer, which is vital when wearing formal wear or changing outfits for a photoshoot.
Final Thoughts on Airbrush Flawless Foundation:
It's my go-to foundation for events and photoshoots
It doesn't transfer and lasts over 12 hours!
The semi-matte finish can be drying at times.
Be sure to exfoliate and moisturize!
It's on the high-end price-wise, but worth it.
Purchase Online: Sephora, Nordstorm, and CharoletteTilbury.com
This super breathable, skin-loving makeup offers a long-lasting radiant glow, youthful glow.
Very moisturizing and Infused with IonCharged water complex, plus probiotic technology and chia-seed extract.
With buildable medium-to-full coverage, it is very lightweight, does a great job evening out skin tone, and covers imperfections beautifully.
Natural-looking makeup that provides broad spectrum UVA/UVB protection.
Comes in 28 shades.
Purchase Online: Ulta Beauty, Sephora, and Nordstorm
Best Drugstore Foundation for Mature Skin
This is a great foundation for mature skin because it contains Vitamin B3, hydrating Serum, and antioxidants for healthy skin.

Its lightweight coverage evens skin tone and doesn't settle into lines.

It has SPF 50, is very hydrating, and is suitable for sensitive skin types.
It comes in 30 shades and is available online and at your local drugstore.
Purchase Online: Target, Walmart, and Ulta Beauty
This is an award-winning foundation that you are going to love!

It's oil-free and buildable, with medium coverage and a luminous, glowy-skin finish for a natural makeup look.
With an airbrushed look, this liquid foundation creates a silky skin appearance and a natural-looking glow.

Comes in 40 beautiful shades.
Purchase Online: Sephora, Norstrom and Bloomingdale's
Prime. Powder. Set.
The Best Primer for Mature and Aging Skin
Primer is essentially a foundation for foundation!

Primer extends the wear of the foundation and helps with the final finish by addressing things like large pores and uneven texture.

There are a ton of face primers on the market. And it will take a bit of trial and error before you find your favorite.

And while I have a few that I like for different reasons, Veil Mineral Primer by Hourglass is my all-time favorite face primer!
Veil mineral primer elevates your foundation and extends its wear for a perfect, lasting complexion.
It's oil-free, won't clog pores, and minimizes the look of pores, fine lines, and wrinkles to create a smooth, even canvas. And it also covers red skin tones like magic!

This airy formula delivers SPF 15 sun protection and repels water, so makeup always looks freshly applied. YAY!
This product is vegan and was not tested on animals. It does not contain parabens, sulfates, phthalates, nanoparticles, oil, fragrance, gluten, or synthetic dyes.

It's the best of the best!
Related: The Best Face Primer for Mature skin
The Best Face Powder for Mature Skin
Some people think that powder is the aging women's worst enemy. I used to think that too.

Until I did a little investigating at the makeup counter and on YouTube and found a thing or two about face powder.

No lie, the powder can be tricky. It's essential to use a good quality face powder and apply it correctly.

Related article: The Best Face Powder for Mature Skin
Laura Mercier Translucent Powder is the bomb! The best!
I use it (use a small amount on a good powder brush and tap off the excess) just under my eyes and in my marionette lines to lock down the foundation and keep it from settling into lines.

It took me some trial and error to get the whole powder thing right- but now I'm a believer.
Related article: The best concealer for mature skin
Finish your makeup with a setting spray
Setting spray is the finishing touch to beautiful makeup! Always, always finish your makeup routine with a setting spray!

Setting spray gives foundation extra lasting power AND prevents foundation from transferring, which is awesome when wearing a mask. UGH. (i.e., during a global pandemic!)

When applying the setting spray, hold the bottle about six inches from your face and spray it in a light, even layer.

Allow the spray to dry briefly before blotting any excess with a beauty blender or sponge.

The setting spray can be reapplied throughout the day as needed.
The Best Setting Spray for Mature Skin
When my makeup is complete, I set it with Urban Decay's All-nighter setting spray.
I have tried many, many setting sprays, but this one is my all-time favorite.
All-nighter setting spray locks down your makeup and gives it a nice dewy finish.
And it just feels so refreshing and yummy!
Related article: The Best Drugstore Setting Sprays
Celebrity Makeup Tips For Beautiful Foundation
Celebrity makeup artists are a wellspring of knowledge regarding achieving flawless makeup for mature skin.
Here are a few of their top tips for a flawless makeup look:
Preparation is Key
Makeup artist to the stars Pati Dubroff, emphasizes the importance of prepping the skin before applying foundation. This involves a thorough skincare routine of cleansing, toning, and moisturizing. This creates a smooth canvas for makeup and keeps skin hydrated, reducing the appearance of wrinkles.
Primer is Essential
According to renowned makeup artist Daniel Martin, a hydrating primer is a must for mature skin.
Primer fills in the pores and fine lines, making the skin look smoother. It also helps the foundation adhere better and last longer.
Related Article: The Best Primer for Mature Skin
Less is More
Celebrity makeup artist, Lisa Eldridge, suggests using less product on mature skin. Using too much foundation can cause it to settle in lines and pores, highlighting them instead of hiding them.
Use a Hydrating, Lightweight Foundation
Renowned makeup artist, Gucci Westman, recommends a hydrating, lightweight foundation for mature skin. It offers enough coverage without being cakey and heavy.
Blend, Blend, Blend
Mario Dedivanovic, who has worked with celebrities like Kim Kardashian, stresses the importance of blending. Use a makeup brush or a sponge to blend the foundation into the skin for a natural, seamless finish.
Opt for a Dewy Finish
According to Sir John, Beyoncé's makeup artist, a dewy finish foundation is more flattering on mature skin as it adds a youthful, healthy glow.
Set with Powder or Setting Spray
Don't forget to lightly set your foundation with a loose setting powder, as recommended by Mary Phillips, who has worked with Jennifer Lopez.
This helps to keep the foundation in place without adding heaviness to the skin.
By following these expert tips, you can ensure a flawless foundation application that minimizes the appearance of large pores and wrinkles.
Shop The Best Foundations For Mature Skin 40+
Beauty + Skincare Articles
Conclusion: Best Foundation for Mature Skin
I hope this article has helped you find the best foundation for aging skin over 40+

Let me know how you're doing on your quest for the perfect foundation and what has worked (or not worked) for you.

I also want to hear about any other makeup tips or tricks you may have discovered that work well for mature skin women over 40.

Please share in the comments below!
Until next time-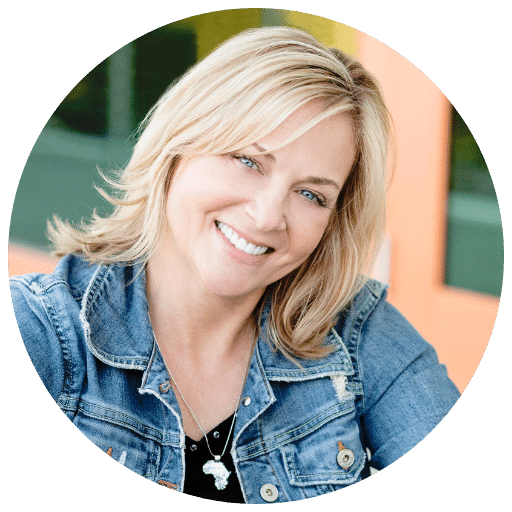 I've been keeping it real since 1963. 🙂

I'm a child of God, a wifey, mama, grandma, full-time creative, domestic engineer, and self-care enthusiast.
I am obsessed with all things makeup and skincare and love getting my hands dirty out in the garden, my art room, or in the kitchen with my hubby whipping up something yummy for the fam.

I'm always down to chat and love collaborating with other creatives and brands alike!
Feel free to reach out anytime!