100 Powerful Affirmations for Self-Love
In this blog post, you'll find 100 affirmations for self-love to help you cultivate self-love and acceptance.
We all have days when we don't feel our best.

We may criticize ourselves or dwell on our mistakes. But it's important to remember that we are worthy of love and respect simply because we exist.

This post may contain affiliate links. Read disclosure here
What is self-love?
Self-love is a state of appreciation for oneself that grows from actions that support our physical, psychological, and spiritual growth.
Self-love means having a high regard for your well-being and happiness.

When we live in a state of self-love, we are more apt to take care of ourselves and not settle for less than we deserve. As a result, we are likely to make healthy choices and live more positively.
Related articles: Self-care + Wellness
Self-love doesn't always come easy.
The truth is, self-love doesn't always come easy. It can take time and practice to cultivate a positive, loving relationship with yourself.
It is more common to struggle with self-love than you may think.

There are many reasons why self-love can be difficult.

The list is long.

Childhood trauma, Post-traumatic stress, broken relationships, struggles with body image, and even hormone imbalances are some of the culprits that can make self-love more difficult.
Learn to Love yourself for yourself.
As I said, self-love can be challenging. And feeling good about ourselves can be easier said than done.

If dwelling in a constant state of self-love, easy-everyone would be doing it! Am I right?!

Life is hard y'all! Life is more complicated when you don't even have your own back. (trust me) That said- You've got to have your own back!

You've got to be able to trust yourself, take care of yourself, and LOVE YOURSELF.

TRUTH BOMB: No one is going to do this one for you. When it comes to self-love, we are each in it alone. We each have to do the work. Period.

Luckily, there are tools available to us in the toolbox.
Practical ways to cultivate self-love
Stop comparing yourself to others
Forgive yourself and others. Let it go.
Be thankful. Practice gratitude
Set healthy boundaries. No is a complete sentence.
Don't worry about the opinions of others
Give yourself a break
Trust your gut. It knows.
Mindset, mindset, mindset!
Related Article: 26 ways to practice self-care
Mindset is everything
Mindset is everything. What we believe and how we think is everything.

Mindset refers to how you think and feel about yourself and your life.

Your mindset is influenced by your experiences and circumstances, such as your upbringing, relationships, educational background, or social status. Mindset is also influenced by how we think, feel, and talk to ourselves.

However, it is essential to remember that you have the power to influence and cultivate your mindset to promote self-growth and overall happiness.

Through self-reflection and self-care practices such as meditation or journaling, it is possible to cultivate a mindset rooted in self-love and self-acceptance.

By embracing your unique qualities with an open heart, you can begin to shift your outlook on life in a positive direction that will help you achieve greater fulfillment and success over time.
Related: The benefits of daily meditation for women
Our Thought Life (What we are thinking about)
We need to think about what we are thinking about.
Thought life and mindset impact how you make sense of the world, love others, and even more importantly, love yourself.
Our thought life is the ideas, beliefs, and perceptions about ourselves and the world around us. At its core, thought life can be seen as an outward reflection of our self-love.

Whether or not we feel good about who we are and what we do directly impacts our thoughts, emotions, and behavior.

Dealing with negative self-talk and actively working to replace harmful or limiting beliefs with healthy thoughts about ourselves and our place in the world is key to self-love and acceptance.

Self-love and acceptance ultimately lead to greater happiness and fulfillment in our lives.
Self-talk: What is self-talk
Self-talk is the act of talking to yourself in your mind. Self-talk is our inner voice.
Negative self-talk
Negative self-talk can be defined as the thoughts, beliefs, and attitudes towards ourselves that are not always supportive or constructive.

This self-talk tends to be self-defeating and can make us feel bad about ourselves and our abilities.

At its basic level, negative self-talk is a form of self-criticism, where we perceive ourselves negatively without much explanation or justification.

Negative self-talk can be harmful and prevent us from achieving our goals and enjoying our lives.
The good news is that there are ways to overcome negative self-talk and promote healthy self-love instead.
Positive self-talk
Positive self-talk is a form of self-care that involves speaking kindly to yourself.

This can be done through affirmations, which are positive statements about oneself repeated regularly.

For example, you might say to yourself, "I am worthy of love and respect," or "I am capable of achieving my goals." Repeating these affirmations can help to build self-love and self-confidence.

Additionally, engaging in positive self-talk can help to reframe negative thinking patterns.

For instance, if you think, "I'm such a failure," you can counter that thought with something like, "I'm doing my best, and I will get better with practice."

By engaging in positive self-talk, you can learn to be more compassionate toward yourself and increase your overall sense of well-being.
What are affirmations?
Affirmations are positive statements or phases that can challenge and help us think more positively and overcome negative thoughts and self-talk.

There is no room for negative, destructive thoughts when we fill our hearts, minds, and spirits with positive affirmations and honestly believe them.

So, when we practice speaking positive affirmations of self-love in our lives, we are essentially changing our mindset, that, in turn, can change the trajectory of our lives. Pretty cool, huh?!
How to use self-love affirmations in your daily life
There are many ways to use self-love affirmations in your everyday life:
Write affirmations on sticky notes and put them around the house, in your car, desk, etc.


Say affirmations in front of the mirror, in the shower, while driving in your car, etc.


Write self-love affirmations down in your journal. I love to doodle my affirmations.


Use affirmations as a mantra during mediation (saying them over and over)


Create a vision board adding your favorite self-love affirmations to your design
Start by choosing affirmations for self-love that resonate with you
First, choose a few self-love affirmations that speak to your heart the most. Then, keep those up close and personal by writing them on sticky notes, in your journal, or even in the bathroom mirror.

It's essential that they speak to your heart and that you genuinely believe them. Therefore, I have highlighted some of my all-time affirmations for self-love.
100 of My favorite daily affirmations for self-love:
My past is not a reflection of my future. Today is a new day!!
I am worthy. I am loved. I am enough.
I am whole, just as I am.
I give myself unconditional love!
I believe in myself and my abilities
I am an influential person
I choose to let go of that which the does not serve me
I treat myself with respect and honor
I dwell in peace
I am worthy of love and acceptance
Today I choose to let go of that which no longer serves me.
I am brave!
I walk in love all the days of my life.
I am confident in who I am
I am beautiful from the inside, out
I am wise beyond my years
I am making forward progress every day
I am perfectly imperfect
I do not criticize myself for my mistakes or failures
I make intelligent & informed decisions in my life
I forgive myself and others
I make the world a better place
My body is beautiful just the way it is
I use my time and my talents to serve others
I love myself fully, just the way I am today
I can do anything I set my mind to
I am worthy of acceptance
It is well with my soul
I say YES! whenever I can
I believe the best in myself and others
My best is more than enough
I choose JOY! Today and every day.
I don't make assumptions.
Practice gratitude every single day with this step-by-step guide
I spend my time wisely
I am at peace with what I can't control
I forgive myself
I am full of inspiring ideas
My body is my beautiful dwelling place, and I nurture it well
I trust in the timing of my life
I did not come this far to come this far
I trust the journey of my life
I am a fun-loving person
I am impeccable with my word. I do what I say I will do.
I am at peace with uncertainty
I trust my intuition
I am a good friend
I am creative
I follow my intuition without fear
I am more than a conquerer
I am good company
I give myself space to grieve
I lift others daily
When I know better-I do better
I am abundantly blessed
I sleep well and rise rested
I am stronger than my excuses
I have been created to create
I am open to unless possibilities
I do LESS-MORE
I practice gratitude every day.
I rise by lifting others.
I am fearfully and wonderfully made.
I follow my gut. It knows what to do.
I have been redeemed.
I am strong in my mind & my body.
I accept my emotions as they are without judgment.
It's OK to change my mind.
There is only one ME, and that is MY power.
I own my truth.
I can do anything I set my mind to.
I trust the process.
I can do hard things.
I trust my instincts.
Related Self-Care Articles:
My words are powerful.
I am never alone. He is with me.
I work hard.
I honor my promises.
I am a good listener.
I am a person of integrity.
I always do the next right thing.
I am bold and courageous.
I have a sharp mind and a soft heart.
I see every ending as a new beginning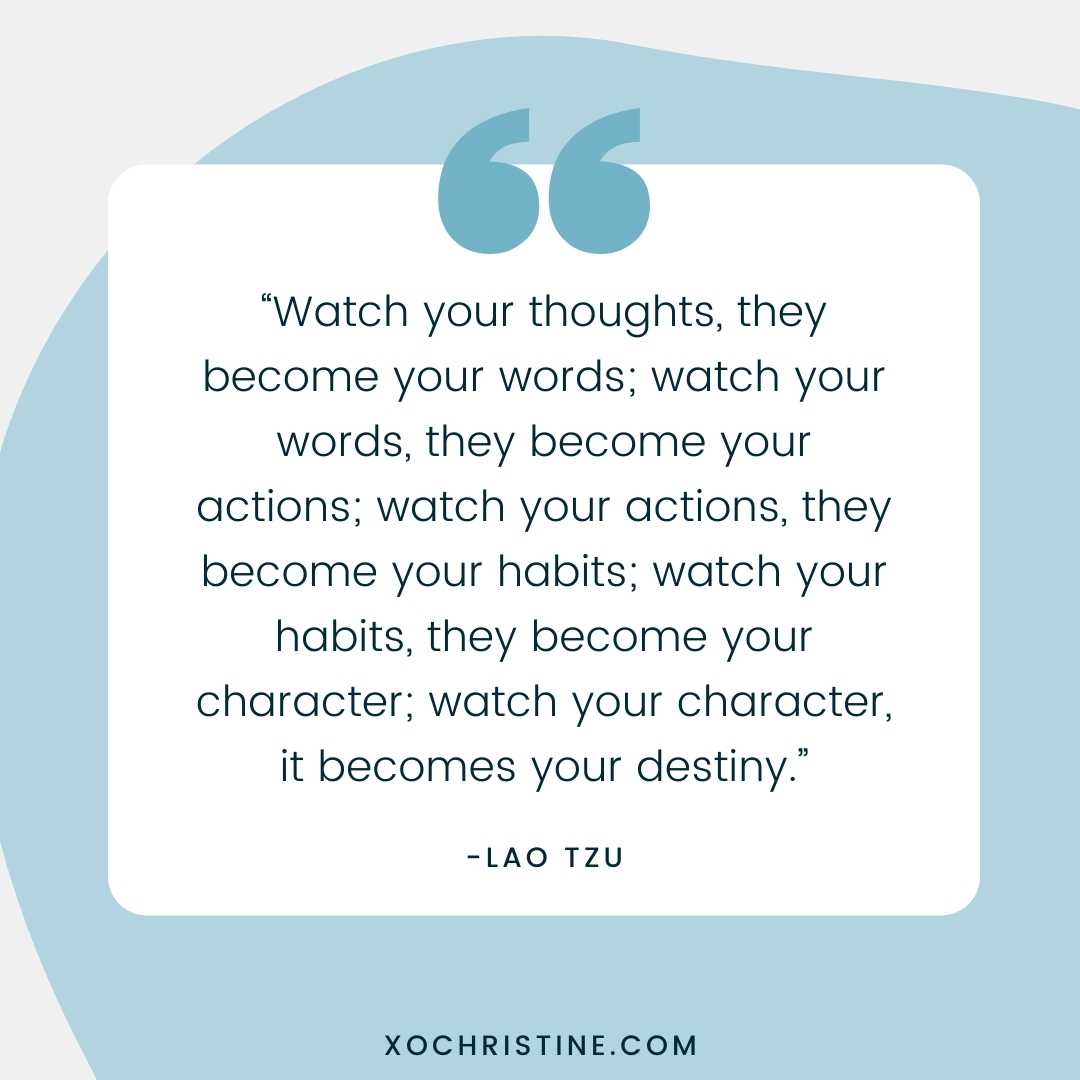 I am brave and courageous!
I am capable of achieving everything I want.
I don't look back-I'm not going that way.
I am a kind and thoughtful person.
I forgive quickly and completely.
My dreams align with my purpose.
I am free to speak my mind.
I make the world a better place.
I walk by faith and not by sight.
I chase my dreams with vigor.
I turn my can'ts into cans and my dreams into plans.
I am a bright light everywhere I go.
I learn from my mistakes.
I am blessed in the places I go in and out.
I am healthy and strong.
I am trustworthy.
My ending is more important than my beginning.
I am fun-loving.
I make self-care a priority in my life.
I am a beautiful force of nature.
I speak truth and love.
Final Thoughts on Affirmations for Self-Love
As I mentioned earlier, words are powerful!

Words have the power to build up and tear down. A positive thought life or mindset is essential to our well-being and success; what we think about matters.

I hope that these affirmations for self-love resonate with you and that you will use them to speak life over yourself daily!

Which of these affirmations for self-love resonated with you the most?
Please share your thoughts and include your favorite affirmation, bible verse, or quote with me in the comments below.
As always, thanks so much for stopping by!
Until next time,
XO, Christine