100 Positive and Powerful Morning Affirmations for Women
Words are powerfully transformational! These 100 positive and powerful morning affirmations for women will help you get your day off to a great start!
Starting your day with uplifting, positive affirmations is a great way to start the day off on the right foot.
Every guru and spiritual leader will agree that our thoughts and words can be powerfully transformational, and I believe it!
Utilizing morning affirmations helps to shift our mindset making positive changes in our lives.
This post may contain affiliate links. Read disclosure here
What are affirmations?
Affirmations are positive statements or phases that can challenge and help us think more positively and overcome negative thoughts and self-talk.
There is no room for negative, destructive thoughts when we fill our hearts, minds, and spirits with positive affirmations and truly believe them.
So, when we practice speaking positive affirmations in our lives, we are essentially changing our mindset that, in turn, can change our very destiny. I'm pretty sure it's science.
Lao Tzu said it best. Everything starts with our thoughts.
Positive thinking and positive thoughts can only create positive effects.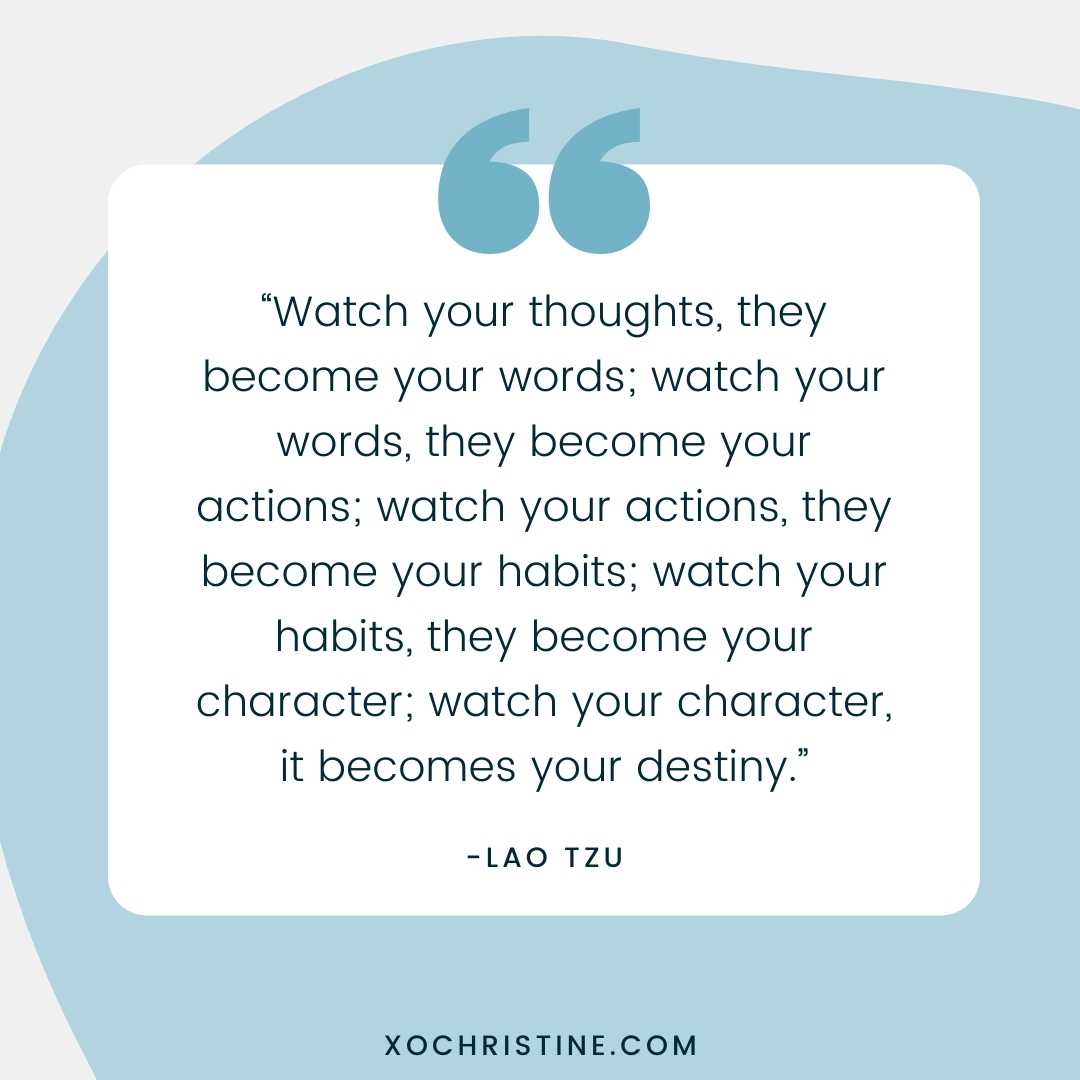 How Can Affirmations Help in Daily Life?
Positive daily affirmations are powerful tools that can help with negative self-talk, low self-esteem, personal growth, and even our mental health.
Practicing daily affirmations can help us in many ways:
Positive phrases practiced in everyday life can increase self-confidence.

The regular practice of affirmations can improve mental state.

Powerful statements can create positive energy.

Practicing affirmation can help correct negative inner dialogue or negative self-talk.

Affirmations can shift a bad mood into a positive attitude.

Raise your confidence before an important event or meeting.

Diminish negative feelings such as anxiety, anger, or impatience.

Increase your self-esteem.

Find the motivation to keep going and improve productivity.

Help to start a new habit or to quit a bad habit.
How Use Morning Affirmations:
Start with an open and receptive heart.

Consider finding a safe place to practice affirmations in private.

For best results: Set a daily reminder. (I like to practice affirmations first thing in the morning.

Start with five-ten affirmations per day.

Choose affirmations that resonate with you and make you feel good.

Make a list of positive affirmations. Write them down in your journal or on a sticky note.

Close your eyes and say the affirmation out loud three-five times.

Consider listening to affirmations while you drive your car or sleep. Remember: Your subconscious mind never sleeps!

Remember to breathe.
100 Powerful Morning Affirmations for Women:
Day one (1)

I know that good things are coming my way!
My past is not a reflection of my future. Today is a new day!

I am in control of how I respond to others.

Today I choose peace over perfection.

I am worthy of love and acceptance.

Today and every day, I am making forward progress.

I do not compare myself to others.

I am perfectly imperfect.

I do not criticize myself and those around me.

I am not afraid to be wrong.

I can make smart & informed decisions today and every day.
Day two (2)

Today, I will let go of that which no longer serves me.
I am brave!

I walk in love all the days of my life.

I am confident in who I am

I practice patience every day.

I appreciate all that I have.

I do not require the praise of others REMEMBER: Opinions are like belly buttons.

I forgive those who have harmed me.

I do my best, and it is more than enough.

I am not motivated by fear.

Today I choose to let go of that which no longer serves me.
Day three (3)

Today brings me new opportunities. I am on the right path. I believe I am in the right place at the right time.
Remember: Expectations are the buzzkill of life.

I love myself fully, just the way I am today.

Today I can do anything I set my mind to.

I am worthy of respect and acceptance.

I am a world changer.

I say YES! whenever I can.

Today I choose to believe the best in myself and others.

My children arise and call me blessed.

I choose JOY! Today and every day.

Today I will not make assumptions.
Day four (4)

I am strong and have the inner strength to be the best version of myself today and every day.
Setbacks are redirecting me to better things.

I am at peace with what I can't control.

I forgive myself.

Every day is a fresh start.

My body is my beautiful dwelling place, and I nurture it well.

I trust in the timing of my life.

I did not come this far to come this far.

Judgment of others does not affect me.

I am a fun-loving person.

I stay in the present moment.
Day five (5) Today is a good day to have a good day! Wonderful things are in-store today.
I am impeccable with my word.

I am at peace with the uncertainty this life brings.

I trust my intuition.

True friends are a gift. I am a true friend to others.

I am responsible for the energy in my space.

Nothing changes if nothing changes.

I am more than a conquerer.

It's OK to say no. NO is a complete sentence.

The truth does not need to defend itself.

It's not rejection-it's protection.
Day six (6)

Good Morning, Sunshine! Today is the first day of the rest of my life.
When I know better-I do better -Maya Angelou

It's OK to rest.

It's never too late. NEVER.

I am stronger than my excuses.

I have been created to create.

I am open to unless possibilities.

I do LESS-MORE.

I practice gratitude every day. I have an attitude of gratitude.

I rise by lifting others.

I am fearfully and wonderfully made.
Related: Good Morning Routine Ideas
Day seven (7)

Yesterday's the past, and tomorrow's the future, but each day is a fantastic gift!
I have been redeemed.

I am strong in my mind & my body.

Feel the fear and do it anyway.

It's OK to change my mind.

There is only one ME, and that is MY power.

I am not ashamed to own my truth.

I can do anything but not everything.

I trust the process.

I can do hard things.

I strive to be proactive vs. reactive every day.
Related: The self-care alphabet
Day eight (8)

The best preparation for tomorrow is doing your best today
My words are powerful!

I am never alone. He is with me.

I do not compare myself to other people.

I honor my promises.

I am a good listener.

My enemies are at peace with me.

I always double down on LOVE.

I am bold and courageous.

I have a sharp mind and a soft heart.

I see every ending as a new beginning.
Related: The Eight Types of Self-care and How to Practice Them
Day nine (9)

I am my own best friend. I walk in self-love today and every day.
I know that bridges burned will always light my way.

I don't look back-I'm not going that way. The past is gone.

I will enjoy more and endure less.

Remember: DONE is better than perfect.

My dreams align with my purpose.

I can create my happiness.

I make the world a better place. I bring good energy with me every place I go!

I walk by faith and not by sight.

I always do the next right thing.

My positive mindset is EVERYTHING.
Day ten (10)

Today is the day that God has made!
I turn my can'ts into cans and my dreams into plans
I try my best not to make assumptions
I wake up every morning excited for the day ahead!
I have the power to create my dream life!
My God is with me wherever I go
My attitude determines my altitude
My ending is more important than my beginning
Remember your WHY
I am a beautiful force of nature
All there is NOW. (That's one for good measure)
Related: Affirmations for Self-love
100 Positive Morning Affirmations for Women!
I hope you can use these powerful positive morning affirmations to speak life over yourself every morning!
I believe in the power of positive affirmations! They are an effective way to shift negative emotions or negative feelings into a positive mindset.
While here, please share your thoughts, favorite affirmations, bible verses, or quotes with me in the comments below.
As always, thanks so much for stopping by!
Until next time,
XO, Christine