How to Organize a Nightstand in 5-Super Easy Steps
In this article, we'll be discussing how to organize a nightstand or bedside table to optimize your space and keep your bedtime essentials close at hand.
If you enjoy a tidy and organized living space, then you know how frustrating it can be to wake up to a cluttered and disorganized nightstand.
But fear not because organizing your nightstand is an easy and rewarding task that can be accomplished in just a few simple steps.
This post may contain affiliate links. Read disclosure here
Different types of nightstands
Before I jump into the nightstand organization tips, let's quickly go over the different types of nightstands available.
The most common types of nightstands
Bedside chest of drawers (what I recommend!)
These are more oversized nightstands that feature multiple drawers or cabinets for storage. They are a good option for those who need more storage space and prefer a more substantial piece of furniture.
Pedestal Nightstands
Pedestal bedside tables are tall, narrow nightstands with a single column or pedestal supporting the top surface.

They can be a good option for smaller bedrooms, a college apartment, or those wanting to maximize floor space.
As the name suggests, these nightstands are mounted on the wall, which can be a good option for those who want to save floor space.

They typically feature a small shelf or drawer for storage.
Floating nightstands are similar to wall-mounted nightstands but are designed to appear as if they are floating in mid-air.

They are a popular choice for modern or minimalist bedrooms.
Trunk nightstands feature a trunk-style design, which can be a good option for those who need extra space to store items like pillows, blankets, or off-season clothing.

I love, love, love this truck nightstand from Wayfair!
Chairside Table
Chairside tables are lightweight nightstands designed to be easily moved around the room. They are a good option for those who want a flexible and versatile piece of furniture.
How to Organize Nightstand or Bedside Table
With these simple tips, you'll have a clean, well-organized nightstand quickly!
1. Clear Off The Top of The Nightstand
The first thing you'll need to do before organizing your nightstand is clear of any clutter accumulated on the top of your nightstand.
This may include books, electronic devices, loose change, and other items accumulated over time.
Once the top of your bedside table is clear, take a moment to wipe it down with a damp cloth or cleaning solution to remove any dust or debris.
2. Clean Out Nightstand Drawers
If your nightstand drawer looks more like a junk drawer, it's a good idea to take a few minutes to go through your cluttered nightstand and eliminate random items you don't need.
The less clutter, the better!

Clearing out unnecessary items from your bedroom nightstand will give you an immediate sense of accomplishment and will have you well on your way to a well-organized nightstand!
Some of My Nightstand Essentials
3. Evaluate Bedtime Essentials
Once your nightstand is clear, take a moment to evaluate your space and think about what you'd like to keep on your nightstand.

You may have one, two, or, if you're lucky like me, three drawers, or you may have a small table without drawers.
At any rate, take this time to decide your must have's for your nightstand.
The top of my nightstand may include a table lamp, an alarm clock, a glass of water, a tissue box, a book, my cell phone, and a phone charger.
The top drawer of my night holds other bedside necessities that I like to have within arm's reach when I'm hanging out in the primary bedroom (my journals, pen, sticky notes, hair ties, hand cream, lip balm, remote controls, eye drops, etc.)
And must-have items that I may need in the middle of the night. (earplugs, sleep mask, inhaler, etc.)
The second drawer of my nightstand, my pj's, and cozy socks (did you know if you wear socks to bed, you might fall asleep 6% faster!?)
And in the bottom drawer of my nightstand? My Lingerie, of course!
Related article: Nightstand Essentials for Women
4. Sort and Categorize
Now that you know what to keep on your nightstand, it's time to sort and categorize your items.
This will make it easier to organize your items into storage bins, find what you need, and ensure that your nightstand stays managed over time.

5. Use Drawer Organizers
The easiest way to organize your nightstand is to use drawer organizers.
If you have more items than can comfortably fit on your nightstand, consider using storage solutions to maximize nightstand organization.
This may include drawer dividers, a decorative basket, or shelves that can be mounted on the wall above your nightstand.

I love these clear plastic storage bins for drawers! I use them for my nightstand and bathroom to organize my makeup. And I use these drawer organizers for my Lingerie and clothing.
These storage solutions will keep your items organized and within reach without wasting valuable surface space.
Shop the best nightstand organizers:
Nightstand Organization Tips
Now that you're well on your way to a beautifully organized bedside table, here are a few more nightstand organization tips to bring it all together and make life easier.
Use a Floor Lamp
If you don't have much space on top of your nightstand, consider replacing your bedside lamp with a floor lamp.
Consider using a charging station for your phone, Apple Watch, and AirPods like the one I found on Amazon.

I love the way it looks and it's so nice to have everything changing in one place!
A charging station can provide a designated spot to place these items for easy access. Plus, it will help keep the cords organized and out of the way without taking up extra space.
Shop for a Nightstand with added features
Look for a nightstand that has changing outlets built in! this nightstand has 2 USB ports and 2 standard power outlets built in, allowing at least 4 devices to be charged simultaneously.
Using a bedside organizer is another great option specifically if you don't have enough space on your bedside table to store everything you want at arm's length.
Install Cable Clips
Use these cable clips to stick your phone charging cable or extension cord to the side or the back of your nightstand
Add Your own Special Touch
For a decorative touch, you can style the top of your bedside table with flowers, a live plant, a candle, a cherished photo, and/or a small pile of books you love.

Have fun with it and make it your own.
Conclusion: How to Organize a Nightstand
Organizing your nightstand is a simple and rewarding task that can be a game changer!
Having easy access to your must-haves will make your bedtime routine so much more enjoyable!
By following these nightstand organization tips, you can optimize your bedside table like a pro in no time!
So why wait? Take a few minutes today to organize your nightstand and enjoy a more functional ,and stress-free living space.
Happy organizing!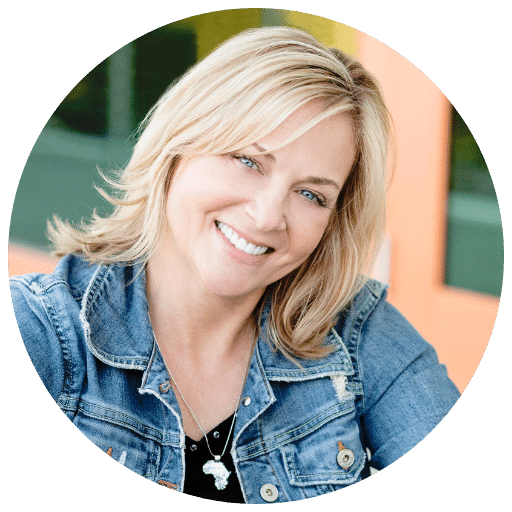 I've been keeping it real since 1963. 🙂

I'm a child of God, a wifey, mama, grandma, full-time creative, domestic engineer, and self-care enthusiast.
I am obsessed with all things makeup and skincare and love getting my hands dirty out in the garden, my art room, or in the kitchen with my hubby whipping up something yummy for the fam.

I'm always down to chat and love collaborating with other creatives and brands alike!
Feel free to reach out anytime!