Find The Best Hair Straightener for Fine Hair
Are you searching for the best hair straightener for fine hair? Well, you've come to the right place because if it's one thing I know a lot about, it's fine hair.
I understand that fine hair requires extra care and attention when it comes to styling, and finding the right hair straightener can make all the difference.
So whether you're looking to tame those luscious curls or achieve a sleek, straight look, I've compiled a complete guide to help you find the perfect straightener for your fine hair.
Let's dive in!
This post may contain affiliate links. Read disclosure here
The Best Hair Straightener for Fine Hair: Key Features
Before we dive into the top 10, let's understand what makes a hair straightener great for fine hair.
Let's dive into the world of flat irons and break down its anatomy. Think of this as a 'meet and greet' with your styling tool!
​The Anatomy of a Flat Iron
Type of Plates
Understanding Different Types of Flat Iron Plates
Let's get up close and personal with the star of the flat iron show – the plates. We'll dive into the three most common types: ceramic, titanium, and tourmaline.
-Smooth Ceramic Plates
First off, we've got ceramic plates. If flat irons were celebrities, ceramic would be the A-lister. Renowned for their even heat distribution, these bad boys make sure every strand of your hair gets equal attention.
Ceramic-coated plates heat up relatively quickly and hold heat well, so you don't have to wait forever for your flat iron to get to work.
Another plus? They are super smooth, gliding through your hair with minimal snagging.
This makes ceramic plates a great choice for fine or delicate hair that is easily damaged.
-Titanium Plates
Next up, meet the speedster of the group – titanium plates.
They heat up faster than you can say "bad hair day" and reach super high temperatures. But be careful; with great power comes great responsibility – high heat can be a friend or a foe, depending on your hair type.
Titanium plates are incredibly durable and lightweight, making them a favorite for professional stylists who use their tools all day.
They're great for coarse, thick, or stubborn hair that needs extra heat to behave.
-Tourmaline Plates
Last but not least, we've got the peacekeeper of the bunch – tourmaline plates.
They're all about reducing frizz and maximizing shine, making your hair look sleek and well-behaved.
Tourmaline is a crystal that is ground into a fine powder and infused onto plates of iron.
When heated, this coating emits negative ions, which counteracts the positive ions found in dry or damaged hair. This helps seal moisture into your hair and reduce frizz.
Tourmaline is like a mini spa treatment for your hair!
These plates are often combined with ceramic or titanium to benefit from the properties of both materials.
So, you can get the smooth glide of ceramic or the fast heating of titanium along with the shine-enhancing, frizz-reducing benefits of tourmaline.
Plate Size
Decoding Different Flat Iron Plate Sizes
Alright, get ready for a little tour into the land of flat iron plate sizes. Believe it or not, size does matter in this case!
-Narrow Plates (1 inch or less)
First up, we have the skinny minnies of the flat iron world: the narrow plates. These typically measure 1 inch or less in width.
Their small size gives you more control and precision, making them a top pick for styling bangs, short hair, or specific sections of your hair.
And for our friends with fine hair? You're in luck! Narrow plates are perfect for you.
They provide enough heat to straighten your delicate strands without going overboard and causing unnecessary damage.
-Medium Plates (1 to 1.5 inches)
Next, we've got the middle-of-the-road champs: medium-sized plates. Measuring between 1 and 1.5 inches in width, these guys offer a nice balance between control and coverage.
They're versatile enough for different hair lengths and types and can be used for straightening and creating loose waves or curls.
A medium plate can work just as well for fine-haired folks, especially if you have long hair. It gives you a bit more coverage than narrow plates without the potential for excessive heat that larger plates might have.
-Wide Plates (1.5 inches and above)
Last but not least, meet the big boys: wide plates.
These heavy hitters measure 1.5 inches or more in width.
They quickly cover a lot of ground, making them great for people with long, thick, or coarse hair that takes ages to straighten.
For fine hair, though? Wide plates are generally not the best choice.
They're like bringing a bulldozer to a gardening party. Overkill! The large size and high heat can be too much for your delicate strands and could lead to damage. So, it's best to stick with narrow or medium plates.
Temperature Settings
Here's the lowdown on Flat Iron the different heat settings of a flat iron
Let's turn up the heat and talk about temperature settings. This is one of the most crucial features of your flat iron because the right heat level can make the difference between shiny, sleek hair and a frizzy hair mess.
-Low Temperature (Up to 300°F)
Starting with the cool kids, we have the low-temperature settings, which generally go up to 300°F.
This is the sweet spot for fine, delicate, or damaged hair. This temperature range is gentle enough to straighten your hair without causing unnecessary heat damage.
So if your hair falls into these categories, stick to these lower settings.
-Medium Temperature (300°F to 380°F)
Next up, we have the medium settings, which usually range from 300°F to 380°F.
This is a good range for people with normal hair that's not particularly fine or thick.
It provides enough heat to effectively straighten your hair while still being gentle enough to prevent excessive damage.
-High Temperature (380°F to 450°F)
Finally, we reach the high-temperature settings, with the maximum temperature from around 380°F up to 450°F.
This is the realm, of course, thicker hair or particularly stubborn hair that needs more heat to be tamed. If your hair is hard to straighten, these settings might be your best friend.
But remember, with great heat comes great responsibility! 🙂
Too much heat can cause damage, so use these settings wisely.
Always start with a lower temperature and only increase it if necessary. And if you're using high heat, a heat protectant is a must to shield your hair from potential damage.
The bottom line: High temperatures may cause hair damage.
The Cord
Let's move on to another essential feature of the flat iron – the cord. It may seem like a minor detail, but a poor-quality cord can cramp your style.
Having a good cord = ease of use, and we can all use a little bit of ease in our lives. spoiler alert: the right flat iron has a nice long swivel cord
-Swivel Cords
First, we have the swivel cords. These cords are designed to rotate freely, letting you move the flat iron in any direction without getting tangled.
This is a total game-changer, especially if you're straightening the back of your hair or creating curls or waves.
A swivel cord allows you to style your hair with ease and comfort. Definitely, something to look out for!
-Cord Length
Next, let's talk about cord length. This is about personal preference and where you'll use the flat iron. A longer cord gives you more flexibility, which is great if your mirror isn't near the power outlet.
But a shorter cord might be more convenient if you travel a lot. Most professional flat irons come with around 8 to 9 feet long cords, giving you plenty of room to work with.
Safety Features: Your Hair Straightener's Best Friends
Alright, let's shift gears a bit and talk about safety features. After all, we're dealing with heated tools here, so keeping safety front and center is essential!
-Auto Shut-off feature
The auto-shutoff feature is a godsend for the forgetful among us. With this feature, your straightener will automatically turn off after a certain period of inactivity (typically 30-60 minutes)
This can be a real lifesaver (and house-saver!) if you accidentally leave your straightener on when you leave the house.
-Adjustable Temperature Settings
This feature lets you control how much heat your straightener puts out.
This prevents heat damage, especially for delicate, fine hair.
As a rule of thumb, fine hair should be straightened at lower temperatures, while thick, coarse hair can handle higher temperatures.
-Temperature Lock
A temperature lock feature allows you to "lock" your straightener at a specific temperature, preventing it from accidentally getting turned up or down during styling.
-Dual Voltage
While not a safety feature per se, dual voltage compatibility is important for safe use while traveling.
This feature allows your straightener to adapt to different voltage outputs, which vary from country to country.
Without it, you could end up frying your straightener (your hair) or even causing a fire.
Heat Protectant Spray
Let's talk about something that should be a non-negotiable in your hair care routine when using heat tools: heat protectant spray.
This is a bodyguard for your hair, stepping in to take the heat so your hair doesn't have to.
Heat protectant spray is a product that's designed to shield your hair from the damaging effects of heat-styling tools like straighteners, curling irons, and hair dryers. It creates a protective barrier on the hair shaft that helps distribute heat more evenly and prevents moisture loss.
Bottom Line: Using protectant spray=less damage.
The Top Five Best Hair Straighteners for Fine Hair
Alrightly then! We've covered everything you will ever need to know (and maybe a bit more) about what to look for in a good hair straightener for fine.

Without further ado, Here are the best straighteners for fine hair!
In my humble opinion, the ghd platinum is the best hair straightener for fine hair!

It's the cream of the crop when it comes to straighteners for fine hair, for good reason! Here's the scoop on why it's my top pick.
Ultra-zone with predictive technology
This sounds fancy, and it is! The ghd Platinum+ has ultra-zone with predictive technology, which adjusts the heat depending on your hair's thickness and styling speed.
This ensures a consistent temperature across the plates, which can minimize damage and optimize styling.
Wishbone hinge
The unique wishbone hinge on this flat iron gives you more control while styling.
It keeps the plates perfectly aligned so you can effortlessly create any style you desire, from sleek straight to glamorous curls.
Heat-resistant protective plate guard
This feature allows you to pack away your straightener right after use, perfect for those busy mornings or trips on the go.
Why It's an excellent straightener for Fine Hair
Fine hair can be particularly vulnerable to heat damage, but the ghd Platinum+ has got you covered.
Its ultra-zone with predictive technology helps maintain a safer-for-hair heat of 365°F at all times. This is the optimal temperature for styling without causing excessive damage.
Moreover, it ensures even heat distribution, so you won't have to keep going over the same sections of hair, reducing the chances of heat damage.
My second pick for the best hair straightener for fine hair is the BabylissPRO Nano Titanium Ultra-Thin Straightener.
I have had this straightener for a few years now, and I love it!
Standout features that make it worth considering:
Nano titanium plates
The plates on this straightener are made from nano titanium, a high-quality material that conducts heat efficiently.
This helps achieve fast, even heat distribution and reduces the chances of heat spots that could damage your hair.
Ultra-thin design
As the name suggests, this straightener is ultra-thin and lightweight. This makes it easy to handle and maneuver, allowing you to easily achieve precise styling.
Adjustable heat settings
With heat settings up to 450°F, you can customize the temperature using lCD screen with digital display to suit your hair type and desired style.
For fine hair, sticking to lower settings is recommended to prevent heat damage.
Why It's A Top Choice in Straighteners for Fine Hair
The BabylissPRO Nano Titanium Ultra-Thin Straightener is particularly suitable for fine hair for a few reasons.
First, the nano titanium plates provide gentle, even heat, which is key for avoiding heat damage in fine hair.
Plus, the ultra-thin design allows for greater precision and control when styling, which can be a big help if your hair is fine and delicate.
Second, the adjustable heat settings mean you can tailor the temperature to suit your fine hair. Remember, lower heat is your friend when you have fine hair!
The Babyliss Pro is available in several different sizes.
Dyson isn't just about vacuum cleaners, my friends.
They've also made a splash in the hair styling world, and one product that's been making waves is the Dyson Corrale Straightener.
Let's talk about why it's been turning heads (and straightening hair) in the beauty community.
What Makes the Dyson Corrale Unique?
The Dyson Corrale comes with some pretty fancy features that set it apart:
Flexing plates
The Corrale is equipped with unique flexing plates that shape to gather your hair.
This reduces the need to go over the same sections multiple times, reducing heat damage and promoting healthier hair.
Intelligent heat control
This straightener is all about smart styling.
It measures the temperature 100 times a second and adjusts the heat delivery to ensure it consistently stays at your chosen setting.
Cord-free design (My favorite part)
Dyson took convenience to the next level with a cord-free design, making it perfect for on-the-go styling or a hassle-free home experience.
Don't worry about battery life, though – it gives you up to 30 minutes of cordless styling.
Heat Control and Flexing Plates
The intelligent heat control means you can use a lower, safer temperature setting for your delicate strands without worrying about unexpected heat spikes.
And, thanks to the flexing plates, you'll need fewer passes to straighten your hair, reducing the potential for heat damage.
It's time to talk about one of the best flat irons on the planet!
This straightener is a true classic in hair styling and l beloved by many; the CHI Original has been helping folks achieve silky-smooth hair for years.
The CHI Original: A Timeless Favorite
Ceramic Plates
The CHI Original features 100% ceramic plates. This means an easy glide and even heat distribution, resulting in less potential for heat damage – a major plus for fine hair.
Infrared Heating
The CHI Original utilizes infrared heating, penetrating the hair shaft from the inside out. This heating method is gentler on the hair, helping to maintain its health and shine.
Fixed Temperature Setting
The CHI Original operates at a fixed temperature of 392°F, offering a no-fuss, consistent styling experience.
Our list wouldn't be complete without mentioning the T3 SinglePass StyleMax Professional.
This straightener brings together cutting-edge technology, smart design, and exceptional performance, making it a standout option for those seeking salon-quality results at home.
Here's a rundown of what makes the T3 SinglePass StyleMax Professional so unique:
SinglePass Technology: As the name suggests, this straightener is designed to deliver salon-worthy results in a single pass, minimizing heat exposure and reducing potential damage to fine hair.
1.3″ T3 Tourmaline + Ceramic Plates: The wide plates are infused with T3 Tourmaline + Ceramic technology, which ensures a smooth glide and even heat distribution for shiny, frizz-free results.
5 Adjustable Heat Settings: With five heat settings (from 260°F to 410°F), you can choose the perfect temperature for your fine hair. Remember, fine hair usually requires a lower setting to avoid damage.
The Best Budget-Friendly Hair Straighteners for Fine Hair
Designed with fine hair in mind, this budget-friendly gem is here to make your hair dreams come true.
With its ceramic tourmaline plates and rounded edges, the OHSOKIND Flat Iron glides through your strands, taming frizz and leaving you silky-smooth locks.
The adjustable temperature control (3 fine hair-friendly settings!) lets you find the perfect heat setting for your fine hair, ensuring gentle styling without unnecessary damage.
The OHSOKIND Flat Iron is your go-to styling tool that won't break the bank and has an auto-off feature! Love it!
Next on our list is a straightener that offers reliable performance at a wallet-friendly price.
The Remington 1 Inch Anti-Static Flat Iron. If you're seeking a no-nonsense tool that still delivers great results for your fine hair, this one's for you!
Here's why the Remington Anti-Static Flat Iron is a hit among hair styling enthusiasts:
Anti-static Technology
As the name implies, this straightener boasts anti-static technology. This reduces the amount of negatively charged particles, resulting in less frizz and static for smooth, shiny hair.
Titanium Protection Coating
The plates on this straightener have a titanium protection coating. This ensures fast heat up and even heat distribution, reducing the risk of heat damage — especially crucial for fine hair.
Digital Controls with 6 Heat Settings
With six heat settings up to 410°F, you can choose the right temperature for your hair type. For fine hair, opt for a lower setting to avoid excessive heat.
How Does It Perform on Fine Hair?
The Remington Anti-Static Flat Iron is a solid option for fine hair. Its anti-static technology and titanium-coated floating plates provide smooth, even heat, reducing the risk of damage.
The adjustable heat settings allow you to select a lower temperature that's safe for your delicate strands.
The VANESSA PRO Hair Straightener Flat Iron is a powerful styling tool combining sleek design and impressive performance.
The VANESSA PRO is worth considering if you're seeking a straightener that can effortlessly transform your hair into smooth, silky strands.
Key features that make the VANESSA PRO stand out:
Advanced Floating Ceramic Plates
The straightener has floating ceramic plates that glide smoothly through your hair, reducing snagging and pulling.
The ceramic material ensures even heat distribution, resulting in consistent styling and less heat damage to your fine hair.
Adjustable Temperature Settings
With adjustable temperature settings ranging from 265°F to 450°F, you can choose the right heat level for fine hair.
Rapid Heating and Auto Shut-off
The VANESSA PRO heats up quickly, allowing you to start styling in no time. It also features an auto shut-off function, providing peace of mind if you accidentally leave the straightener on.
Professional Hair Stylists: Perfecting Your Fine Hair Styling Game
When it comes to straightening fine hair, professional hair stylists have some valuable tips and tricks up their sleeves.
Elevate your styling game with these expert insights:
Start with Clean, Dry Hair: Ensure your hair is clean and completely dry before straightening.
Wet hair is more susceptible to heat damage, so give it time to air dry or use a blow dryer on a low heat setting.
Protect with Heat Protectant: Always apply a heat protectant spray or serum before straightening. This creates a barrier between your hair and the heat, minimizing damage and keeping your locks healthy.
Use a Quality Hair Straightener: Invest in a high-quality hair straightener with adjustable temperature settings.
Starting with lower heat settings is recommended for fine hair to avoid unnecessary heat exposure.
Section Your Hair: Divide your hair into small sections using clips or hair ties. This ensures thorough straightening and prevents missed spots. Work on one section at a time for precise results.
Glide Smoothly: Using smooth and gentle gliding motions when straightening each section. Avoid clamping down too hard, which can cause unnecessary tension and potential breakage.
Take Small Sections: Opt for smaller sections of hair when straightening fine hair. This allows for more control and ensures that each strand receives the right heat for optimal styling.
Avoid Over-Straightening: Be mindful not to repeatedly go over the same section of hair. Fine hair is more susceptible to heat damage, so limit the number of passes to minimize potential harm.
Finish with Finishing Products: After straightening, apply a lightweight, anti-frizz serum or shine spray to add a glossy finish and keep your fine hair looking polished.
 Conclusion The Best Hair Straightener For Fine Hair
Congratulations! You've reached the end of our journey through the world of hair straighteners for fine hair.
We've explored various options, from high-end to budget-friendly, and discussed the key features that make each straightener unique.
So, whether you opt for the high-tech wonders of the Dyson Corrale or the tried-and-true CHI Original, know that you're taking a step towards effortless style and confidence.
Your fine hair deserves the best care and attention, and with the right straightener, you can achieve stunning looks without compromising its health.
Happy Straightening! 🙂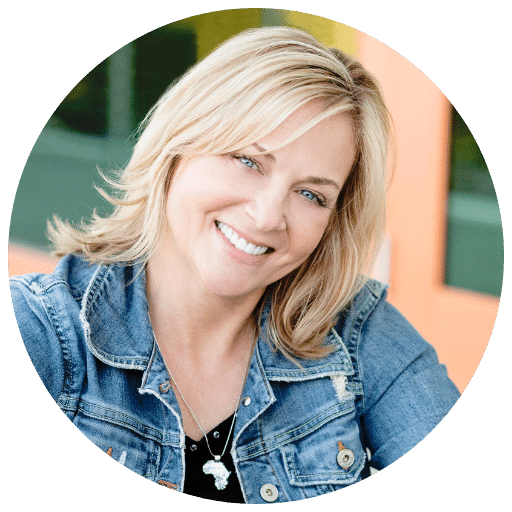 I've been keeping it real since 1963. 🙂

I'm a child of God, a wifey, mama, grandma, full-time creative, domestic engineer, and self-care enthusiast.
I am obsessed with all things makeup and skincare and love getting my hands dirty out in the garden, my art room, or in the kitchen with my hubby whipping up something yummy for the fam.

I'm always down to chat and love collaborating with other creatives and brands alike!
Feel free to reach out anytime!